The crackdowns happening in China could be a big reason the economy has slowed. When you have corruption and the ability to simply pay a relatively small fee in order to build profitable projects the economy can grow quite quickly. When those same businessmen come under scrutiny and are taken prisoner, all of a sudden uncertainty enters the mindset of the entire business community and both funding for projects and investment capital flee.
A lot of attention has been put upon Washington and what they are doing to 'destabilize' the current economic situation, however the stories we read coming out of China (see here) indicate that as far as commodity investors are concerned we should be paying far more attention to China in the long-run.
For investors wondering exactly how this could all tie in, look no further than General Moly (NYSEMKT:GMO) and the situation that played out there. We cannot stress how many more Chinese companies there are out there with financing agreements or joint ventures whereby they provide financing for these projects that could potentially be affected if a country-wide crackdown in China does, or is, taking place. This is something to watch over the next few months as it has potentially huge ramifications.
Chart of the Day:
If the US is going to go through another debt ceiling debate and risk the pristine credit rating they have with all of the debt rating agencies not named Standard & Poors then we could see the US Dollar Index actually break the 80.0 level. It has come close recently but found support so we are anxiously watching this as everything plays out.
Our view is that we are not hearing enough about this right now and it is indeed a very big story that impacts so many aspects of the financial markets.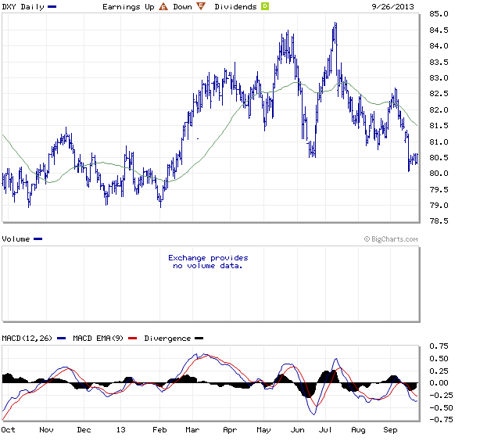 Source: BigCharts
Commodity prices this morning are as follows:
Gold: $1327.00/ounce, down by $9.20/ounce
Silver: $21.77/ounce, down by $0.116/ounce
Oil: $102.77/barrel, up by $0.11/barrel
RBOB Gas: $2.6769/gallon, up by $0.004/gallon
Natural Gas: $3.444/MMbtu, down by $0.049/MMbtu
Copper: $3.30/pound, up by $0.028/pound
Platinum: $1417.50/ounce, down by $11.30/ounce
M&A Rumors Persist
Talk of mergers and acquisitions continue to make the rounds in the oil and natural gas E&P sector. We saw that The Wall Street Journal had an article (see link here) regarding Talisman Energy (NYSE:TLM), a company we used to be shareholders in, discussing their attempts to sell off portions of their portfolio. It seems that the assets they have listed to sell are not drawing a lot of interest and the company has now shifted focus to selling a stake in its Kurdistan blocs in Northern Iraq. We are of the opinion that one should keep liquids production and possible future liquids production when you are trying to gain more exposure to that area, but Talisman is supposedly trying to manage risk in this case.
Regardless of one's feelings on the decision, the company's CEO actually stated that the Board of Directors would not be opposed to selling the entire company if an offer was out there. Currently they are looking to close deals on these assets they have decided to sell off, but the fact that an outright sale is a possibility is in our opinion progress. Previous management teams have always thought they could unlock the value in the shares, which was not necessarily the case at all times. We are watching this name a bit more closely now, and would hope that if they do close a deal in Iraq that it was with one of the big Chinese companies as we think that would best serve their interests in the short-term and long-term.
Oil & Natural Gas
A strong bounce when investors needed it. We continue to think that natural gas prices shall go higher, even though right now they continue to head lower. It will be a cold winter and this will be a name the momentum traders seek out.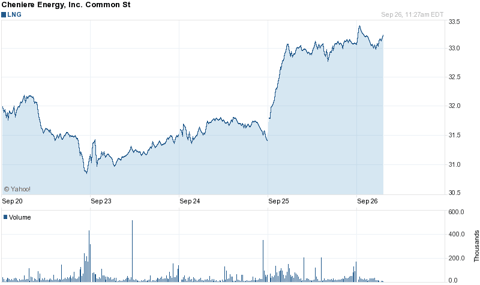 Source: Yahoo Finance
Cheniere Energy (NYSEMKT:LNG) has bounced off of that $30/share level again and has been heading higher. The exporting of natural gas is going to be a game changer for the country as it brings in foreign money and allows companies to profit off of the difference in prices in different markets. We have heard a lot of talk about the leadership in Washington being worried that if we export natural gas elsewhere that our prices domestically will increase and hurt manufacturing. In the short-term this is probably true, but based off of the past few years of conference calls we have listened to, especially those from Chesapeake Energy (NYSE:CHK), we know that there is a glut of natural gas out there and in many cases it is being wasted as producers simply flare it at the well. That much we know from the names we follow in the Bakken. So as long as Washington keeps a tight lid on the approvals of the amount that can be exported via the LNG export terminals, we think that a steady rise in natural gas production can fill the void created by the exports. Remember, we have not reached our peak in natural gas production and have a ton of available areas where drilling could resume if there was demand.
Rare Earths
And now the round trip has been completed. We hope readers took our advice and refrained from getting caught up in the excitement.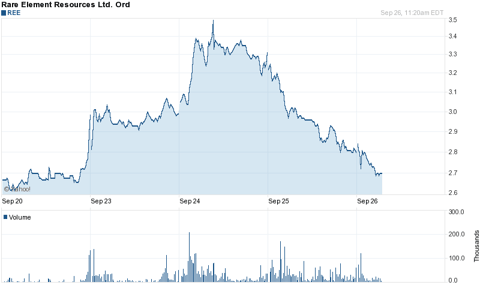 Source: Yahoo Finance
We discussed earlier this week (see article here) the newsletter that was pushing rare earth stocks higher and advised to stay away for right now. In terms of Rare Element Resources (NYSEMKT:REE) that advice was spot on. These are not names one buys after the rally has already taken place, but where you have to accumulate on the pullbacks to sell into the advances. Our friends like to say "buy the dips and sell the rips," which is a great way to remember this. We are not buyers right here in the rare earths and are waiting for some type of industry-wide news that could be beneficial to everyone before we would get back into the trade.
Disclosure: I have no positions in any stocks mentioned, and no plans to initiate any positions within the next 72 hours. I wrote this article myself, and it expresses my own opinions. I am not receiving compensation for it (other than from Seeking Alpha). I have no business relationship with any company whose stock is mentioned in this article.