With over 1,200 ETFs to choose from (Source), most of which cover equities, many investors may suffer from paralysis when deciding which fund or combination of funds will constitute their equity exposure. There are numerous sector and country specific options for investors pursuing tactical or rotation strategies. On the other hand, more passive investors have an abundance of choices covering the classic style boxes. There are even an increasing number of selections for fundamental index proponents including funds that assess attributes such as low P/B, high dividend payout, or "economic moat," to name a few. In 2012, under the umbrella of its SPDR brand, State Street Global Advisors launched a new product to simplify this increasingly difficult equity fund decision. SPDR's new offering provides benefits common to most equity ETFs including diversification at the security level, low cost, transparency, tax efficiency and liquidity. But perhaps most importantly, this fund can help eliminate the "home country bias" exhibited by many equity investors globally, by providing disciplined exposure to the entire world in a single trade.
Overcoming Domestic Bias
As of December 31, 2010, equities domiciled in the U.S. accounted for 43% of the global equity market by market capitalization. However, the average U.S. investor allocated 72% of an equity portfolio to U.S. stocks (Source). The same trend has been observed in other developed markets such as the U.K., Australia, and Canada. This irrational allocation strategy can be destructive to investors' wealth, particularly in economies like Australia, which are so heavily influenced by one segment of the market (financials/real estate > 50% of market cap). The MSCI ACWI IMI offers investors in these markets protection from themselves by installing a disciplined approach to geographic and sector representation, driven by the collective wisdom of global investors.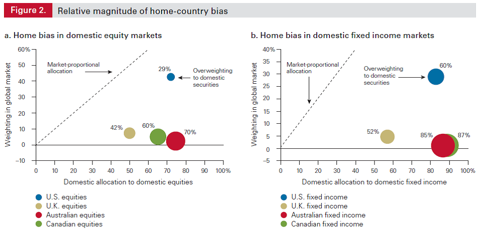 Diversification
The MSCI All Country World Investable Market Index ("ACWI IMI") is designed to provide equity investors with extreme diversification at the security level. This flavor of diversification is an investment characteristic popularized by index fund pioneers such as Vanguard. The ACWI IMI includes nearly 9000 stocks, domiciled in 45 different countries, accounting for a staggering 98% of global market capitalization (Source).
Low Cost
As is the case with many ETFs, ACIM is designed to help investors keep more of their returns. Bearing an internal expense ratio of just 0.25%, ACIM is far more attractive than the average mutual fund, which cost investors 1.13% according to Morningstar data published 10/30/2012. The fund is also very attractive relative to its competitors.

Furthermore, ACIM investors are well protected from the "hidden" cost of high portfolio turnover as the fund turned over less than 0.5% of its average value during the most recent fiscal year according to the Summary Prospectus (Source).
Transparent
Unlike mutual funds, ETFs must publish detailed holdings information daily, so investors know exactly what they own. This information can be sorted by company, geography, and industry on the fund website (Link).
Tax Efficient
The unique creation/redemption process conducted by Authorized Participants in the ETF marketplace makes the ETF fund structure more tax efficient than most mutual fund counterparts. In the mutual fund structure, securities transactions at the fund level due to the investment process or market dynamics have consequences for all investors in the fund. ETFs allow investors to exert more influence over the tax consequences borne by their equity investments. A hypothetical investor taxed at the highest marginal rate has given up just 0.66% annually since the fund's inception.


Liquid
While the fund's on screen liquidity is still poor, SPDR is making a concerted effort to market the fund to institutional investors according to David Mazza, Vice President, and Head of ETF Investment Strategy for the Americas. SPDR's marketing team is working to position ACIM as "exposure to the entire world's equity markets in a single trade" as well as a core holding around which managers can express thematic or tactical trends. In the institutional marketplace, on-screen liquidity is less important, as the creation/redemption process enables Authorized Participants to quickly issue more fund shares in conjunction with large block orders. Within the fund, at the security level, SPDR draws on its multi-decade experience in illiquid markets. SPDR's unique "optimization process" weighs the tradeoffs between ADRs and locally denominated issues as well as more heavily weighting more liquid issues over smaller, less liquid issues when the security characteristics are similar.
Conclusion
The ACIM ETF offers investors the many benefits that have drawn nearly $1.5T in assets to the ETF marketplace; diversification, low costs, transparency, tax efficiency and liquidity. But more importantly, ACIM can help investors overcome domestic bias, which is particularly harmful to investors based in countries with outsized weightings to a specific industry or limited economic significance globally. With the SPDR brand standing behind this fund, we expect an exponential increase in assets in the years ahead.
Disclosure: I have no positions in any stocks mentioned, and no plans to initiate any positions within the next 72 hours. I wrote this article myself, and it expresses my own opinions. I am not receiving compensation for it (other than from Seeking Alpha). I have no business relationship with any company whose stock is mentioned in this article.
Disclaimer: The ETF Authority is a team comprised of two independent financial professionals, Kevin Prendergast and Nathan Rutz. This article was jointly written by Kevin and Nathan. We did not receive compensation for this article (other than from Seeking Alpha), and we have no business relationship with any company whose stock or fund is mentioned in this article. Kevin and Nathan may offer securities through ValMark Securities, Inc. 130 Springside Dr, #300 Akron, Oh 44333 (330-576-1234), Member FINRA/SIPC.
The opinions expressed in this article are those of the authors, not ValMark Securities, Inc., and are subject to change at any time without notice. This article is not intended to be a recommendation to invest. The securities discussed in this article may not be suitable for all investors. Please consider your personal risk tolerance and investment objectives carefully before considering any investment and consult your tax, legal, and financial professionals.