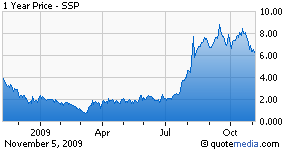 EW Scripps (NYSE:SSP) reported results and continued the woes of newsprint. They have sold off their cable and used a big fat tax refund to reduce debt significantly. So the over-leveraged argument is no longer a factor.
"We're determined to position Scripps for continued success in the rapidly evolving news industry. In the third quarter we made significant progress," said Rich Boehne, president and chief executive officer.
Nice words but what are you doing? Boehne went on to say that the company will pursue strategies for expanding audiences and revenue streams across multiple platforms, despite the difficult economic environment.
OK, so Rich you must have spent some time thinking about the problem. And maybe you been watching what some of the other guys are doing, and what's working and what's not working. In TV, you are investing in content and new business categories. Are you funding original productions, or are you buying from someone else? Just what are these new business categories? Getting new business has been a marketing 101 course for many years. We really need something with more substance.
There was an interesting comment about other revenues in the television category. The snip is: "Other revenue, which includes retransmission fees for carriage of the stations on cable and satellite systems, up 44% to $4.2 million." No further comment about a category that went up 44%.
For a communications company, they could spend some more time explaining just where they think they are going.