As someone who covers a lot of short ideas on this site, one of the most important items I follow is short interest data. One must always be aware of the short interest in a stock. A large short base could spark a short squeeze on good news, while low short interest could spark a huge drop on bad news. Every couple of weeks, we get an update from Nasdaq on short interest data, and I report on what I am seeing. Today, I'm here to discuss the middle of September numbers. Today, I'll discuss five names that short sellers are running away from, whether just recently or over the longer term.
BlackBerry (BBRY):
Short interest in the Canadian device maker came back down in early September with about 6 million shares short were covered. As you can see from the chart below, this puts short interest in this name at a 7-month low. Since the recent peak, more than 41 million shares, 22.4% of the total, have been covered.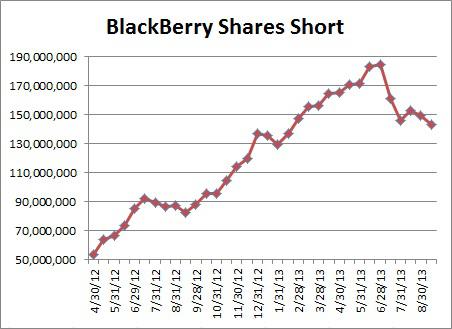 Unfortunately, BlackBerry as we know it is done. The company's huge revenue and earnings warning has sent shares plunging again. Revenues came in well below expectations, and a near $1 billion inventory charge was taken. While there may be an eventual bid on the table if it all works out, $9 a share seems rather disappointing for a stock that fetched double that earlier this year. BlackBerry 10 has turned out to be a flop, and its late arrival helped seal this company's fate. If the above mentioned deal does not work out, shares will only continue to go lower. This could be a perfect case of a stock falling with a decrease in short interest, as shorts gradually take their profits, but not in large enough volumes to spark a squeeze.
Dendreon (NASDAQ:DNDN):
Dendreon short interest hit a new high at the last update, so the decline in early September is significant in that sense. About 1.8 million shares were covered. While that's only 3.3% of the peak number, it is a start. Dendreon short interest is still elevated, as you can see below, up 22% over the comparable year ago update.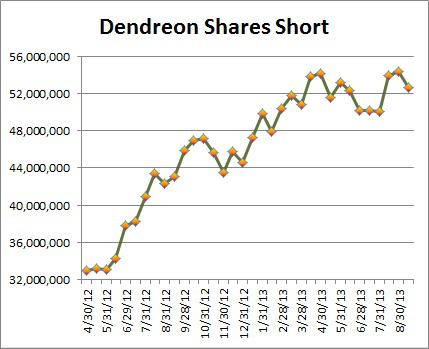 However, we may start to see a bit more covering. Dendreon did get marketing approval for Provenge in Europe recently, which could be a major catalyst for the stock. Dendreon still needs to find a partner for some help, and it is unclear when they could start generating revenues in Europe. The company is also still losing tens of millions each quarter, and burning through a lot of cash, which may require a substantial amount of dilution. However, the European decision was the first part in a possible turnaround, and I wouldn't be surprised if it chases a few more shorts away over the next couple of months.
Groupon (NASDAQ:GRPN):
The daily deals site makes this list for the longer-term trend, not one particular update, with another million shares short covered during early September. As you can see from the chart below, Groupon short interest is at its lowest point since May 2012. That's right after the Facebook (NASDAQ:FB) IPO, as Facebook's early struggles put a cloud over the entire social media space.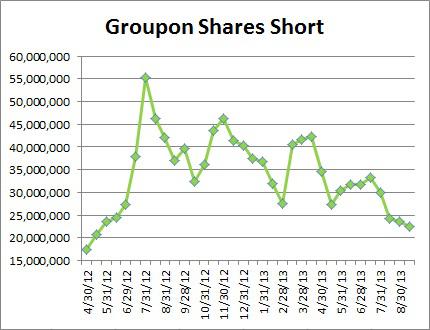 Groupon shorts have fled since the company's latest earnings report. While the numbers and guidance were not spectacular, the company did a few important things. First, they announced a new CEO. Second, they announced a sizable buyback plan. Groupon was left for dead for quite some time, and those two items have brought some hope back. Throw in a few analyst upgrades since, and the stock is fairly close to a 52-week high. Groupon might not be in great shape currently, but the decline in short interest shows many think it's getting better.
Intel (NASDAQ:INTC):
I had to throw Intel on here for what could be a key trend reversal. Intel's short interest declined by just 0.89% in the first few weeks of September. That is very small, but it's actually the largest one update decrease since the middle of May! Intel short interest has hit several new highs lately, and does remain elevated. However, we haven't seen many declines recently, so this is significant in that sense.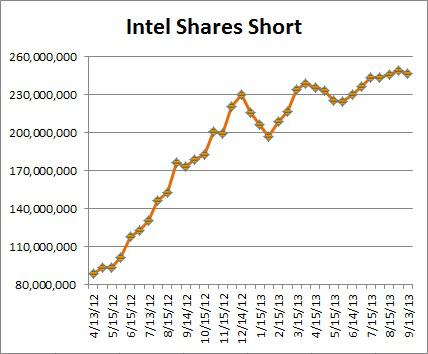 Intel shares have rallied off their lows, although the recent leg won't be evident until the next round of short interest data. 2013 was definitely a transitional year for Intel, with a number of new product launches. This company will be looking for a rebound in 2014, and the company's Q4 guidance could be the start of that. If Intel starts to show some sort of revenue and earnings improvement, I would expect the number of shares short to come down, and not by just 2 million.
Sears Holding (NASDAQ:SHLD):
The recent decline in short interest for the retailer was certainly significant. As you can see from the chart below, short interest just kept going up. From mid-May to the end of August, short interest more than doubled from 7.67 million to 16.60 million. That's what makes the early September decline of 4%, about 670 thousand shares, significant.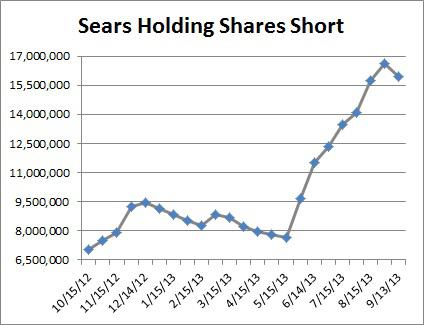 There hasn't been a ton of concrete information on this one, but there were two squeezes in early September. The first started on September 9th, with two possible reasons being Kmart's cash checking service and the Neiman Marcus takeover premium. The rally continued the next day, which helped shares to rally more than 27% in five days. Sears is still a retailer that is not in great shape, but this was a significant move in short interest. Let's see if it continues.
Final thoughts:
All five of these names have seen significant short interest declines, whether over one update or the longer term. BlackBerry short interest hit a multi-month low, but a recent earnings warning has whacked the stock. Dendreon short interest came off its recent high, and European marketing approval for Provenge could help that process continue. Groupon shorts have continued to shy away as the company looks to rebound. Intel finally saw a decline in short interest, but the success of key product launches will determine where it goes from here. Sears Holding saw a couple of short squeezes in September, and short interest declined after a huge spike. Will any of these names make my list next time around? I'll be back in a couple of weeks with an update.
Disclosure: I have no positions in any stocks mentioned, and no plans to initiate any positions within the next 72 hours. I wrote this article myself, and it expresses my own opinions. I am not receiving compensation for it (other than from Seeking Alpha). I have no business relationship with any company whose stock is mentioned in this article.
Additional disclosure: Investors are always reminded that before making any investment, you should do your own proper due diligence on any name directly or indirectly mentioned in this article. Investors should also consider seeking advice from a broker or financial adviser before making any investment decisions. Any material in this article should be considered general information, and not relied on as a formal investment recommendation.