Uh-Oh. Intel (NASDAQ:INTC) declared its quarterly dividend again, and it stayed at 22.5 cents per quarter. The chip giant has now declared the same payout for five straight quarters. Everyone needs to panic. The dividend was not raised. What's wrong with Intel? Are they not producing enough cash? Are competitors getting stronger? Is the balance sheet in trouble? Something must be wrong.
I heard these sentiments last quarter when the 22.5 cent payout came and panic started to build. Now that we got the same payout again, the sixth straight payout at this level, I'm sure we'll be hearing a number of the above mentioned sentiments in the coming days and weeks. At the previous dividend declaration, I cautioned investors not to worry just yet. Today, I must reiterate those thoughts, and explain why Intel's lack of dividend raise may not be a surprise.
First, it may just be timing:
This was a big part of my prior article, and I must include it again. The following is a review of Intel's dividend history from the past decade:
2004: dividend raised with 1st payout of the year.
2005: dividend raised with 1st payout of the year.
2006: dividend raised with 1st payout of the year.
2007: dividend raised with 1st payout of the year.
2008: dividend raised with 1st payout of the year, and then raised again with 2nd payout of the year.
2009: no raise in the dividend.
2010: dividend raised with 1st payout of the year.
2011: dividend raised with 1st payout of the year, and then raised again with 3rd payout of the year.
2012: dividend raised with 3rd payout of the year.
In almost all of those years, the raise was for the first payout of the year. In 2011, Intel got off cycle with its dividend raise as things were going well, and you could argue the reverse of that now. Two dividend raises back then, so you don't get one now. Intel could easily be setting itself up for a calendar cycle again. If they don't raise it with the next payment, then you might want to start worrying a little.
Perhaps Intel could use one of their next two earnings reports for the dividend raise. If they believe 2014 will be a rebound year, something I'll touch on in a bit, Intel should show its confidence. They don't have to declare that dividend just yet, just announce they will be raising it to whatever amount.
Balance sheet / cash flow / debt:
To consistently raise a dividend, a company needs a strong balance sheet. Does Intel have one? Let's look at some balance sheet data.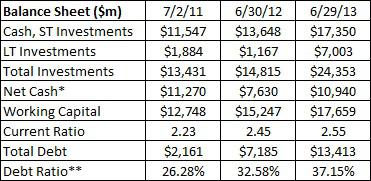 *Total investments minus total debt.
**Liabilities to assets ratio.
While Intel's total cash and investment pile has increased, Intel's net cash position has actually decreased over the past two years. Some of those investments, like the $3.2 billion equity investment in ASML (NASDAQ:ASML), can't be used to pay the dividends. So the amount of cash available for dividends (and buybacks) is much less than the numbers above. Don't forget, of the $17.35 billion in the cash and short-term investments pile, $10.3 billion was outside of the US, according to their most recent 10-Q filing (page 43). Approximately $1.9 billion of that could be repatriated without taxes. Still, Intel's cash pile in the US, the only source of funds it can use for dividends and buybacks, is not that large. Also, with Intel launching a new round of chips, you would think that Intel would want to keep a margin of safety. Intel has taken on more than $11 billion in debt over two years. If they decided not to raise the dividend and slow down the buyback to avoid taking on more debt for the moment, I wouldn't necessarily be upset.
The other item is cash flow. It can be very volatile. In the first half of 2013, Intel had cash from operations of $9 billion, nearly $1.3 billion more than the same time period in 2012. However, during that time, Intel's net income dropped by $1.52 billion. There were nearly $5 billion in adjustments this year, compared to just $2.15 billion a year ago.
Some of those adjustments, mostly the changes in assets and liabilities, could easily reverse in the second half of 2013. Intel could build up its inventory, which would reduce cash flow. Don't forget, Intel guided to $11 billion in capital expenditures for the full year. They only had $4.9 billion in the first half of the year, meaning $6.1 billion in the second half. They'll need some cash for that. My best guess is that Intel will see how things shake out during the rest of 2013, see where the balance sheet/cash flow numbers are, look at expectations for 2014, and then make their dividend decision. Intel's buyback slowdown also makes me believe they are looking at their cash plans even more extensively right now.
2014 rebound?
Intel was supposed to have a big 2012, with revenue growth in the high single digits. As the PC market got weak, things stalled out, and Intel actually posted a revenue decline for the year. As 2012 looked less and less promising, analysts thought that 2013 would be a rebound year, but as time went on, expectations were lowered. The PC market was still iffy, and Intel was late to the mobile revolution, which has set them back a little. For the year, Intel's net income plunged by nearly $2 billion to just over $11 billion.
Investors should have realized 2013 was a transitional year on two fronts. First, Intel was looking for a new CEO, and that was important for a company that does not have a lot of turnover at the top. Second, Intel's original guidance was for low single digit revenue growth. They weren't looking for a big year, and were just hopeful for some gains. That didn't happen, so they are now expecting revenues to be flat. Add in rising expenses, and we'll see another huge decline in net income. Analysts currently expect earnings per share to decline from $2.13 to $1.87 this year. Don't forget, Intel's EPS figure will probably be helped thanks to the buyback, so net income will fall even faster than that. Net income is a large part of operating (and free) cash flow, so declining net income means less cash generated. While there will be some offsets (like increased depreciation add-backs), it still hurts the numbers overall.
So now, 2014 is expected to be the rebound year. Analysts are looking for a 3.8% rebound in revenues this year, a $2 billion increase. Keep in mind though that analysts see a 0.7% decline ($0.38 billion) this year, so analysts are more bearish than Intel. Analysts also expect earnings per share to rebound by a dime in 2014. I recently discussed some projections for Intel in 2014, and in my bull case Intel's 2014 net income would be roughly equal to 2012 levels. That could mean more cash flow, which would certainly help with the dividend.
The dividend is impressive and it is bigger:
While Intel has not raised the dividend, Intel's annual yield still remains the largest of any US large cap tech company. The following chart shows Intel's annual yield against that of Microsoft (NASDAQ:MSFT), Apple (NASDAQ:AAPL), and Cisco Systems (NASDAQ:CSCO).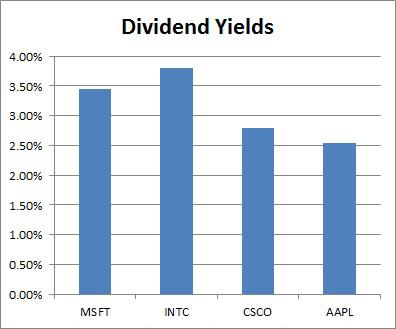 Intel still has a large advantage, but that doesn't even begin to tell the story. Here are some important statistics that you should also consider when it comes to these names.
Intel's yield is more than 10% higher than Microsoft's. That is after Microsoft just raised its dividend by nearly 22%. Taking out that raise, and Intel leads by more than 34%.
Intel's yield is more than 36% higher than Cisco's. Cisco raised its dividend by more than 21% earlier this year.
Intel's yield is about 50% higher than Apple's. Apple raised its dividend by 15% this year.
So even with all of those large raises, Intel still remains the clear leader in this space, and there is one other item to consider. When Intel first declared (not announced) the current 22.5 cent quarterly payout, Intel's stock was over $25.00. In fact, on July 26th, 2012, the first declaration date of that raised payout, Intel closed at $25.50 (not adjusted for dividends since). The yield that day, based on the raised payout, was 3.53%. Intel's yield as of Wednesday's close was 3.80%. So although Intel has not raised the dividend amount, the yield has risen by almost 30 basis points.
Final thoughts:
Intel did not raise its dividend with its quarterly declaration, and I assume that will lead to some panic in the investment community. I don't believe panic is warranted just yet. Intel could easily be putting itself back on a calendar cycle, where it raises the dividend for the first payment of the new year. Additionally, the company is expected to post its second straight year of declining revenues and plunging earnings. Cash flow generation is uneven, and they just launched a bunch of new products. 2013 was a transitional year, which included a CEO change, and 2014 is expected to be better. Intel's yield also still dominates other large cap tech names, even after those names announced large raises this year. Intel will raise the dividend again, and all of your fears will go away. Maybe the company could even front run the move and use its next earnings report to announce a raise.
Disclosure: I have no positions in any stocks mentioned, and no plans to initiate any positions within the next 72 hours. I wrote this article myself, and it expresses my own opinions. I am not receiving compensation for it (other than from Seeking Alpha). I have no business relationship with any company whose stock is mentioned in this article.
Additional disclosure: Investors are always reminded that before making any investment, you should do your own proper due diligence on any name directly or indirectly mentioned in this article. Investors should also consider seeking advice from a broker or financial adviser before making any investment decisions. Any material in this article should be considered general information, and not relied on as a formal investment recommendation.