Canadian-based senior gold producer Goldcorp Inc. (NYSE:GG) is among one of the industry's low-cost gold producers. GG is among those top companies of the industry that are likely to deliver healthy financial performances in the future. The company has solid growth prospects, a solid balance sheet and is among the industry's low-cost producers.
GG has operational mines in three different regions: Five in Canada and the U.S., three in Mexico, and two in Central and South America. The following table shows the total proven and probable reserves of GG as of year-end 2012.
| | | | | | |
| --- | --- | --- | --- | --- | --- |
| | Gold | Silver | Copper | Lead | Zinc |
| Total Proven and Probable Reserves | 67 million ounces | 1,160 million ounces | 5.8 billion lbs | 5.8 billion lbs | 14 million lbs |
Source: Annual Report
Impressive Growth Profile
GG's gold production since 2007 has generally been stable within a range of 2.3-to-2.5 million ounces. However, GG has been aggressively spending and working on development projects to ramp-up its gold production. Among the major ongoing development projects for GG are Cerro Negro, Eleonore and Cochenour. Over the last couple of years, the company has incurred a large amount of capital expenditures (CapEx) on its ongoing projects, and its growth prospects for the foreseeable future will be operational, which will add to the company's production capacity. The Cerro Negro development project is at its final stages, and is expected to start production in early 2014; it is expected to produce 525,000 ounces annually at cash costs of $350/oz. Another one of GG's important ongoing projects is Eleonore. Eleonore is expected to start production by the end of 2014, and is expected to produce 600,000 ounces annually within a few years of production at cash costs of $400/oz. One more development project, Cochenour in Ontario, with an expected annual production of 225,000-to-250,000 ounces at a cash cost of $350/oz, is anticipated to be online in the first half of 2015.
As the company has an impressive development project pipeline, I believe it remains an important future performance driver. As the cost of production with the industry has been on the rise, increased production will help GG effectively manage/lower cost of production by taking advantage of economies of scale. GG is expected to increase its gold production by 61% to 4 million ounces by 2017, as compared to nearly 2.4 million ounces in 2012.
Low Cost Producer
Costs of production have been trending upwards for gold producers in recent years. This remains a serious threat to their future financial performance. GG's costs have also increased along with other gold producers in the industry. However, GG still remains among the low-cost gold producers. The chart below shows the cash cost comparison between GG, Yamana Gold (NYSE:AUY), Barrick Gold (ABX), Newmont Mining Corp. (NYSE:NEM), Kinross Gold Corp. (NYSE:KGC), Agnico Eagles Mines (NYSE:AEM) and IAMGOLD Corp. (NYSE:IAG).
*(Comparison is based on cash costs/oz incurred by the companies in 2Q'13)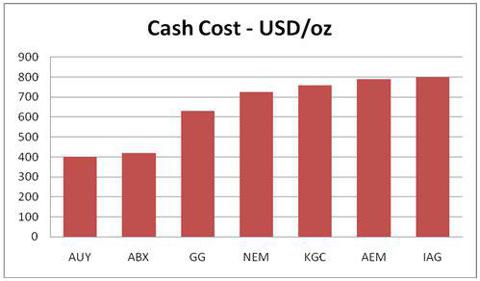 Source: Quarterly Reports
As several of GG's ongoing projects will start production in the near future, an increase in total production will result in lower costs per ounce due to better leveraging of costs and economies of scale. Also, the current low prices of gold have forced GG to curtail its costs, and observe financial discipline, which will bode well for its future earnings. GG CEO Chuck Jeannes recently said, "You never want to let a good opportunity go to waste, and the reduction in the price of gold has allowed us to go back to our sites and insist on some real discipline in our cost-cutting efforts. I see this as a good opportunity for Goldcorp to focus on financial discipline and cost cutting - what we call operating for excellence - that were already underway, but have become more high-profile in this current price environment."
Solid Balance Sheet and Cash Flow
A solid balance sheet and strong cash flow position are two other stock price drivers for GG. The company has low debt-to-equity of 11% in contrast to its peers. In addition, it has a higher current ratio of 2.5x as opposed to its peers' average of 2.25x. Below are the debt-to-equity and current ratio comparison.
| | | | | | | | |
| --- | --- | --- | --- | --- | --- | --- | --- |
| | GG | AUY | ABX | NEM | KGC | AEM | Average |
| Debt-to-Equity | 11% | 14% | 99% | 48% | 32% | 25% | 40% |
| Current Ratio | 2.5x | 1.5x | 1.7x | 2.3x | 3.7 | 2.9x | 2.25x |
Source: Yahoo finance
The company also has a strong cash flow position; cash balance at the end of 2Q'13 totaled $1.39 billion. GG has been making efforts to sustain its strong cash flow position, as it lowered its CapEx guidance by $200 million in 2Q'13. The company has reduced its cost guidance (excluding cash costs) for 2013 by 8%, and now expects CapEx to total $2.6 billion in 2013. Moreover, an available credit facility of $2 billion, which is expected to expire in 2018, also strengthens GG's financial flexibility.
Financial Highlights
GG has been successful in posting a healthy financial performance in recent years, which is evident by its sales, EPS and dividend growth rates. The following table shows sales, EPS and dividend growth rates for the company for the last three and five years.
| | | | |
| --- | --- | --- | --- |
| | Sales | EPS | Dividend |
| 3 Years | 26% | 140% | 45% |
| 5 Years | 20% | 42% | 25% |
Source: Reuters
2Q'13 Performance
GG's financial results for 2Q'13 were adversely affected by lower gold prices in the quarter. Gold prices dropped nearly $400/oz in the second quarter. More than half of the company's quarterly sales were made in June, when the price of gold was low. GG posted an adjusted EPS of 14 cents in the quarter, missing consensus estimates of 23 cents. Total production for the quarter was 646,000 ounces, above analyst estimates of 635,000 ounces.
Risks
The price of gold is the most important performance driver for gold companies, and it is a fact that this price is dependent upon macroeconomic indicators and government policies. GG's financial health is mainly dependent on the price of gold. Gold price can be volatile, which is the case nowadays, and is sensitive to changing government and central bank policies. Also, as the company has been undertaking several growth and development projects, any unexpected delay or an increase in estimated costs can adversely affect the stock price and slow down future growth. Moreover, as the company has operations in different regions, it is exposed to foreign currency risk.
Valuations
Currently, the stock is trading at premium valuations to its peers, which I believe is justified, as GG is among the best in the industry with a solid balance sheet, strong cash flows, a healthy project pipeline and low cost mines. I believe that at current valuations, the shares are fully valued. The table below shows the current valuations for GG in contrast to its peers.
| | | | | | | |
| --- | --- | --- | --- | --- | --- | --- |
| | GG | AUY | ABX | NEM | KGC | AEM |
| EV/EBITDA | 10.5x | 8x | 4.5x | 5x | 2.2x | 9x |
| Price/Sales | 4x | 3.5x | 1.3x | 1.5x | 1.4x | 2.7x |
| Forward P/E | 20x | 18x | 8.5x | 15x | 18x | 35x |
| Next 5 Year Growth Rate | 5.75% | 0.40% | 2% | - | - | - |
Source: Yahoo Finance
Final Words
I believe GG is among the best in the industry. In the ongoing situation, where the price of gold is volatile and lower, I stay positive on GG, as it has a healthy and growing project pipeline, solid balance sheet, strong cash flows and remains among low-cost producers. However, I believe at current valuations, the stock is fairly valued and recommend a neutral rating on the stock.
Disclosure: I have no positions in any stocks mentioned, and no plans to initiate any positions within the next 72 hours. I wrote this article myself, and it expresses my own opinions. I am not receiving compensation for it (other than from Seeking Alpha). I have no business relationship with any company whose stock is mentioned in this article.