Moody's today reiterated its negative outlook on the US apparel industry "because we expect apparel sales will continue to weaken through the year-end holidays and into 2010, as consumers hold off on discretionary purchases in a still-difficult economy."
Other Highlights of Moody's Industry Outlook.
We don't expect that holiday 2009 will be as promotional as holiday 2008, because inventories this year should be better aligned with expected demand. However, the consumer has learned that it pays to wait for higher markdowns, and that could pressure retailers to mark down prices more than expected.
For 2010, we expect retailers will continue to pare back inventory through the first half of the year. This will pressure apparel sales even if consumer demand begins to stabilize.
The consumer continues to show evidence of trading down to more-moderate price points, another headwind for the industry.
Apparel companies that sell less-discretionary products (such as children's clothing) will be more resilient, as will companies that have a large presence in international markets (such as the Asia-Pacific region).
All of this said, we believe that the negative conditions in the apparel industry are moving closer to a bottom; however, even if conditions begin to stabilize, they will likely remain weak for a while, possibly into late 2010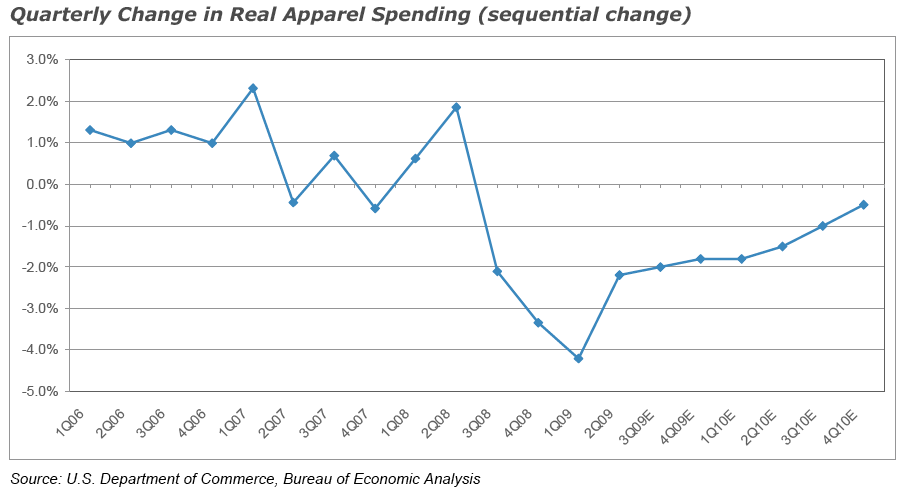 Moody's said, some companies are doing better than others. "A well-executed retail strategy can turn a profit, grow the business, and increase market share. Our upgrade of Carter's (NYSE:CRI) rating in September partly reflected the company's sustained same-store sales growth and margin expansion in its retail business, even in the recession." [ Analysts at BMO Capital Markets initiated coverage of Carter on Oct 28 with an "outperform" rating. Analysts at Sterne Agee upgraded the company from "neutral" to "buy" on Oct 4.]
"Another example is Warnaco (WRC) . The company's continued investment in its Calvin Klein Jeans business is paying dividends, particularly in overseas markets. The company has reported positive revenue growth on a constant-currency basis over the course of 2009, a factor in our decision to move the outlook for the rating to positive from stable."