By David Urani
The August Pending Home Sales Index from the NAR showed a reading of 107.7, down 1.6% from July. That was a little bit below the consensus estimate calling for a 1.0% drop. That's a third drop in a row for pending homes, although it's just 3.2% down from the May high which is a modest drop considering the circumstances surrounding mortgage rates and general fear in the market over housing. On a year over year basis sales are still up 5.8% so it's still on track albeit at a slower pace than before.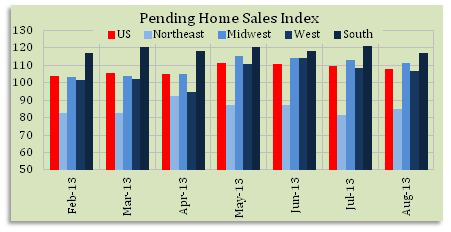 Speaking of those mortgage rates, of course last week we got that bombshell from the Fed that there would not in fact be any tapering yet contrary to popular expectations. Seeing as the Fed, or expectations of them, have been the primary driver of rates we naturally saw some relief. Freddie Mac reports that for this week the 30-year rate is down from 4.50% to 4.32%, and it now sits at a 2-month low. That being said, I would still say the dreaded Fed "taper" is on the way eventually so I wouldn't expect too much more, if any, downside in rates.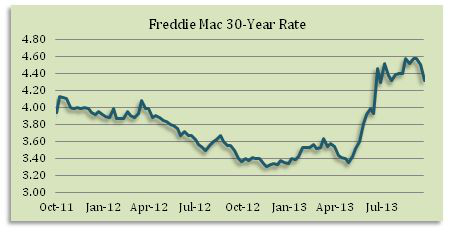 And on that note, it's pretty interesting these days to look at a historical picture of interest rates. My how things have changed. In a way it's a little funny how the world is clamoring about our increase from 3.5% to 4.5% this year. It seems our economy, with no help from the Fed, has become addicted to low rates and this trend has been brewing for decades. In the meantime the market continues to react violently to the prospects of the Fed reverting to any sort of resemblance of a more normalized rate policy.
It's been the government's practice for years, to meddle with the housing market with the grand vision of a white picket fence for all and ever-inflating wealth as prices rise. Of course, from the Fed's perspective it's always been their goal to reduce volatility and to mitigate the boom-bust cycle. But I beg to ask, what's causing the volatility here? It's the Fed itself right now that's making interest rates and the housing market at large unstable by holding rates down where they don't belong and it's sad how cowardly they are to even snip off just a little bit of their $80 billion per month stimulus because of the backlash.
The housing market has been in recovery for two years with no let-up on the turbo-charged printing presses at the Federal Reserve that are being used to buy tens of billions a month in mortgage-backed securities. In fact, because of the Fed I would go as far as to say the housing market recovery of the past two years was too fast, and by the looks of it it's largely been investors that have been aware enough and able enough to swoop in to reap all the benefits whereas much of the first-time homeowner crowd is still too afraid to jump in. Now they've already missed a huge rebound in home prices and by the time the most of the average folks buy their homes those prices may be ready to slide again when the Fed finally decides to face reality.
Meanwhile it's been five whole years since the 2008 economic crash and as of yet the Fed's foot has only been planted harder and harder onto the gas. There have been 16 recessions since 1919, or generally one every six years. The Fed is currently not forecasting to raise the benchmark interest rate back to the normalized 4% range until at least 2016. In a way I wonder if interest rates will still be held artificially low by the time the next recession rolls around. And so restarts the cycle of our low-rate addiction as the Fed swoops in again to "save" us.