On September 24, 2013, Cisco (NASDAQ:CSCO) introduced its Network Convergence System ("NCS") truly meant for the next wave of the Internet evolution "Internet of Everything", which includes machine to machine (M2M) applications that work over the connected network.
Internet of everything (IoE) or Internet of things: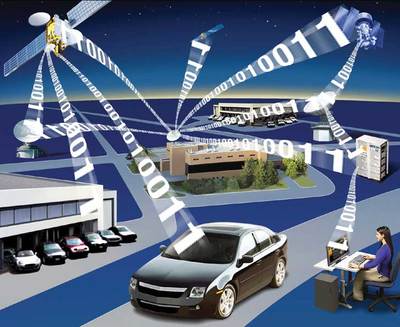 IoE is an emerging buzz world in the networking and communication industry, IoE means the networked connection of people, data, processes and things; Where everything on a same network (person, device, application, system, etc) can anytime connect and interact with each other, not just manually, but also through the devices or applications, and can react to the particular events (mainly application generated events) that occur when something predefined happens or when an application from a connected device prompts another connected device to do something. This mostly includes M2M interactions. Examples of event driven and M2M communication include:
Manufacturing equipment that sends warnings when something went wrong.
ATM machines send instant information to remote servers about the amount withdraw.
A GPS system tells the location of a vehicle, through a remote device, to a fleet operator.
IoE business opportunity:
The IoE finds its applications in the most industries, homes, businesses, vehicles, hospitals, etc. It helps in the more automation of systems and makes life easier and simple for its users. The IoE is gaining popularity due to various reasons like:
Need of more automated systems.
Availability of better, faster and more secure networks.
The rising popularity of mobile devices.
The ease of use.
GSMA estimates (see the chart below) connecting 24 billion devices by 2020, while Cisco estimates it at about 50 billion objects, by 2020. Even if one takes the lower estimate (GSMA estimate); Even then the number of devices connected through the Internet is expected to grow at an exceptional rate.

IoE will create trillions of programmed device-driven events in the next decade and will create a multibillion-dollar business opportunity for the service providers. The business opportunities will be huge, particularly, in certain vertical markets (see the chart below), such as: Healthcare, automotive, consumer electronics, utilities, etc. The estimated opportunity for mobile network operators in 2020 shall be $1.2 trillion.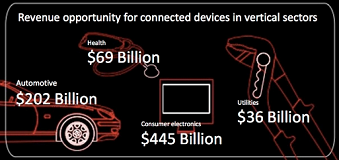 Network requirements:
To meet the IoE requirements the Internet networks all over the world require not only to scale the bandwidth, but also needs to process, analyze and deliver the event-related information securely that too within an expected timeframe. Moreover, as per GSMA announcement, by 2018 globally the mobile operators will earn more data revenues as compare to voice revenues (see the table below) mainly due to rise in the number of connected devices and M2M communications, this rise in M2M communication will drive the growth for IoE infrastructure.

Cisco's new Network Convergence System:
The latest NCS introduced by the company is truly meant for IoE as its processing speed and response time is much faster than most of the existing systems. The new NCS will work as a fabric, so it can be easily integrated in the existing infrastructure, and will manage the data flow of the connected network. Scale and speed of the new NCS is incredible.
As stated by the company:
"The NCS is capable of transporting the entire Netflix library in less than one second."
Not just the data-transfer speed but the NCS can also manage the network resources for optimal use.
"The NCS extends, connects, controls and responds to applications, networks and data centers by managing and moving network and compute resources wherever and whenever they are needed across the architecture, in real time."
Conclusion:
Cisco once again is setting up a new benchmark in the networking and communication industry and this time it's huge on all parameters like capacity, speed, etc. It may well be the beginning of new era in networking management and control as the system is capable of managing network resources on a real-time basis which practically means that the system is not only fast but also intelligent enough to differentiate between devices, systems and applications on its own. So, the system can, not only address the needs of IoE, but due to its speed and intelligence, in the future it can serve the requirements of software defined networking (SDN) and routing.
As stated by the company:
"When deployed as part of the Cisco ONE Service Provider Architecture, which embraces and extends SDN/NFV, the Cisco NCS family can help network operators reduce total cost of ownership by 45 percent while consuming 60 percent less power."
The new system is not only most advanced but also is cost-effective. As stated by KDDI, an early adopter of Cisco's new NCS system:
"KDDI believes the Cisco NCS is the foundation for a new generation of Internet networks that will allow us to offer our consumer and business customers the newest and most exciting Internet experiences at a very low total cost of ownership."
The newly introduced NCS shows that how well Cisco's management understands the industry as also why it shall continue to lead the industry towards new horizons.
Once again, I take it as a proof that the company is firmly following its aggressive growth strategy, which I consider as a key reason behind the future growth potential of the company.
Business-wise, with this NCS, Cisco has taken a big leap in Converge Infrastructure market as also now the company is a first serious player in the IoE infrastructure market with the technology that is way ahead of its competitors. Now, the company shall be a key infrastructure provider for fast evolving multibillion-dollar IoE market that holds an exceptional long-term growth potential. In Converge Infrastructure market, which is expected to reach $402 billion by 2017 (see the chart below), now the company shall be a more dominant player among other major converge infrastructure providers like HP (NYSE:HPQ), IBM (NYSE:IBM), Intel (NASDAQ:INTL), etc.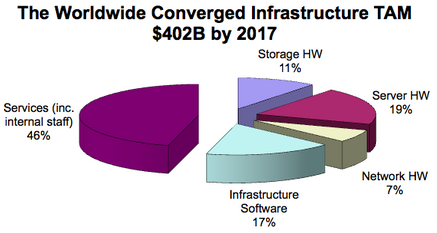 Disclaimer: Investments in stock markets carry significant risk, stock prices can rise or fall without any understandable or fundamental reasons. Enter only if one has the appetite to take risk and heart to withstand the volatile nature of the stock markets.
This article reflects the personal views of the author about the company and one must consult its financial adviser before making any decision.
Disclosure: I have no positions in any stocks mentioned, and no plans to initiate any positions within the next 72 hours. I wrote this article myself, and it expresses my own opinions. I am not receiving compensation for it (other than from Seeking Alpha). I have no business relationship with any company whose stock is mentioned in this article.