By Mike Yamamoto
Jakks Pacific (NASDAQ:JAKK) gapped down yesterday on a convertible-bond sale, and traders are still positioning for lower prices on the toymaker.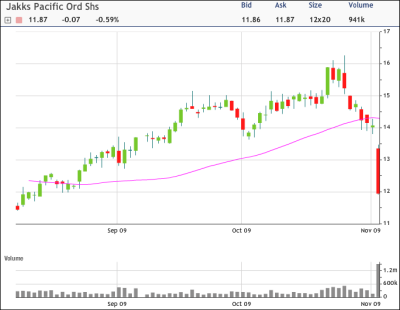 optionMONSTER's tracking programs detected heavy call selling and unusual put buying in the toymaker, which typically trades fewer than 150 contracts per day. The March 12.50 calls were the most active strike, with most of the sales pricing for $1. Volume totaled 979, or 12 times existing open interest.

JAKK is off 0.59 percent to $11.87 in afternoon trading and is down 19 percent in the last month. The shares traded as high as $16.26 last week after a strong earnings report on Oct. 21 and have been falling ever since.

Other investors sold the June 12.50 calls for $1.35. Some 626 contracts changed hands against no existing open interest. The March sellers are positioned to make money if JAKK stays below $13.50 by expiration, while the June traders are looking for a close below $13.85 three months later.

Another investor also purchased 500 June 7.50 puts for $0.50 against no existing open interest.
Overall options volume in JAKK was 18 times greater than average today.

(Chart courtesy of tradeMONSTER)