(Editors' Note: This article covers a micro-cap stock. Please be aware of the risks associated with these stocks.)
Diabetes: A Global Condition
Diabetes has long been a huge problem in the United States and Europe, and has begun to affect the rest of the globe particularly Asia. The American Diabetes Association estimates 25.8 million individuals suffer from diabetes in the United States alone, which trails behind China and India's estimated 90 and 61 million respectively. With no cure in sight, it falls to a plethora of medical companies to provide drugs, aids, and devices to make life easier for this vast portion of the global population. These companies include major manufacturing concerns such as 3M (NYSE:MMM) and General Electric (NYSE:GE), and is dominated by four major pharmaceutical corporations: Abbott Laboratories (NYSE:ABT), Bayer (OTCPK:BAYRY), Medtronic (NYSE:MDT), the largest medical technology group in the world, and Johnson and Johnson (NYSE:JNJ). In addition there are a variety of smaller corporations in the field, including Decision Diagnostics (OTCPK:DECN).
Of particular note are the last two companies listed. Last year Johnson and Johnson entered a protracted legal battle with the much smaller Decision Diagnostics, initiating civil action accusing them of violating their patent on single use strips for their line of OneTouch Ultra Devices. Decision Diagnostics produces a competing generic strip, marketed under the name GeneStrip. The case was expected by many to reach a quick conclusion in favor of Johnson and Johnson.
A Healthcare Titan
Johnson and Johnson is a holding company based upon research and manufacture of healthcare products. One of the largest such companies in the world, they produce everything from prescription medication to shampoo and infant products. However, the largest portion of their sales, an estimated 40%, comes from medical devices and diagnostic operations.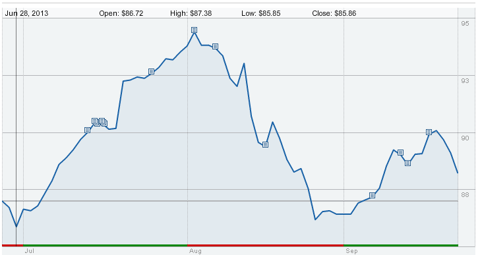 Financially Johnson and Johnson is titanic. Their most recent quarterly filing shows net earnings of 960 million USD, and over 124 billion in assets. This is an improvement of almost 200 million from their previous quarter. Their stock has traded from low 60s to almost 90 USD a share consistently for over a decade. Valued at over just over 251 billion USD and with diversified subsidiaries, manufacturing plants and partners worldwide, they paint a portrait of a company secure in their status as an edifice of the healthcare sector, one that would have little trouble dealing with challenges from companies of lesser stature.
Among their subsidiaries is LifeScan Inc., a California based company. LifeScan's main concern is production of the OneTouch line of meters, devices designed to measure blood glucose levels in diabetic patients. The four different OneTouch meters have been the most popular such devices since 2004, used by 3-4 million of the 13 million users of glucose meters worldwide The popularity of this product line grants Johnson and Johnson their commanding 30% market share of the glucose diagnostic industry. However it is the sale of single use strips for these meters that comprises the majority of the revenue rather than the initial sale of the device, with many receiving the device itself for free. Until recently, as with nearly all such meters, LifeScan, as the manufacturer, was the sole producer of the related strips. Consumers were offered no alternative, ensuring continued revenue for Johnson and Johnson for years.
An Emerging Challenger
Enter Decision Diagnostics Corp., a similar California based manufacturer and distributor of diagnostic products for prescription and non-prescription use. Formerly known as Instacare Corp. (OTC:ISCR) they have been minor players in the diagnostic market since 2005 but aside from receiving a boost in activity and value in 2009, following the passage of President Obama's healthcare initiative they have remained a quiet player in the field, content with their small slice of the healthcare sector. Perhaps the most unique aspect is Decision Diagnostic's willingness to engineer their products to be used with smartphones as well as more traditional medical devices, a clever decision designed to take advantage of the rising popularity of such phones. Their primary products are blood glucose measuring meters, wounds care products, and most recently and perhaps most importantly the Shasta GenStrip.
Produced and marketed by their subsidiary PharmaTech and distributed by their subsidiary Shasta Technologies, the Shasta GenStrip is a single use strip for the aforementioned LifeScan OneTouch line of blood glucose meters. Sold at half the price and offering equal if not greater performance than the branded LifeScan strips, the GenStrip was poised to make major forays into Johnson and Johnson's dominance of the diagnostic strip market. In preparation for the impending release, in 2011 Decision Diagnostic ceased to sell many of its low profit-margin products including other name brand glucose test strips, and bet their fortunes on the GenStrip. This timing of this action was unfortunate for them as their ongoing legal battle and inability to sell the GenStrip has led to much lower revenue combined with much higher expenses.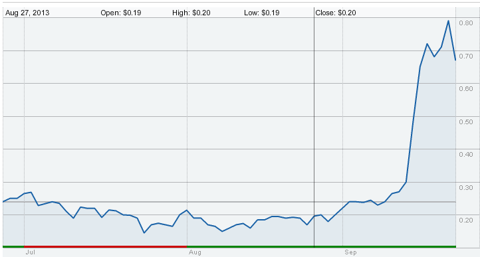 Financially Johnson and Johnson dwarf Decision Diagnostics and its subsidiaries. Their most recent quarterly filings on June 30 put them in dire straits, showing only 3.6 million USD in assets, with 4 million in liabilities. In addition they earned just 377 thousand in revenue from their operations and posted a net loss of 1.7 million overall, with a majority of their expenses related to the ongoing lawsuit. Until recently they traded consistently around 0.24 a share, maintaining over this level for over a year. Yet analysis of their long-term performance reveals what could be an incredibly asymmetric risk-reward ratio for investors. This is a company whose value does not change much on a day to day basis, but very prone to enormous appreciation very quickly, including a recent 300% spike in share value over a five-day period starting September 12 this year. This surge, like most of their recent ones, was linked primarily to the trials of the Shasta GenStrip and their ongoing case with Johnson and Johnson.
Diabetes Diagnostics: A Multi Billion Dollar Market Set to Triple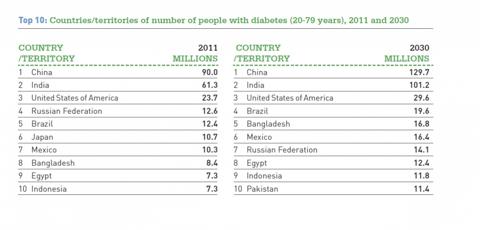 Source: WHO
The World Health Organization recorded almost 350 million people in 2012, with the number only set to rise. This has led to a recent report to value the diabetes diagnostic and treatment market at 38 billion USD in 2010 and maintain a 6.1% CAGR to reach 51.2 billion USD by 2015. This market includes insulin products, hypoglycemic drugs as well as the aforementioned diagnostic devices.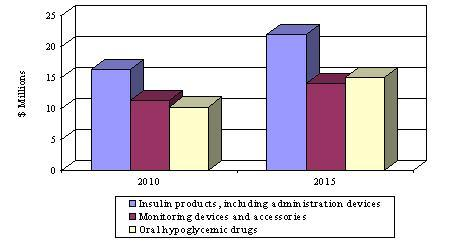 Source: BCC Research
While it may seem like a very specific market, the global ubiquity of diabetes has diabetes diagnostics estimated by market analysts at 11.3 billion USD in 2010, and projected to reach 26 billion by 2015 and 32 billion by 2017. Diagnostics, specifically monitoring devices and accessories currently form the second largest segment of the diabetes market. Of this 11.3 billion, an estimated 4 billion comes from sales of LifeScan devices and strips. As such, both Decision Diagnostics and Johnson and Johnson both stand to win or lose potential billions in earnings on the outcome of their ongoing court case.
A High Stakes Judgment
The Shasta GenStrip was FDA approved on November 30, 2012, and begun sales in early 2013. Yet even before FDA approval, Johnson and Johnson and their subsidiaries LifeScan and LifeScan Scotland filed a suit against Decision Diagnostics as well as their subsidiaries PharmaTech Solutions and Shasta Technologies alleging patent violation in September 2011. As part of the suit, they sought and obtained an injunction against the sales of the GenStrip. While many believed this would spell a quick demise for the smaller company, their decision to fight the case, as well have recent judgments have changed their fortunes drastically.
Normally when a multi-billion dollar corporation such as Johnson and Johnson picks a fight with a competitor much smaller in size and scale, and less than 0.01% their value, it's expected to be over in a heartbeat, resulting in unequivocal victory for the larger company. However, recent news has changed that view, at least in this particular case.
On August 1 Decision Diagnostics filed counterclaims against LifeScan and LifeScan Scotland, alleging misleading advertising that claimed their proprietary strips were superior to the GenStrip. This goes against the view of many independent analysts as well as the data from FDA trials, concluding that the cheaper GenStrip actually proved to demonstrate higher accuracy consistently.
Following that on August 15, Decision Diagnostics successfully appealed the injunction against the sale of the GenStrip. Since then it has begun shipping to direct-to-patient sales distributors. This is a key point for the company, since their 2011 decision to go all in on the GenStrip has stunted nearly all of their other revenue streams.
Most recently, on September 12, in response to their August counterclaims, a four-person panel of US Patent and Trademark Office judges notified Decision Diagnostics that "upon consideration of the petition and patent owner preliminary response, we conclude that Pharmatech (a unit of Decision) has established a reasonable likelihood that it would prevail with respect to claims." While not indicating any certainty, this notification has led many investors to put their faith in Decision Diagnostics. This resulted in the 300% appreciation I mentioned earlier boosting the value of their stock half a dollar.
Investment Analysis: 3 Distinct Outcomes
As of time of writing, there are three possible endings for this David and Goliath story. Each of them presents some form of opportunity for investors though some require approaches that are polar opposites.
The first possibility is that Decision Diagnostics manages to win their case. While the idea seemed farfetched when the case started two years ago, it may be the most likely, as viewed by the panel of USPTO judges. In this final decision of the suit, I guarantee a drastic increase in Decision Diagnostic's share value, probably dwarfing their September 12, 300% rise. While only trading at 0.66 USD a share right now, I would project the value to surpass at least 1.50 a share, if not 2 dollars. Based off recent news, I consider this to be the most likely outcome and as such have taken an appropriate long position on this stock.
The second resolution is of course, the opposite. Should Johnson and Johnson win the final judgment on this case, it almost certainly is terrible news for Decision Diagnostics, and any reparations they might be required to pay, combined with their existing legal expenses could even result in total bankruptcy or a redistribution of their assets. Of course for an investor who espouses this view, the opportunity to take a short position on the stock still exists, and could make them a tidy profit. However, historically this stock has risen very rapidly and fallen much more slowly, making this an extremely risky position. Proponents of this position would also stand to make a minor profit from a long in JNJ as they regain their monopoly on single use strips, though any change would be much less dramatic.
Finally the third possibility is in either outcome, or even before the final ruling, Johnson and Johnson's mergers and acquisitions department could take an interest in Decision Diagnostics. While unthinkable two years ago, recent rumors among investors have suggested that this could very well be in the cards, especially if the court decision ends in favor of Decision Diagnostics. It would give Johnson and Johnson back full control of the single strip market for their LifeScan devices, as well as giving them the use of the more accurate GeneStrip technology. In addition, if the court did rule against them, they have opened up the possibility of making their own generic strips for use with competing meters to encroach on their rival's market share. By contrast, if the court rules in their favor, they would be able to acquire Decision Diagnostics at a depreciated value and gain the GeneStrip technology in the process. Should Johnson and Johnson acquire Decision Diagnostics and its subsidiaries, again the more prudent move would be a long position to take advantage of the inevitable surge such an action would make.
With two of the three outcomes favoring a long position, including that ruled most likely by several judges, I choose to go long on DECN. The current low value per share minimizes my potential risk, and the historical behavior, as well as the potential benefits of the case ruling in their favor makes this a chance to double or triple the money I put in. As the case rapidly approaches a judgment, time is running out to take advantage of this opportunity.
Disclosure: I am long OTCPK:DECN. I wrote this article myself, and it expresses my own opinions. I am not receiving compensation for it (other than from Seeking Alpha). I have no business relationship with any company whose stock is mentioned in this article.