Intuitive Surgical (NASDAQ:ISRG), a long time market darling in the medical robotic surgery space, fell from grace on July 9th, dropping 16% on the day. ISRG is currently trading at $369, down 37% from a 52 week high of $585.67 set on February 1st. The problems leading to this fall have been well documented. But yesterday, Mako Surgical (NASDAQ:MAKO), a much smaller supplier of robotic surgical equipment primarily used for knee and hip procedures, was acquired by Stryker Corp (NYSE:SYK) for $1.65 Billion representing an 86% premium over the previous days close. Is this an indication that ISRG may now be undervalued and a buy?
A brief History
Intuitive Surgical is a pioneer in robotic assisted surgery gaining FDA approval for their da Vinci surgical robot in 2000. In that year, 40 machines performed 500 surgical procedures. In 2012, 2,500 machines were operating performing almost half a million procedures. The company's stock reflected this growth, rising from $20 per share to over $500 per share.
But as we entered the spring and summer of 2013, signs of trouble were becoming evident.
As early as February, the stock's trading patter began showing signs of abnormality resulting in a SmartStops risk alert being issued on February 13th at $558.74 and the stock being placed in the Elevated Risk State. 13 follow on risk alerts have been issued and other than a 13 day period in June, the stock has remained in the elevated risk state.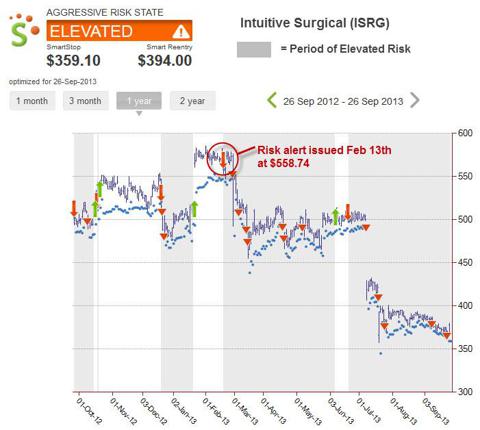 Source: SmartStops.net
Signs of Trouble Ahead
February 2013: SmartStops issued risk alert at $558.74 and placed ISRG in the elevated risk state
March 2013: James Breeden, The president of the American Congress of Obstetricians, issues a statement calling into question the advocacy of robotic surgery for hysterectomies, ""There is no good data proving that robotic hysterectomy is even as good as-let alone better-than existing, and far less costly, minimally invasive alternative".
April 2013: CNBC expose airs questioning the safety record of the da Vinci surgical system.
July 2013: ISRG issues a disappointing earnings report. Sales of machines priced at $1.5 million each dropped 5% from the prior year.
Stock drops and continues to decline throughout the summer.
Potential Sign of Redemption
September 25, 2013: Stryker agrees to acquire Mako Surgical for $1.65 Billion.
Does the MAKO takeover Make ISRG a Buy?
Stryker paid a very high premium for Mako Surgical which the market appears to believe was too high as Stryker stock dropped close to 3% on the news. The price represents an 86% premium and values the company at almost 13 X sales. What, if anything can we infer about the price of ISRG from this transaction?
Let's compare the Mako Surgical and Intuitive Surgical.
| | | |
| --- | --- | --- |
|   | Mako Surgical | Intuitive Surgical |
| Product / Solution | Robotic surgery device used primarily in knee and hip surgeries. | Robotic surgery device used primarily in gynecological and prostate cancer procedures but moving into general surgery. |
| Product value being questioned | Value of robot in knee surgery has been questioned. More acceptance seen for the more complex hip surgery. | Value and safety being questioned and reviewed for multiple procedures. |
| Recent stock performance | In May had lost over 40% on the year. Recovered in and was approaching its 52 week high of $17 before being taken over at $30 per share | Is trading down 37% from its 52 week high |
| Price per sales | Buyout at 12.3 X TTM Sales | Trading at 6.24 TTM Sales |
| PEG Rate | -2.08 | 1.76 |
| Market Cap | Buyout at $1.65 Billion | $14.6 Billion |
Conclusion
We believe the Stryker/Mako transaction is unique to those parties and does not imply that Intuitive Surgical is undervalued.
Stryker may have been inclined to pay such a high premium for Mako do to the fact that their products are synergistic. Stryker makes the replacement hip and knee joints and hardware that can be used in the Mako surgical procedures.
Mako was a digestible company. Stryker, with a market cap of $25 billion, will be able to digest a $1.65 billion acquisition. It would be difficult to find a buyer who would want to pay a premium and digest a $20+ billion dollar acquisition that would be required for Intuitive Surgical.
Despite the recent challenges facing da Vinci, we do believe that robotic assisted surgeries is the way of the future and that Intuitive Surgical will continue to be a leader in this field. However, given the many uncertainties regarding the current solution, liabilities due to current and potential law suits, and the current healthcare spending environment where cost cutting is king, we feel that Intuitive Surgical is fairly priced at this time and does not warrant any further premium.
Disclosure: I have no positions in any stocks mentioned, and no plans to initiate any positions within the next 72 hours. I wrote this article myself, and it expresses my own opinions. I am not receiving compensation for it (other than from Seeking Alpha). I have no business relationship with any company whose stock is mentioned in this article.