After competing with an abundance of lower-priced, cleaner natural gas, coal miners (NYSEARCA:KOL) may now have to deal with more demand headwinds as governments aim to reduce coal burning.
The US
Expectations are already for as much as 27 gigawatts worth of coal generation (about 8.5% of the US coal fleet) to retire by 2016. This percentage could rise to nearly 17% (one-sixth) by 2020, according to the Energy Information Administration. In addition to the expected retirements, the Environmental Protection Agency (EPA) plans to block all new coal-fired plants unless the construction of these plants coincides with expensive technology that captures greenhouse gas emissions.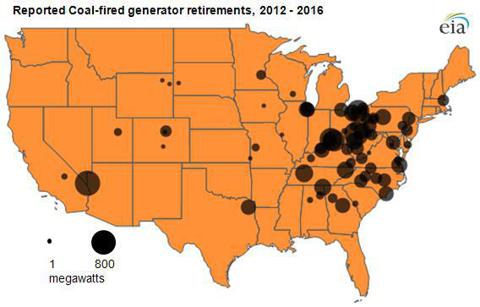 Image Source: Energy Information Administration
Though the EPA forecasts that no traditional coal-fired power plants (1) will be built in the next eight years, the rules, if enacted, would make coal consumption even less attractive for US power plants. Estimates suggest, for example, that building a new coal plant with carbon capture could be nearly twice as much as that of a natural gas plant. In turn, US coal producers continue to export more coal, increasing global supply (putting pressure on global prices).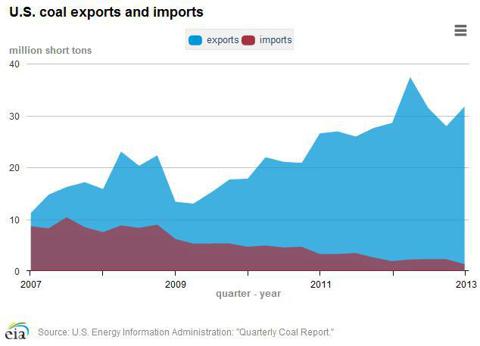 The combination of trouble on both the domestic and international horizons is certainly not welcomed by precarious coal producers such as James River Coal (JRCC), Arch Coal (ACI), and Walter Energy (NYSE:WLT), which remain heavily levered.
Railroads CSX (NYSE:CSX) and Norfolk Southern (NYSE:NSC) are already feeling the pain from lower coal volumes. Volume declined 4% year-over-year during Norfolk's second quarter, with total coal revenue falling 17% year-over-year to $626 million. Coal volumes declined 6% year-over-year during CSX's second quarter, dragging total coal revenue down 6% year-over-year to $770 million. Coal still comprises 25% of revenues and 22% of revenues at CSX and Norfolk, respectively, so any decline can materially harm performance.
However, it isn't a zero sum game by any means. Pipelines that move natural gas owned by the likes of Berkshire Hathaway's MidAmerican Energy (NYSE:BRK.A) and Kinder Morgan (NYSE:KMP) should benefit from increased shipments. Additionally, railroads will now have excess capacity available to ship different products (think crude by rail). In 2012, railroads moved more crude oil than ever before.
China
While the EPA plan remains in the works, Beijing unveiled a clean air action plan Thursday morning aimed at curbing pollution. The magnitude of the plan is large:
"The capital's 2013-2017 plan aims to cut annual coal consumption by 13 million tonnes and keep it within 10 million tonnes by 2017, compared with 23 million tonnes in 2012."
In other words, Beijing expects to cut coal consumption by 57% over just the next five years. China currently accounts for nearly 50% of global coal consumption, though 23 million tonnes is a small portion of the total 3.8 billion tonnes consumed in China during 2011. Even a consumption cut of 13 million tonnes does little to reduce overall coal consumption. However, the fear is that other municipalities will follow Beijing's lead and create similar plans. Global coal giants such as Rio Tinto (NYSE:RIO) will feel the pain if China as a country decides to shun coal to a greater extent.
Still, the plan in itself isn't enough to ruin overall global coal demand. In fact, we think coal will remain a key energy source, but natural gas will overtake it as the second-most used fuel by 2025.
Valuentum's Take
Coal producers continue to deal with a bevy of headwinds, and further government regulation creates an environment for more negative hurdles going forward. We currently have no positions in any company that exclusively produces coal, though Best Ideas Newsletter portfolio holdings Rio Tinto and Union Pacific (NYSE:UNP) do have modest exposure via coal production and transportation, respectively.
Disclosure: I have no positions in any stocks mentioned, and no plans to initiate any positions within the next 72 hours. I wrote this article myself, and it expresses my own opinions. I am not receiving compensation for it (other than from Seeking Alpha). I have no business relationship with any company whose stock is mentioned in this article.
Additional disclosure: KMP, UNP, and RIO are included in our actively-managed portfolios.