By Todd Wenning
AptarGroup (ATR), Ball (BLL), Bemis (BMS), Crown Holdings (CCK), International Paper (IP), MeadWestvaco (MWV), Owens-Illinois (OI), Packaging Corporation of America (PKG), Rock-Tenn (RKT), Sealed Air (SEE), Silgan Holdings (SLGN) and Sonoco Products (SON) repurchased a cumulative $9.3 billion of their own stock versus paying out $8.3 billion in cash dividends and spending $10.1 billion on net acquisitions. As such, buybacks play an important role in packaging companies' capital-allocation decisions. Our research shows that the industry's approach to buybacks varies considerably by company, and only a few companies have a record of retiring a meaningful number of shares and consistently buying back stock at attractive prices. In the coming years, we expect less merger and acquisition activity in the domestic packaging industry along with steady free cash flow generation, which should support continued use of buybacks as a means of returning shareholder cash.
The Rise in Repurchases
In 1982, the enactment of Securities and Exchange Commission Rule 10b-18 provided companies with a safe harbor from potential lawsuits relating to the large-scale repurchase of their own stock as long as certain conditions were met. Since then, and especially over the past 15 years, share repurchases (also known as buybacks) have become an increasingly important tool for U.S.-based companies to return cash to shareholders.
The rise of buybacks has partially come at the expense of cash dividends, which historically accounted for the lion's share of cash distribution to shareholders, though industry dividends continue to grow following the financial crisis and still play an important role in capital-allocation decisions. From a company's perspective, buybacks can be more attractive than dividends as they lack an implicit commitment to return at least the same amount of cash each year and can be employed as a signal to the market that management thinks the stock is undervalued. Less appealing uses for buybacks include managing earnings per share and offsetting dilution related to employee stock options, but we nevertheless consider those to be motivations for some companies.
The increased use of buybacks has also proved true for the 12 U.S.-based packaging companies we cover. Since the end of 2004, half of the companies have used buybacks as the primary means for returning shareholder cash.
We think investors should pay as much attention to buyback decisions as M&A and dividend policy decisions. The gross amount that packaging companies spent on buybacks has varied on a year-by-year basis (the effect being exacerbated by the financial crisis years of 2008 and 2009), but between 2005 and 2012, the industry spent $1.12 on buybacks for every $1 paid in cash dividends and $0.92 for every $1 spent on M&A.
Over the next few years, we do not expect as much large-scale acquisition activity in the U.S. packaging industry - we think Packaging Corporation of America's recent $1.995 billion bid for Boise is a one-off event rather than the start of a trend--given the likelihood of rising interest rates and the already consolidated nature of the North American metal food and beverage, glass and paper packaging industries. This should leave more free cash flow available for buybacks across the industry.
That said, we do expect the more highly leveraged companies, such as Crown Holdings, Sealed Air, Owens-Illinois and Ball to dedicate some free cash flow toward debt reduction. A number of packaging companies also have substantial dividend programs that naturally reduce the amount of free cash flow that can be made available for buybacks. Still, we forecast adequate free cash flow available for share repurchases through 2017.
Look at Effect, Not Just Action
While we think there's plenty of potential for robust buyback activity over the next few years, we also think it's important to consider how effectively packaging companies have repurchased stock since 2004.
Some firms use buybacks to offset dilution related to employee stock options, and the shareholders' stake doesn't necessarily increase by the same magnitude as the initial buyback yield. Alternatively, companies can buy back stock, hold stock as treasury shares, and later reissue the stock for acquisitions or for another purpose.
Though arguments can be made that these actions don't always destroy shareholder value, we believe that over time, companies with robust buyback strategies should in fact reduce the number of shares outstanding and increase the ongoing shareholders' stake in the company.
From the end of 2004 to the end of June 2013, the 12 U.S. packaging companies as a group reduced the overall share count by 10.6%, or 1.5% annualized - a decent "bonus" to dividend yield that should be considered by investors evaluating the industry's inclination toward returning shareholder cash. However, some buyback programs were more effective than others at reducing share count.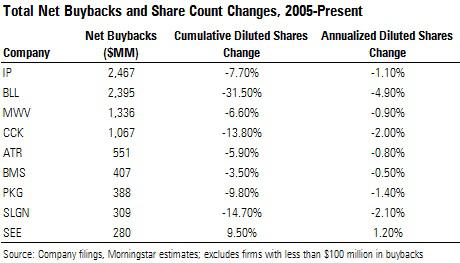 Ideally, firms will repurchase stock when it's trading at a material discount to fair value. However, buyback activity at the market level over the past decade suggests that firms are more likely to repurchase stock when they have extra cash flow, which also typically coincides with good economic conditions and higher share prices.
Consequently, we prefer to see companies with a consistent record of making opportunistic purchases of their stock over time. While the short-term performance of a stock following a buyback decision is more attributable to luck rather than skill, we are more interested in the process behind the buyback decision. When evaluating a company's buyback process we seek answers to the following questions:
Was the decision made with high conviction - what percentage of shares outstanding was retired?
What repurchasing method did the company use?
Does the firm have a record of buying back stock at good to fair prices?
Was it the best use of cash relative to other opportunities (dividends, M&A, or capital expenditures)?
We See PCA's Buyback Actions as the Strongest Positive Signal
Over the past three years, only a handful of companies in the packaging industry reduced annual share count by more than 1% in a given year, and fewer bought back shares at a material discount to the annual average share price.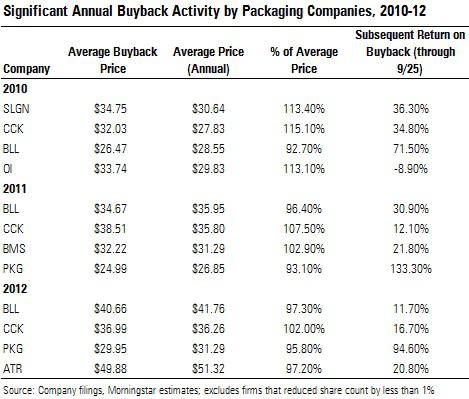 Ball has an admirable record of buying back significant amounts of stock at good to fair prices and consistently reducing its share count. Its most common method of buying back stock is through accelerated share-repurchase programs that allow Ball to immediately retire large blocks of shares through contracted agreements with investment banks. In contrast to open-market repurchases, ASRs provide the firm less financial flexibility and less ability to opportunistically repurchase stock if the price falls below the agreed-upon price with the investment bank. On the other hand, Ball's use of ASR reveals a firm commitment to buying back stock, whereas OMR may provide an easy out if management gets cold feet or market conditions change.
We expect buybacks to continue to play a large role in Ball's capital-allocation decisions, as management has earmarked share repurchases to account for 5%-7% of the company's long-term EPS growth target of 10%-15%. With buybacks accounting for around half of long-term EPS targets, Ball may need to repurchase large amounts of stock each year regardless of the prevailing value proposition.
One of Ball's competitors in metal packaging, Crown Holdings, also uses an ASR approach to execute its large-scale buyback program, but its record of buying stock at good to fair prices has been less impressive over the past three years. Over the next few years, we expect both companies to remain active with buybacks, though perhaps to a lesser degree as the potential for higher borrowing costs and the companies' non-investment-grade balance sheets could lead to a round of deleveraging.
Compared with Ball and Crown, which tend to take a dollar-cost averaging approach to buybacks by spending a large amount each year and hoping to return cash near the stock's fair value over time, Silgan Holdings and Packaging Corporation of America tend to be more opportunistic when it comes to making buyback decisions.
In 2010 and 2013, for example, Silgan repurchased 9.2% and 8% of shares outstanding, respectively, using modified Dutch auction tender offers in both occasions. Though a premium to the current market price is typically offered by the company in a Dutch auction tender, over time, the company hopes that the result proves to be at least a fair price. In both of Silgan's large buyback offers, we believe the company repurchased shares slightly above fair value, but both decisions were reasonable uses of shareholder capital.
Packaging Corporation of America, on the other hand, has made a number of wise yet relatively small buyback decisions that have enhanced shareholder value. In hindsight, PCA could have been more aggressive with buybacks in 2011 and 2012, considering the improving short-term competitive dynamics in the U.S. containerboard industry following acquisition activity by International Paper and Rock-Tenn. Though PCA's buyback activity in 2011 and 2012 accounted for less than 3% of shares outstanding per year, we still consider the buyback decisions a wise use of shareholder capital. Assuming that PCA's bid for Boise is consummated, the company will dedicate a significant amount of free cash flow toward deleveraging in the coming years, but PCA still has $100.7 million remaining in its authorized repurchase program. As such, investors should continue to keep an eye on potential buyback activity from PCA despite the recently proposed acquisition.
After reviewing the buyback records of the packaging industry, we think investors should ascribe the strongest positive signal to buyback actions taken by PCA and the weakest to Crown Holdings. PCA's management has done a commendable job of selectively buying back its stock at attractive prices and, perhaps just as important, holding back on buyback activity when valuations were less appealing. Conversely, considering Crown Holdings' approach of steadily buying back large amounts of stock without as much regard to prevailing valuations, the recent change in the CFO position, and its record of paying above-average prices for its shares, we do not think investors should view Crown's buyback activity as a signal that management considers the stock undervalued.
Consider the Alternatives
In our analysis, few packaging companies made exceptionally good buyback decisions in recent years by purchasing shares at material discounts to intrinsic value. Consequently, we believe shareholders should consider the alternative uses of shareholder capital when judging buyback decisions. Consider Sealed Air's 2011 $4.3 billion acquisition of cleaning product company Diversey, which diluted existing shareholders' stakes and resulted in a $1.2 billion impairment charge just over a year later. With hindsight, Sealed Air shareholders should have much preferred a buyback even at a slight premium to fair value.
Similarly, doing nothing is doing something, and sitting on available cash earned shareholders effectively zero return in the low-interest-rate environment following the financial crisis. Taking this into account as well as the industry's record of repurchasing shares at good to fair prices in recent years, we believe the U.S. packaging industry as a group has made prudent use of buybacks. We expect that trend to continue in the coming years.
Considering the large role buybacks have played and are likely to play in industry capital-allocation decisions, we would like to see companies spend more time communicating their buyback process and philosophy to shareholders.