ARM Holdings Inc. (NASDAQ:ARMH) has been one of the great beneficiaries of the explosion in demand for smartphones and tablets, reporting that its participation in those markets enjoyed a 95% market share in 2012. I will refer to the company in this article as "ARM". ARM counts as customers some of the fastest growing and most profitable companies in the technology space including Apple (NASDAQ:AAPL), Broadcom (BRCM), AMD, Nvidia (NASDAQ:NVDA) and Samsung (OTC:SSNGY). In addition to the smart device market, ARM designed processors appear in digital TV's, microcontrollers and wireless networking where ARM says is sales grew 25% in 2012.
ARM stock has kept pace more than doubling in the past year.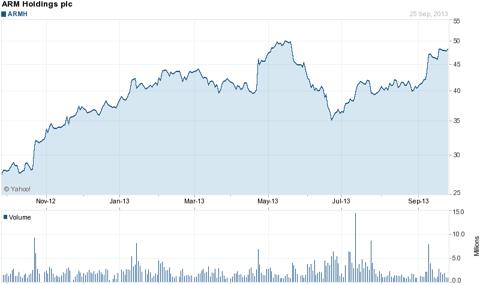 ARM's business model is based on an up-front fee for its designs and a royalty for each chip sold based on its designs; it does not manufacture the components.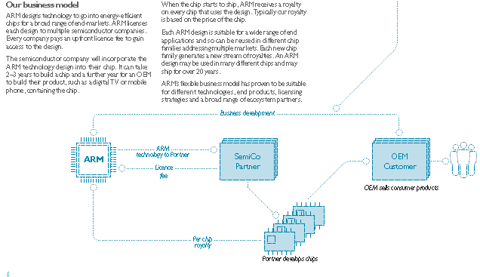 ARM reports that the total semiconductor industry produced 650 billion chips in 2012 and that 25 billion of these chips contained a processor. ARM designs were incorporated in 8.7 billion processors according to the company, representing a 32% market share of processors.
The growth in processors using ARM designs has been brisk, but is leveling off with the 8.7 billion in 2012 a gain of just 9% over 2011.

Of the 8.7 billion processors with ARM designs, ARM reports that 53% went to mobile devices or about 4.6 million processors.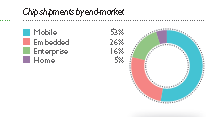 During 2012, IDC estimates that the market for smart devices grew 29% to 1.2 billion of which about 840 million were smart phones and tablets. With ARM holding a 95% share, processors based on its designs must have been in 800 million of those. This implies that each device contains 5 or 6 processors for which ARM receives a royalty.
ARM's annual report for 2012 cites forecasts that the smart device market should double from 1.5 billion to 3 billion devices by 2017, a statement fairly consistent with IDC and Gartner forecasts. With a world population of 7 billion and a proportion of that population too young, too old or too poor to buy a smart device, a 3 billion device market is very likely to be a mature one with growth thereafter in line with population growth and economic activity. I say that with full recognition that there are many people, myself included, who own more than 1 smart device.
ARM revenue in 2012 was just over $1 billion. Based on the 8.7 billion processors it says incorporated ARM designs, I calculate that ARM receives on average about 11.5 cents per processor in license fees and royalties in a given year.
The addition of another 1.5 billion smart devices by 2017 and all using 5 or 6 chips based on ARM designs would add about $863 million to $1 billion to ARM revenues and at 24% net income to sales about $207 million to $240 million net income. ARM net income in 2012 was $235 million or $0.50 per ARM share. This would essentially double revenue to the $2 billion range and net income to about $1.00 per share.
In addition to smart devices, ARM processors are found in digital TV's, microprocessors and wireless networking. Moreover, we are on the cusp of the "internet of things" which may also involve many applications for processors. Those markets are also growing.
Somewhat subjectively I suggest that ARM would be very pleased if revenues could be as high as $3.5 billion in 2017. If ARM can maintain net income to sales of 24%, it could earn as much as $840 million in 2017. That would equate to $1.80 per share on the 465 million shares outstanding.
As an aside, in 2012 ARM earned about a 12% return on shareholders' equity and if it grows at a pace much in excess of 12% it might require financing beyond internally generated cash.
In any event, by 2017 with everything going its way and a complete displacement of Intel (NASDAQ:INTC), ARM would be in a mature market earning $1.80 a share, about the same as Intel today. From that point forward with growth at or about the same as the world economy might you might expect ARM to enjoy a share price in the range of $25.00. ARM shares are $49.00 today.
I think there is more of a chance that Intel's massive efforts will displace ARM from a portion of the processor market, rather than ARM displacing Intel. If that turns out to be the case, ARM shareholders can expect less growth, less earnings and an even lower share price.
I am short the stock through long dated puts.
Note: The data in this article are from ARM Holdings Inc. annual report and Yahoo finance.
Disclosure: I am short ARMH. I wrote this article myself, and it expresses my own opinions. I am not receiving compensation for it (other than from Seeking Alpha). I have no business relationship with any company whose stock is mentioned in this article.