(Editors' Note: This article discusses micro-cap stocks. Please be aware of the risks associated with these stocks.)
While mining stocks have bounced back somewhat from the recent pit they had been mired in, they have still lagged not only the market itself, but also the prices of the commodities they mine. Even the Fed's recent decision not to taper off their bond buying has not been able to provide a sustained rise in prices, even though it certainly sets the table for probable future inflation.
Year to date, gold and silver are down 20 and almost 30 percent, respectively. The corresponding miners, as measured by GDX and SIL are down even more at about 45 and 40 percent. Junior gold miners, as measured by GDXJ, have done even worse. Therefore, I think it is a good time to look at a pair of junior miners in particular and specifically at a potential deal that could benefit both of them.
The first is Primero Mining (NYSE:PPP), which has been a bastion of performance in an otherwise tough sector. Although it is still down about 15 percent so far this year, that is much better than most miners and pales in comparison to the 100 percent gain it racked up last year. While some of this move was a 40 percent pop due to a favorable tax ruling that no longer forces the company to pay taxes based on the spot price of silver that they sell to Silver Wheaton (SLW) as part of a streaming agreement; most of it can be attributed to good old fashioned execution.
Primero has been increasing production at its flagship San Dimas mine, by 9 percent in 2012, and is targeting another 17 percent increase to 130,000 gold equivalent ounces this year based on the midpoint of their guidance. Primero certainly seems on track to achieve this goal, reporting that they were already more than halfway there, with 66,000 GEO as of the end of the second quarter. Continued expansion of the mine is projected to bring production up to 165,000 ounces by 2014.
Primero is also augmenting this production increase at San Dimas with another project in Mexico, Cerro del Gallo, in which a majority stake was acquired earlier this year, with Goldcorp (NYSE:GG) retaining an approximate 30 percent minority interest in the project. This article on Seeking Alpha does a great job outlining the project, as well as another exploration project at Ventanas, so I instead want to focus on what I think could be another potentially lucrative deal.
This would be a purchase of Vista Gold's (NYSEMKT:VGZ) Guadalupe de los Reyes project in Mexico. It is right in Primero's comfort zone, in the mining friendly state of Sinaloa, right on the border of the state of Durango where Primero's San Dimas is located, as seen in the following map that highlights the proximity of San Dimas's main zones to Guadalupe de los Reyes: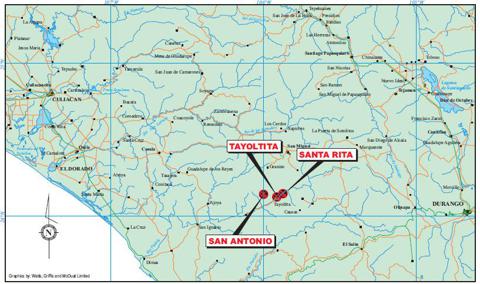 Vista Gold should be very amenable to doing a deal, as the company is struggling mightily to maintain adequate liquidity to continue developing their Mt. Todd project in Australia. Vista has been an abject disaster lately, with the stock down 80 percent this year and 35 percent in the past week alone after they had to issue additional shares to Sprott Resources to secure a loan extension.
This extension makes it unlikely that Vista will face bankruptcy anytime soon, but the market is punishing them like it's a foregone conclusion. The market cap has declined to a point where it's now 80 percent composed of cash and a stake in another junior miner, Midas Gold (OTCQX:MDRPF). The company is getting almost no credit for their other projects, so if they could just monetize one of them like Guadalupe de los Reyes it would show that they have the resources to continue focusing on Mt. Todd.
Mt. Todd certainly has potential, with an estimated NPV (Net Present Value) of over $100 million even at a gold price as low as $1200/ounce, according to the latest Preliminary Feasibility Study. The weakening Australian dollar makes the project even more appealing, especially to a potential acquirer with a stronger currency like a Chinese company.
I would love to see Primero Mining continue their strong execution and further their expansion strategy with the purchase of another property that fits their modus operandi. Vista Gold desperately needs to do something soon to unearth some of the value that has been buried by management missteps, such as the latest questionable decision to issue a news release commenting that they don't comment on questionable trading activity, rather than providing some much needed transparency and reassurance to shareholders.
Therefore, I believe this possible deal would be a win/win for shareholders in both companies. Being a shareholder in both companies myself, I would consider it extremely beneficial to get a wasting asset into the steady hands of a more production oriented company like Primero, while hopefully unlocking enough value to get the struggling Vista back on track.
Disclosure: I am long PPP, VGZ, SLW. I wrote this article myself, and it expresses my own opinions. I am not receiving compensation for it (other than from Seeking Alpha). I have no business relationship with any company whose stock is mentioned in this article.