Just when it looked like the prophecies of Nostradamus may be coming true, a white knight, in the form of Warren Buffett, strode in and saved the day. Buffett's buy of Burlington Northern (BNI) turned the US equities markets from ugly duckling to suave Prince.
The purchase was hailed by the Oracle himself as a "bet on America". We see it a little bit differently…it is a bet on Asia/China.
Burlington Northern System Map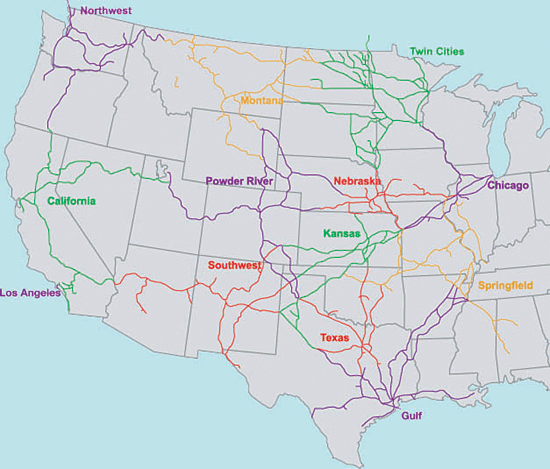 The map above (click to enlarge) illustrates the BNSF network. The BNSF system travels through the agricultural heartland, the manufacturing mid-west and the coal rich Powder River basin. Conveniently, the rail tracks extend all the way to the Port of Long Beach. Not only can BNSF transport goods to port for export to China, but on the return trip it can drop off inventory from China at every Wal-Mart (NYSE:WMT) from L.A. to Chicago.
So while, yes, BNSF is a US company and you cannot drive a train to Asia, it is still a bet on Asian growth.
This is exactly the growth that we have been betting on with our position in Norfolk Southern (NYSE:NSC) and US Steel (NYSE:X). Both companies are seeing significant demand as a result of a Chinese hunger for steel. Of course we were quite pleased to have the backing of Warren Buffett to boost our positions.
Disclosures: Author is long NSC, X