Pharmacyclics, Inc. (NASDAQ:PCYC) jumped 10% on Thursday when Deutsche Bank (NYSE:DB) and JPMorgan Chase (NYSE:JPM) initiated coverage on the company.
Far from an overnight success, Pharmacyclics has been a star performer since CEO, Bob Duggan took the helm five years ago. In that time, the stock price has skyrocketed 59X in value and has increased 45% over just the past 10 weeks, when I first wrote about it.
Pharmacyclics with Bob Duggan as CEO:

Pharmacyclics is a clinical-stage biopharmaceutical company focused on developing drugs for the treatment of cancer and immune system diseases. Pharmacyclics and Johnson & Johnson's (NYSE:JNJ) blood cancer drug ibrutinib is currently under review by the Food and Drug Administration as a new drug applicant.
The drug's results in treating certain types of lymphoma and leukemia delivered the highest overall response rates ever witnessed in clinical studies. For the two specific diseases it treats, 68% and 71% response rates were achieved.
ibrutinib is expected to follow in the footsteps of such blockbuster drugs as Celgene's (CELG) Revlimid and Biogen Idec's (BIIB) Rituxan. Celgene's market cap is $61 Billion and Biogen Idec's is 57 Billion. Even after the epic run its had so far, Pharacyclics is valued at $9.5 Billion, indicating that there remains upside potential should its drug be approved.
Under Bob Duggan's leadership and teamed up with Johnson and Johnson, I believe Pharmcyclics will be successful in having ibrutinib approved by the FDA and will be successful in marketing it. Should PCYC experience a pull back in price over the next few weeks, speculators may consider participating.
The biggest risks I see for Pharmacyclics investors are that 1) ibrutinib fails to gain FDA approval, or 2) the overall stock market begins another bear market before it is approved.
I am not an expert on pharmaceutical drug applications. Based on data from FDAreview.org, the conditional probability of success at this stage of the game is 90%. I like those odds, especially with the results ibrutinib has been getting.
Regarding the second risk, based on the same source of data, it appears that approval for new drug application takes 0.6 to 2 years. Based on this article, it appears that the filing for approval of ibrutinib was accepted on August 29th, so the clock is ticking.
Now let's talk about timing. I expect the overall stock market will soon begin transitioning into another severe bear market. As the chart below indicates, this would be the most likely outcome.
S&P 500 index from 1993 to present: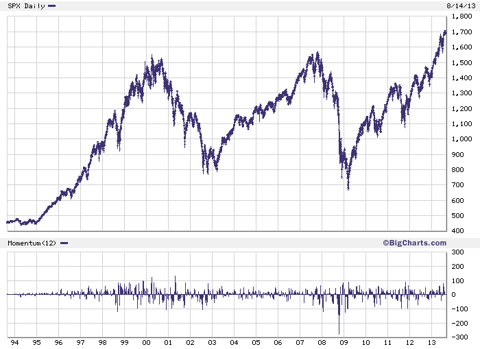 In the last bear market, pharmaceutical stocks, including the ones mentioned in this article, fell along with the rest of the market. Losses of 50% and more were the standard. That said, while the current bull market definitely appears to be long in the tooth, it doesn't appear to be dead yet. I simply wouldn't suggest holding any stock over the next 2-3 years.
Will Pharmacyclics continue to climb for the next few months? I suspect so and I'm rooting for them 100%. Should you plan to buy and hold the stock for years to come? Probably not.
Disclosure: I have no positions in any stocks mentioned, and no plans to initiate any positions within the next 72 hours. I wrote this article myself, and it expresses my own opinions. I am not receiving compensation for it (other than from Seeking Alpha). I have no business relationship with any company whose stock is mentioned in this article.