Baidu Inc. (ADR) (NASDAQ:BIDU) is a Chinese-language Internet search provider and software company that provides mobile security for corporate users and consumers. Baidu is one of the leading Chinese Internet companies, and this has been exemplified by its surging shares, which have gained more than 70% in the past three months alone. Chinese stocks seem to be the darlings of the masses and the flavor of the moment, with stocks such as NQ Mobile (NYSE:NQ), Ctrip.com International (NASDAQ:CTRP), Proto Labs (NYSE:PRLB) all making sizable gains on the Sept. 23, 2013 trade. NQ Mobile in particular made spectacular gains, surging ahead 4% to $23.80. Baidu gained 2% to trade at $149.26, and has shown no signs of slowing down ever since, gaining a further 3.4% in a short span of just three days to trade at the current $154.28. Of the leading Chinese Internet companies, only Move, Inc. (NASDAQ:MOVE) lost ground, with its shares dipping 0.25% to trade at $16.18.
Acquisition of 91 Wireless highly strategic
Baidu made an important acquisition when it purchased 91 Wireless in mid-July this year, thus making it China's largest mobile apps and games distributor. The $1.9 billion acquisition ranks as the largest acquisition in China's Internet history. The move was received very warmly by its investors, which is quite understandable, considering that Baidu derives more than 10% of its revenues from mobile devices. A JPMorgan analyst announced on Monday, Sept.23, 2013, that he expected both Baidu and Qihoo 360 Technology (NYSE:QIHU) to start making money off gaming sooner rather than later. Both firms have received strong ''Buy'' ratings from the firm.
Prior to the acquisition, Baidu was lagging behind its competition in the mobile Internet arena with just 35% of the market. Companies such as Alibaba and Tencent were well ahead of Baidu in the game. Alibaba had earlier beaten Baidu to the tape when it acquired UC, a mobile game platform, after a hotly contested takeover bid by the two business rivals. The acquisition will help Baidu to bolster its mobile platform.
The acquisition of 91 Wireless instead of UC by Baidu was significant in a number of ways. Baidu's major weakness is its mobile apps and mobile gaming platform. 91 Wireless operates several business segments such as the 91 Mobile Assistant, 91 Desktop, Android Market 91 Reader and a host of other apps. Baidu can build synergy around these businesses, and strengthen its floundering mobile business. On the other hand, UC operates a mobile browser and a mobile gaming platform. 91 Wireless has brought more to Baidu's table than UC could have done. In any case, the UC browser uses Baidu as its default search engine, and it continues to do so. 91Wireless was, therefore, a much better buy than UC could have been.
Expected earnings beat expectations - again
Baidu's second-quarter earnings of $1.22 per share were above expectations. Revenues grew an astounding 43.6% Y-o-Y to over $1.23 billion. The firm has issued revenue guidance for the third quarter, where it said it expects revenues to be around $1.422-$1.460 billion, beating consensus estimates, again.
Baidu facing stiff competition from newly forged partnerships
There is no denying that Baidu is now facing intense competition from Internet stalwarts such as Qihoo 360, which has managed to grab 18% of the market since its debut in 2012, as well as companies such as Sohu, Tencent Holdings and Sogou, which have formed a strategic cooperation that will give the firms a 14% slice of the market. Baidu has been steadily ceding market share in the face of this fierce internal competition, with its slice of the market falling from its once dominant, and seemingly unassailable, 80% to the current 63%.
Although Baidu is still the Chinese Internet market leader, the unpredictability of the rapidly evolving Chinese Internet market makes it quite hard to predict which company will be the eventual winner in the space a few years from now. The highly changeable nature of this market has been clearly demonstrated by the phenomenal rise to stardom of Qihoo 360, a software security provider, in just one year. Qihoo 360 has joined ranks with social networking site Renren.com, a partnership that is aimed at the consolidation of their user accounts. The Chinese Internet space is abuzz with activity, with numerous strategic partnerships being formed. Qihoo 360 recently made its intentions of taking on Baidu clear, when it jointly launched 360.etao.com together with Alibaba. Don't forget that Qihoo and Alibaba both have another alliance with Sina, China's hugely popular micro-blogging service.
Google and Yahoo not a significant threat
Despite the stiff internal competition, it is quite unlikely that Google (NASDAQ:GOOG) and Yahoo (YHOO) will pose much threat to Baidu as earlier feared, at least not in the near future. By February 2013, Google had a 4.25% slice of the Chinese Internet search market, a significant 0.47% decline from October 2012, while Yahoo China controlled a mere 0.28%, a marginal 0.03% increase since October 2012. Google's Chinese market share has been steadily declining ever since it pulled out in 2010. Google, however, still has a significant presence in the Chinese online ads arena, with a 6.2% share of the market. Yahoo's story is even worse than Google's, especially when you consider that the former high-flying online giant controlled a good 21% of the Chinese market back in 2006. Compare that to just 0.28% now. Bing isn't faring much better either, with just 0.52% of the market and steadily falling. Although the online arena is ever evolving, it is highly unlikely that the two firms will pose a major threat to Baidu in its China home turf any time soon.
More room to run
Although Baidu's growth momentum is slowing (42% in 2012 compared with 82% in 2011) there is still plenty of room to run before the Internet companies can fully saturate their Chinese stronghold. This obviously means that even if Baidu grows at a slower rate than Qihoo 360 and its other major rivals, it can still continue to grow in absolute numbers for years to come.
Only 24% of China's 1.3 billion people currently shop online. There is a huge potential internal market to be covered by Baidu and its competition. The Chinese spent $190 billion in 2012 alone in online purchases and this is expected to continue growing in the coming years. What's a little worrying is that an increasing proportion of Chinese people are using mobile phones to perform online transactions, and Baidu controls only 35% of the mobile search market, with Tencent and Easou commanding a significant 23% and 22% market share respectively. It is also generally more difficult to monetize the mobile platform as opposed to the PC platform.
Baidu still controls 80% of the Chinese search advertising market, where it derives 60% of its income. Growth in this market has been slowing down - 67% in 2010, 55% in 2011 and 49% in 2012. The search advertising market is expected to grow at a CAGR (Compound Annual Growth Rate) of 24.6%. The search advertising market in China was worth $4.1 billion dollars in 2012. If the market grows at a CAGR of 24.6% for the next four years, it will be worth $9.88 billion by 2016. If Baidu maintains a 75% share of the market over this time period, it will earn around $7.4 billion by 2016.
Time for a pullback?
Baidu recently tagged its previous year-high of $149.95, a level that it crossed on Sept. 23, 2013. The new high was achieved by Baidu despite an instructive change of course in the stock's option pits; 19,000 puts were exchanged, compared with 21,000 calls, representing a 36% mark-up to its intraday norm.
By purchasing the deep-out-of-the-money options, Baidu's put buyers were anticipating that the stock will fall back to the territory it last breached back on Sept. 6. In other words, these bearish traders expect Baidu to fall close to 14% from the current price, and eventually finish south of the $133.58 breakeven price (strike price minus the VWAP). Delta for Baidu's option rests around - 0.13, or negative 13%, suggesting that there is less than a 1-out-of-7 chance of moving into the money by the time the contracts expire.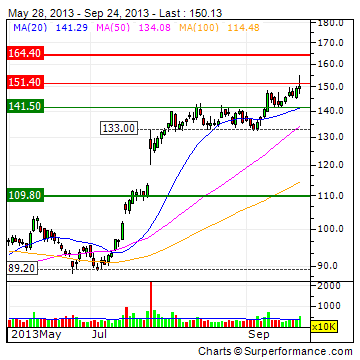 Despite all these developments, Baidu shows no signs of letting off steam. The stock is still roaring and steadily climbing. Baidu's strengths are clearly evident in multiple fields such as:
Robust revenue growth - the company's revenue grew by 43.4% compared to the industry average of 22.6%.
Gross margin came in at 69.84% while net margin was 34.96%, which is higher than the industry average.
Despite a low 0.38 debt-to-equity ratio, the company boasts a 3.99 quick ratio, suggesting very strong liquidity.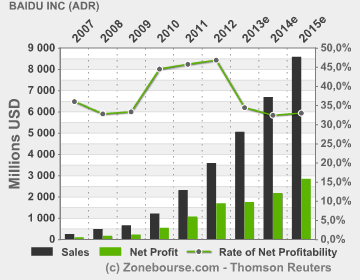 Although Baidu's rivals such as Qihoo 360 are responsible for the company's erosion in market share, the Chinese market still has plenty of room to run before the companies can fully cover it. Baidu might lose more market share in the coming years, but will most likely continue to grow significantly in absolute numbers for years to come. The stock is therefore a great long-term investment.
Disclosure: I have no positions in any stocks mentioned, and no plans to initiate any positions within the next 72 hours. I wrote this article myself, and it expresses my own opinions. I am not receiving compensation for it (other than from Seeking Alpha). I have no business relationship with any company whose stock is mentioned in this article.