Attention Cyclacel (CYCC) Investors: The total number of outstanding Cyclacel Preferred Shares (CYCCP) is 420K or 0.42M for a market cap of $3M with a negligible impact on common shares.
If I can get you to understand this one thing derived from the bottom of page 19 of the most recent Cyclacel 10-Q found here, I believe common shares with a market cap of $71.39M will reach their implied value within a few months time but I'm up against two formidable opponents in Yahoo and Google Finance who are telling you on a daily basis that (CYCCP) shares number as high as 17.72M with a combined market cap of $197M.
Please allow me to explain.
In my first article, With or Without You Cyclacel is Going to Rise, I laid out the case for Cyclacel stock appreciation.
A $33M war chest carrying the company through the readout of its pivotal phase three trial in acute myeloid leukemia in 2015.
A falsely deflated share price attributable (or at least I thought) to aggressive financing over the past 8 months that had at once depressed investor enthusiasm and created the abundant balance sheet referenced above.
And a high likelihood of (SEAMLESS) success given the FDA's co-authorship of the trial design in a Special Protocol Assessment with the added benefit of giving official sanction to the prevalent off-label use of decitabine, or Dacogen as it is commercially known amongst elderly AML patients.
Apparently, Janney Montgomery a top 40 wealth manager with over $58B in viable assets was thinking on similar lines initiating coverage on Cyclacel with a "Buy" rating and target price of $10 a share.
Since the article was published on September 7th, the stock has risen from a close of $3.08 on September 6th to its present price of $4.06. Most any investor, including myself would be happy with this 19 day return of 31.8% unless of course, there was an external factor holding the stock back from naturally advancing to its real value.
A quick look at the chart below will show you the recent catalysts for growth and when they occurred. Of particular note was the announcement on September 19th "that sapacitabine has activity against a majority of ovarian cancer samples taken from patients, including resistant tumors" that launched the stock to an intraday high of $5.50. This kind of rapid spike in share price based upon a significant news event - but not wildly so, is indicative of emotional activity associated with a stock that is severely undervalued.
This chart also includes news in the form of an 8K furnished by the company on September 13th which detailed the issuance of yet another $0.15 dividend on preferred shares which will continue on a quarterly basis until such time as these shares are converted into common stock. You'll note the depressive affect this news had on price performance.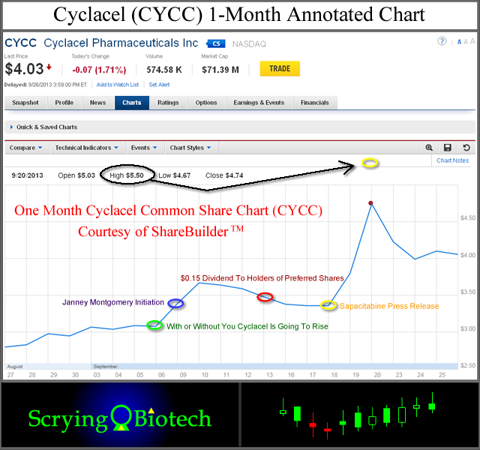 This isn't surprising given the fact that there's so much misinformation regarding just how many shares of preferred stock there are. This article therefore, starts by telling you exactly how many shares of (CYCCP) there are (0.42M) and what the exact size of the market cap is - $3M. This results a combined market cap as of market close on September 26th of $74.39M.
It should also be noted that the number of shares of preferred stock was reduced by 792K this year because President Spiro Rombotis acknowledges the undesirable effect they have on common shares.
At this point, it's my opinion that the impact of preferred shares on that of common stock is insignificant. The actual cost of the $0.15 dividend was $63K. The ratio of preferred shares to common shares is now 1:42 and the cost of eradicating them would be larger than simply leaving them be.
If however, the misinformation about preferred shares is allowed to continue, (CYCCP) will serve as a considerable drag on share price growth.
You see, it's my belief that the vast majority of retail investors in the biotechnology sector of the stock market get their information, for better or worse, from online financial publications. To find out what's happening with a company you're considering investing in you come here to Seeking Alpha. And to find out the statistical information relevant to your investment thesis you expand that knowledge with a visit to either Yahoo or Google.
Please take a look at the chart I've created below that shows the disparities between the coverage of these shares, the implication of which is enormous to prospective shareholders.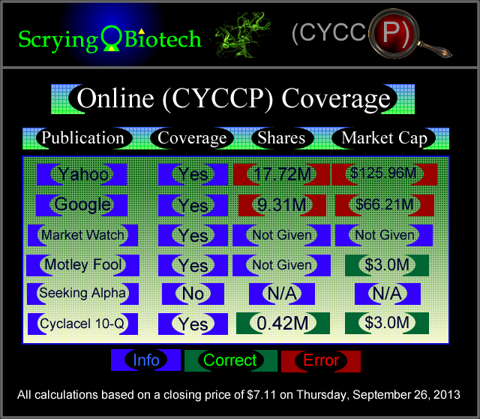 If I'm considering an investment in Cyclacel, I'm immediately off-put by the mere presence of preferred shares. Humor me for a moment, and type CYCC into the "Enter Symbol" Look Up box on the Yahoo Finance home page found here. You'll immediately find the two Cyclacel stock tickers to choose from. Select CYCCP and you'll arrive at this page.
Beware The Limitations of Online Auto-Compiled Database Pages For (CYCCP) on Both Yahoo and Google Finance
Once there, you'll discover that preferred shares have a market cap nearly twice that of common shares. Now I don't know about you, but this creates a displeasing prospect to me. Click on the Key Statistics button in the left hand column and you'll be taken to a page which reveals a total number of preferred shares outstanding of 17.72M matching that of common shares. Could it be therefore that the most recent quarterly dividend cost the company $2.65M? If these numbers were accurate that would be true. But they aren't!
Here's a screen grab of the Google Finance (CYCCP) page from September 26th with the offending statistics highlighted in red for your convenience.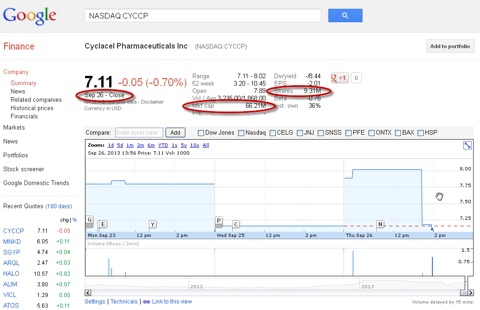 And this is a table that reveals the breadth of misinformation that Google and Yahoo are distributing every day on their (CYCCP) stock pages.
The Implications Contained In Online (CYCCP) Databases
| Publisher | Number of Shares | Market Cap | Combined Market Cap | Cost of Quarterly Dividend |
| --- | --- | --- | --- | --- |
| Cyclacel | 0.42M | $3M | $74.39M | $63K |
| Google | 9.31M | $66.21M | $137.6M | $1.39M |
| Yahoo | 17.72M | $125.96M | $197.35M | $2.65M |
As you can clearly see, this is no small or laughing matter. Were I to encounter such a figure and assume it to be true, I would not invest in Cyclacel. Those who care to suss-out the accurate information by foraging through the company's 10-Q would be few in number and the confusion these figures create would cause a hesitancy that would keep most interested investors away.
It is therefore my contention that these databases are materially damaging to Cyclacel investors and must be changed. But how do we go about doing this?
Google provides a very fine "Report a problem" page and I've done precisely that. This is what I've written.
Your Cyclacel 6% Convertible Preferred Shares (CYCCP) page has two substantial errors on it that are materially damaging to Cyclacel shareholders. You report that there are 9.31M shares when in fact there are only 0.42M. You also report that there is a market cap of $66.21M when in fact it is only $3M. Please see page 19 of the latest 10-Q on the Cyclacel website for confirmation of these statistics and make changes as necessary to reflect the reality I've conveyed.

Thank you and sincerely, Michael Webb
Hopefully, by the time you're reading this, the pages will have been updated with the correct information. However, that seems highly unlikely to me.
I have yet to be able to figure out how to contact Yahoo Finance concerning their erroneous information and would appreciate your help in the comments section below on how to go about doing this.
I encourage all investors to contact Cyclacel by way of their company website to make them aware of the problem. It's somewhat disturbing to me that management has allowed this to go on for as long as it has. Obviously, they're concentrating on matters of science but issues that affect the public perception of their company by way of association are not to be taken lightly.
In Conclusion
I believe retail investors often perceive wrongly that Cyclacel's market cap is two to three times what in fact it presently is. Because of this, today's share price is 2 to 3 times below what it likely would be in the absence of this confusing misinformation.
Stephen Simpson said in his fine article entitled; Should Traders Try To Play The Odds With Cylclacel that his math revealed that the company's stock was trading far below the implied odds of success. I attempted to give color to the reasons why this was so and thought I had it pegged. I couldn't have been more wrong.
The mysterious reason why Cyclacel stock can't get out of the box has now been revealed. It has little to do with management, an eight month history of aggressive financing or the fact that sapacitabine's (SEAMLESS) Phase 3 Trial won't read out till 2015. It has everything to do with a daily dose of misinformation on two of the largest investor services on the web today. And it has to stop!
Before I Leave
There is one other matter I need to address. When I detailed the capitalizing of Cyclacel that occurred over that recent 8 month period of time, I received a comment that seems to be shared by many disgruntled investors online regarding the motivations of Cyclacel management. It goes something like this.
Cyclacel management put in motion these financing vehicles to line their own pockets by way of salary increases or stock sales.
Now, I'm sure I addressed this latter notion in the body of the article itself but I will take a moment here to repeat myself.
There were no insider sales of Cyclacel stock over the last 12 months. Think about that! President and CEO Spiro Rombotis knew in advance of every act of dilutive financing and the depreciating effect it would have on his own shares. But not once did he sell a single share. It's fair to question his motivations but when the answers are abundantly clear we can arrive at only three possible conclusions.
He's unaware of the effect that dilutive financing has on common share price - something I highly doubt.
He's protective of shareholder interest and withheld selling his own shares so as not to erode the value of ours.
He so believes in his company's award winning cell cycle technology and ultimate commercial success of sapacitabine that he believed a larger financial award awaited him by holding on to these shares long-term.
I favor this last explanation above all others.
As for the salary of President Rombotis it's far below that of the national average for corporate executives in similar positions and doesn't include any stock compensation by way of award or option.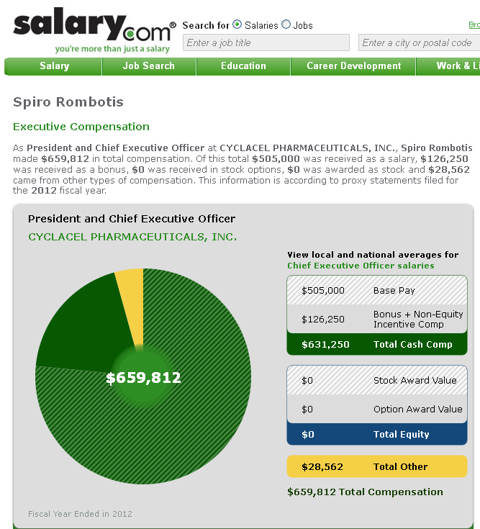 Quite frankly, arriving at such knee jerk conclusions from the data I provided is neither helpful to our progress as a species or your prospects as an investor. And I hope that everyone will read my articles with discernment. If you've read this one in that spirit, you'll no doubt understand what a tremendous value Cyclacel represents and act accordingly.
Always be well...
Michael Webb
Disclosure: I am long CYCC. I wrote this article myself, and it expresses my own opinions. I am not receiving compensation for it (other than from Seeking Alpha). I have no business relationship with any company whose stock is mentioned in this article.
Additional disclosure: Any information or opinion expressed herein may not be true, accurate or correct and it does not constitute any suggestion to buy, sell, hold or adopt any investment strategy for this stock or any stock that may be mentioned. Reliance upon information in this article is at the sole discretion of the reader. The sole purpose of my article is to entertain by providing information the accuracy of which is as good as the public sources it was derived from. Do not act on anything I have written. Rather, do your own due diligence and consult an investment professional before making any investment decision. Acting on what any one writer, including me has imparted to you is foolish at best. I have no better access to resources or gift of opinion formulation than you do. I sometimes make mistakes. There are a myriad of things which can happen in lieu of any forward looking statement I have made. Any stock featured or mentioned in an article I compose is subject to all manner of influences which can change its value in dramatic fashion upwards or downwards. These events can be of a wide variety not limited to news related occurances, managerial decisions, trial failures, stock manipulations and so on. I make every effort to declare positions I have in stocks I cover or mention in an article but reserve the right to move in and out of said investments at my own discretion based upon the wisdom of doing so. I implore you to do your own due diligence, invest at your own considerable risk attaining the just reward your efforts have wrought. And always be well.