China continues to defy skeptics, recently posting GDP growth in excess of 7%. New leadership is now firmly in place. It is likely that the economy will perform as "planned" - that is, in the 7% - 8% range. President Xi Jinping certainly will not want to be the leader who allowed the economy to break its 30-year growth streak. At last count Chinese GDP measured over $6 trillion, widening its lead over the world's number three economy, Japan, and narrowing the gap with number one, the United States.
Consumers in the US account for about 70% of US GDP, making them a sizable force in a $16.7 trillion economy. According to a recent McKinsey & Company report, Chinese private consumption accounts for just over 35% of Chinese GDP. The US has roughly 320 million citizens, whereas China has over 1.3 billion. As China's domestic policy rebalances from export to consumption - and this is a stated policy of the communist leadership - the potential for investment profit in sizable.
Chinese President Xi introduced the idea of the "Chinese Dream" in a November 2012 speech. Similar to the American Dream, the Chinese Dream is aspirational in nature... a dream of a better future and a better life for your descendants. Xi states on June 8, 2013, while visiting California, "By the Chinese Dream, we seek to have economic prosperity, national renewal and people's well-being. The Chinese dream is about cooperation, development, peace and win-win, and it is connected to the American Dream and the beautiful dreams people in other countries may have."
Chinese consumers are eager to consume world class brands such as Coca-Cola, Nike, Apple, LVMH, Nokia, SONY, BMW, Budweiser, Samsung, Philips, etc. Chinese domestic consumer-branded companies are growing in strength as well: China Mobile, Alibaba, Baidu, ICBC and Tsingtao Brewery, to name a few. The opportunity for the world's largest consumer branded products companies is enormous.
The common denominator among these companies can be summed up: advertising drives consumption.
THE COMPANY:
Tiger Media, Inc., (AMEX: IDI) a Chinese company formerly known as SearchMedia Holdings Limited, was formed in 2005, and is a leading nationwide multi-platform media company and one of the largest operators of LCD screen integrated outdoor billboard advertising networks in China. Tiger Media's network provides a multi-platform "one-stop shop" service that enables it to attract a highly diversified advertising base of national and international clients.
Tiger currently operates 115 large format, high-resolution outdoor LCD screens in their Shanghai media network located at prominent entry points in high-end shopping centers such as Xintiandi, HK Plaza, Yueda Plaza, and Metro City across the central business district in 23 malls. The company is expanding into Beijing and Guangzhou. It intends to expand further into other tier I, II and III cities employing similar advertising strategies.
By comparison, both New York City and London have metro populations of roughly 8.2 million people: Shanghai's city population is estimated to be over 23 million, Beijing has roughly 19 million, and Guangzhou over 11 million. These cosmopolitan areas are destined to have significant future consumption.
LCDs offer advantages over other outdoor mediums: similar impact as billboards, but able to serve many more clients with multiple advertisements, a new medium that appeals to advertisers who are constantly seeking new media in prime locations. And LCDs create eye-level awareness at the street level in range of merchandisers.
The company CEO stated during a recent investor call, "LCD screens… will become interactive so customers not only will be seeing advertisements on our screen but they can interact with our advertisers online to acquire product information… Advertisers in return can gather spontaneous market intelligence such as consumer preferences and purchasing habits."
Tiger's LCD screens are of varied sizes ranging from 42" to 72" and located in high traffic street junctions close to point-of-purchase for middle to high-end merchants.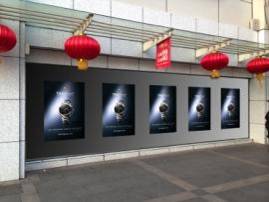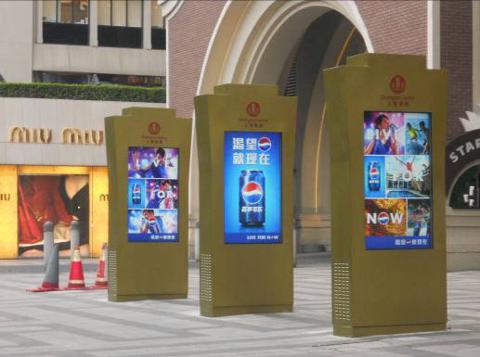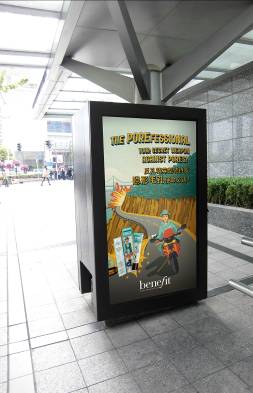 Poster ads generally run at ten second intervals. A package consists of 120 displays over a 15-hour day (8:00 am until 11:00 pm) across the entire network. Maximum usage would allow for 45 clients per day. Current pricing is RMB738,000 ($120,500) for a two-week package.
Tiger Media recently reported earnings for the first eight months of 2013. First half revenue was insignificant, however, they announced $2.1 million in revenues achieved in July and August which is material given the recent completion of its Shanghai network. The company timed the earnings release with its presentation at the China Best Ideas Investment Conference in Beijing.
It has announced contracts or expect to contract with clients such as McDonald's, BMW, Pepsi-Cola, CITI Group, BVLGARI and LVMH-Benefit, all which are meaningful client relationships.
Furthermore, existing technology allows Tiger to enter the mobile ad space with offline to online (O2O) promotion and other interactive digital screens such as networking with smartphone apps. Tiger's assets are configured to deliver this to clients adding new technologies to value-add the screens usages. This is similar to what Facebook is doing here in the US. Essentially, if a consumer owns a smartphone - he also has a (advertising) billboard.
The company stated in a recent SEC filing:
We are not a traditional media company. We intend to invest heavily into the latest technologies for new and creative media, and intend to revolutionize traditional digital outdoor advertising by incorporating O2O business models. Our interactive LCD screens will not only air advertisements but can convert consumers into shoppers with promotions that drive sales and store traffic. In addition, the interactive screens also provide advertisers with vital market intelligence on consumer preference and purchasing behaviors. Our LCD screens can thus provide significant value to both advertisers and consumers. Some interactive features on our LCD screens in consideration include AR (augmented reality), Wechat & Microblog interaction, mobile handset with NFC (near field communication) and other features.

Management has laid out plans to expand to other tier I cities over the next 24 months. Once completed, the company has identified six to eight tier II and III cites in which it believes further opportunity and scale can be achieved.
Undoubtedly, the company got off to a rough start beginning in 2007 and 2008. Poor and unfocused Chinese management was in place. A new CEO was appointed in February 2012. With overwhelming support from the U.S. Board members, Tiger has overcome its legacy issues and is now in a superior position to reward shareholders.
Notable among Tiger's shareholder list are:
Dr. Phillip Frost/The Frost Group: Dr. Phillip Frost serves as Chairman of the Board of Teva Corp. and Chairman of the Board and CEO of OPKO Health, Inc., a specialty pharmaceutical and diagnostics company. He is also Chairman of the Board of PROLOR Biotech Inc. and Ladenburg Thalmann Financial Services, Inc. Dr. Frost is a billionaire investor who ranks on Fortune's wealthiest American's list. Dr. Frost was one of Tiger Media's earliest investors along with his cousin Rob Fried.
Robert Fried: Mr. Fried is an Oscar winning producer and digital media entrepreneur who produced or served as executive producer for 15 films, including "Rudy," "The Boondock Saints," "Man of the Year" and "Collateral," and also founded several digital media companies including Spirit EMX, parent of spiritclips.com, a popular streaming video service and production company.
Steven Rubin: Mr. Rubin is Executive VP and Director of OPKO Health and a member of The Frost Group, LLC, a private investment firm.
These gentlemen collectively own roughly 33% of the company.
Senior management also has a sizable stake in the company.
Mr. Peter Tan was appointed to the board of directors in June of 2011 and has served as CEO since February of 2012. He controls roughly 9% of the company's shares. Mr. Tan is currently the chairman of TGC Partners Limited and managing director of TGC Financial Partners Limited, an investment advisory firm which he founded in 2009. He was also partner and part of the founding team of SIG China, the China-based private equity fund of leading U.S. hedge fund Susquehanna International Group (SIG). Mr. Tan has been actively involved in more than 40 investments in China, 12 of which were eventually listed on international stock exchanges. He has been particularly active in the media space over the past decade, and was an early investor in AirMedia and other Chinese media companies. Prior to co-founding SIG China, Mr. Tan was a lawyer with White & Case LLP and Perkins Coie LLP, where he founded the private equity and venture capital practices and advised emerging-growth companies on fundraising transactions throughout their lifecycles.
CFO Steven Ye has over 15 years of financial management experience, including many years with internationally listed companies including Wells Fargo, General Electric and ABN AMRO. His expertise includes US GAAP, SOX compliance and SEC financial reporting. Prior to joining Tiger Media, he served as Finance Director with Suntech, a NYSE listed U.S. company.
Stephen Zhu is COO of Tiger Media. He was the founder of Symbol Media, an integrated outdoor advertising company whose clients include well-known companies such as KFC, Puma, Coca-Cola, VW,

Ikea and

an extensive base from diversified industry sectors. Mr. Zhu is a recognized market leader in developing 3D advertising platforms in China.
These gentlemen own approximately 10% of the company's shares.
Officers, directors and insiders have been regular and recent buyers of stock in open market transactions. In fact, The Frost Group purchased 299,800 shares on July 10, 2013, at $0.81, raising its stake to 31.5% (10, 666,790 shares). These are savvy investors who are accustomed to making money. It is notable when management teams "eat their own cooking."
VALUATION:
Using Tiger Media's Shanghai network on a standalone basis and working from recent contract data as well as information presented at the China Best Ideas Investment Conference (September 10, 2013) the following presents pro-forma forward twelve-month revenue and earnings estimates:
Company Data Shanghai network
# of screens: 115
# of malls: 23
Maximum number of clients: 45
Max weekly revenue per client: $60,000
Max total annual revenue: $140 million
This assumes a client contract of ten second ads running for 15 hours per day with 120 daily ad spots on each of 115 LCD screens across the 23 mall network. The client would then be receiving eight ad spots per hour (8*15=120) at each of 115 LCD screen locations for approximately $8,500 per day. These estimates exclude any potential interactive technology add on services such as O2O.
The company reported for the first six months of fiscal 2013 fixed costs of $2 million. It has a $4 million tax loss carry-forward that will shelter some earnings - ignore this for analysis sake and assume a flat corporate tax of 25%. The company has no debt and roughly $1 million of annual depreciation expense (screens cost about $30,000 installed).
Given this set of variables, assume a moderate 50% utilization rate, fixed annual costs of $4 million and SG&A expenses of 15%. Finally, assume a gross profit margin of just 45% - relatively low compared to expectations and large global peers. The following would result:
Pro-Forma (in millions of $)
| | |
| --- | --- |
| Revenue | $70,000 |
| Gross Profit | $31,000 |
| | |
| SG&A | $10,000 |
| Fixed Costs | $4,000 |
| Depreciation | $1,000 |
| Operating Profit | $16,000 |
| | |
| Income Tax | $4,000 |
| Net Income | $12,000 |
The company has 32.2 million shares outstanding with 3.5 million warrants exercisable at $2.50 expiring on December 26, 2013. Assuming 32.2 million shares outstanding, Tiger Media would be running at an annualized EPS rate of just about $.37, a net income margin of 17%.
All of the aforementioned facts are known, public information - excluding the assumptions. Tiger Media shares presently trade for $1.35, at a P/E of 3.6x pro-forma EPS.
The economic potential becomes more interesting when the company completes the rollout of Beijing and Guangzhou, and achieves cost synergies, higher usage and an improved gross profit margin.
During its recent investor call, Tan stated the company has sufficient working capital in addition to expected cash from operations to complete the two additional networks.
If in fact the outstanding warrants are exercised in December of 2013, Tiger will have an additional $8.75 million in cash - bringing shares outstanding to just 36 million.
The China Outdoor Data Corporation states the greater China outdoor advertising industry grew by 35% year over year ending 2012 with RMB 7.3 in revenue ($1.2 billion). Tiger Media believes it has an opportunity to increase market share in this rapidly growing industry.
RISKS:
Every investment bears some risk and Tiger Media is no exception.
The most obvious is failure to execute its business plan. If it has miscalculated client willingness or market pricing, then the economics of this business could change substantially, leaving investors with increased uncertainty and risk. It is worth noting the high percent of stock owned by insiders - all of whom have significant experience as well as large economic incentive to successfully execute the plan.
The newly installed Chinese leadership may provide roadblocks to this profitable business or imposed legislative barriers. However, the central government has openly encouraged consumerism and promoted greater market-based activity to support continued high levels of GDP growth. Tiger Media claims that its business activities are within "private management areas" of buildings, with little concern of government or policy changes and licenses.
As always, with highly profitable businesses one can expect new competitors. This will always be a risk despite Tiger Media's claimed "first mover" advantage.
Investors should take note that the digital billboard business continues to consolidate, with bigger companies moving to acquire smaller and mid-size level companies with faster growth. A Tiger Media competitor, Focus Media, was recently taken private for $3.7 billion, in what has been China's largest ever going-private leveraged buyout transaction. The consortium was led by the Carlyle Group LP.
CONCLUSION:
The company just announced mid-year results and has committed to providing regular investor updates. Mr. Tan stated," ... it is my endeavor to ensure that we keep all investors completely abreast of the development of this company." The company recently communicated that an annual meeting of shareholders will be held in Miami this December to further communicate and update investors on business developments.
China will likely continue on its current growth trajectory moving to greater consumption as the middle class expands, more wealth is being created, and living standards continue to improve.
Both domestic and foreign merchants will do what they always have done to drive consumption and gain market share - advertise. The message and mediums may change, but you can bet they will continue to spend on advertising in this dynamic, rapidly growing marketplace.
Tiger Media provides patient, long-term investors with an outstanding opportunity to capitalize on the economic growth in China. The company has numerous opportunities to pursue. This could be a company that rises from obscurity to become a significant player in the Chinese outdoor advertising market.
Disclaimer: The security described in this article is owned by Milwaukee Private Wealth Management, Inc., and its clients. The firm is an Investment Research & Investment Advisory Services Company owned by the contributor. Thus, the contributor has a financial interest in any future price increase of the security.
Disclosure: I am long IDI. I wrote this article myself, and it expresses my own opinions. I am not receiving compensation for it. I have no business relationship with any company whose stock is mentioned in this article.