Star Bulk Carriers (SBLK), Zacks Rank No. 1 (Strong Buy), is a global shipping company that transports major bulk items such as iron ore, coal, grain, steel, and fertilizer. Star Bulk owns five Capesize and eight Supramax ships and manages six third-party dry bulk vessels. It has also been sub-contracted for management services for seven product tankers.
The company is on an expansion path and has entered agreements to construct two Capesize dry bulk vessels (180,000 deadweight ton) for delivery in Q4 2015 and Q1 2016. It also has letters of intent for construction of two Ultramax drybulk vessels (60,000 deadweight ton) for delivery in 2015. The new vessels are expected to use eight times less fuel than conventional models at slow steaming and fuel savings could double at higher speeds.
Macro Drivers
The macro backdrop has brightened for Star Bulk with global economic activity showing signs of recovering. The JPMorgan Global Purchasing Managers Composite Output Index rose 1.2 to 55.2 in August and hit its highest level since February 2011. New orders were reported up at a 30-month high. More importantly, the Baltic Dry index has surged in recent weeks and is confirming an upswing in economic activity and vessel demand. Since early August, the index has more than doubled rising from 1,000 to a recent high over 2,200.
Earnings Trend
One factor driving Star Bulk's Zacks No. 1 Rank is the large upward revision to 2013 and 2014 earnings per share estimates. The Zacks Earnings per Share Estimate for 2013 has increased $0.73 to $0.57 over the past 30 days. Likewise, the 2014 outlook has surged $0.74 to $0.43 over the same period. The outlook for profits has gone from loss to profit. After a long period of decline, earnings estimate revisions have stabilized and turned higher. As the chart below shows, this dynamic should be support for the share price.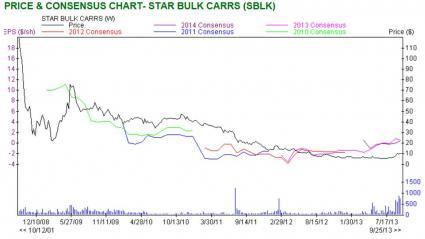 Star Bulk also has a history of posting positive earnings per share surprises. The company has exceeded earnings estimates 15 straight quarters.
Random Operational Issues
The company has indicated that its current fleet coverage is 86% for this year and 21% for next year. It is looking for strong opportunities in the Chinese coal import market. Ship scrapping in the industry was historically high in 2011 and 2012 and is expected to remain elevated in 2013. At the same time, deliveries of new vessels are expected to be manageable into 2014 and 2015. The bulge in orders and delivers between 2010 and 2011 seems to be peaking. As a result, there are signs that the supply/demand balance in the market is turning more favorable for the operators. This is consistent with by the improved trend in the Baltic Freight index.
Valuation
The company does not look overly expensive trading at 0.5 times price to tangible book value. There seems like ample room for the valuation to expand. The price-to-sales ratio was 0.8 on a trailing basis. Like the price-to-tangible-book-value ratio, the price-to-sales ratio has room to expand.
The company just completed raising $80 million in capital on July 25. The fresh capital will provide cash for its new ship builds and enhance liquidity. The company is touting that 18.6% of its shares held are in the hands of two large investors -- Monarch Alternative Capital and Oaktree Capital Management. These two whales suggest institutional investor confidence in the operation.
Conclusion
If you are looking for a stock with strong upward earnings revisions that can capture signs of stronger global growth, Star Bulk should be on your list.
Star Bulk Carriers: Free Stock Analysis Report (email registration required)