After ten days of strong downloads for a new hit game followed up by strong stock gains, Glu Mobile (NASDAQ:GLUU) must prove that its monetization platform actually works. Its successful Deer Hunter franchise released the latest version on September 18. Deer Hunter 2014 quickly jumped to the top of domestic iPhone download charts and reached the top ten grossing iPhone games in the U.S. and set company records for global revenues from a single game.
The company is a leading global developer and publisher of freemium games for smartphones and tablets, but it has had a disappointing year with games that haven't monetized as expected; it spent a lot of money buying technology and hiring experts in the field to develop the GluOn platform. With Deer Hunter 2014 already starting to slip down the top grossing charts, the question that Glu Mobile needs to answer is whether the platform can deliver in keeping a game monetizing on top of the charts for months?
Deer Hunter 2014 Numbers
The company released prior to the open on September 25 that Deer Hunter 2014 had reached several milestones including records for single-day downloads and sales. The major milestones as listed by the company are below:
Glu record 5M+ downloads in first 7 days of global release
Single-day Glu record of 1M+ downloads globally from a single Glu title
Reached #7 U.S. App Store Top Grossing chart position for iPhone
Single-day Glu record of gameplay sessions (18M+)
Single-day record for global revenues from a single Glu title
#1 Top Free App ranking in 19 countries
#1 Top Free Game ranking in 78 countries
The CEO made an interesting statement that the company is only scratching the service as far as the GluOn platform, but the company will need to prove staying power in order to win over investors.
Updated App Annie Stats
The updated App Annie stats are where investors start getting concerned. The game has started dropping in the rankings. For U.S. iPhone stats, the game is down to the second most downloaded free game and the more important grossing numbers show the game has already dropped to #11. See the list below: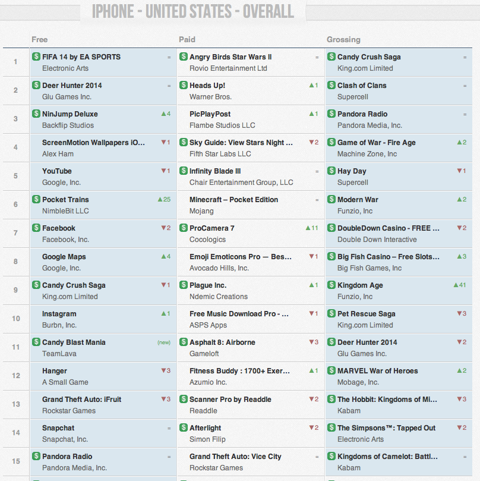 Naturally, the game is still in early days and the all important downloads remain strong. The key now will be whether the GluOn platform works. With over 5 million downloads in the first 7 days of global release and possibly millions more now that the game is live on Android, the company should have plenty of users to turn on the magic of the competition via Club Hunt challenges.
As mentioned on the recent Q2 earnings call, the President of Studios discussed the success of the monetization team in optimizing live titles. As an example, Eternity Warriors 2 saw a 60% uptick in revenue with the release of chance-based purchase systems in version 3.2 and Contract Killer 2 saw a significant revenue lift with each live tournament. Now the company has the chance to prove the benefits of the games-as-a-service (GAAS) concept with a game that is setting company records for downloads.
Strong Support
The below chart shows strong support below the current levels:
Glu Mobile - 2 Year Chart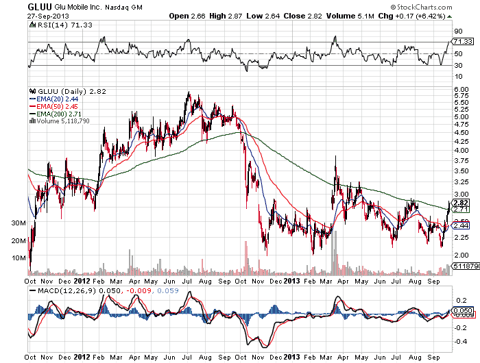 Conclusion
With analysts expecting revenue of $28 million for Q4 and the huge success of Deer Hunter 2014 so far, Glu Mobile has a chance to finally surprise the market. The company has some major launches in Q4 including Eternity Warriors 3, Frontline Commandos 2, and Motocross Meltdown that could provide a substantial blowout of expectations. Remember that the company generated nearly $22 million in revenue during Q213 with no new titles and Q413 has the benefit of four major titles on a new platform, plus up to six games generating 3rd party publishing revenue. If Glu Mobile can't generate a significant revenue beat during Q4, than the company probably has no business being public.
Disclosure: I have no positions in any stocks mentioned, and no plans to initiate any positions within the next 72 hours. I wrote this article myself, and it expresses my own opinions. I am not receiving compensation for it (other than from Seeking Alpha). I have no business relationship with any company whose stock is mentioned in this article.
Additional disclosure: The information contained herein is for informational purposes only. Nothing in this article should be taken as a solicitation to purchase or sell securities. Before buying or selling any stock you should do your own research and reach your own conclusion or consult a financial advisor. Investing includes risks, including loss of principal.