Deere & Company (NYSE:DE) deserves better coverage based on its above-average financial performance and its impressive shareholder remuneration record. Income investor will value Deere, which has long-standing manufacturing experience in farm machinery, high free cash flows and a shareholder-oriented remuneration policy. Outstanding results and the low valuation of Deere do not remain hidden for long: So far, Deere has rewarded shareholders with a doubled share price since 2009 (+110%) and I see even more upside based on an emerging market demand rebound for agricultural machinery and above-average dividend stream.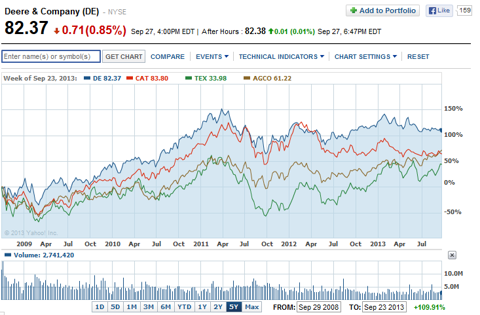 Fundamentally attractive industry with long-term growth prospects from emerging markets
While ever increasing dividends are certainly every dividend investor's dream, Deere offers investors also a low valuation compared to absolute and relative benchmarks. It also has an attractive manufacturing footprint that enables it to expand from its core US market into Russia, China and Latin America where future growth is likely to come from. The underlying growth themes for Deere can be summarized with population growth. Deere manufactures agricultural products such as tractors, mowers, excavators and other utility vehicles that find application in the agriculture and construction industry. The construction business is inherently more volatile than the agricultural business due to overheating tendencies in the economy. The agricultural business, on the other hand, faces an ever increasing need to feed the growing world population. Since the majority of population growth occurs in emerging countries, rebounding agricultural equipment demand should help lift the stock price to new heights once the economy returns to its long-term growth path. Deere's low current market valuation and outstanding remuneration record certainly justify higher share values.
Market valuation metrics
Deere's low P/E multiple discounts incremental cash flow growth and potentially outperforming demand from emerging markets, particularly from China and Russia. The entire farm & construction machinery sector trades at low earnings multiples because of concerns that China's slowdown will continue to hurt global manufacturers. Caterpillar (NYSE:CAT) was particularly hit as its earnings depend to a larger degree on Chinese construction activity compared to Deere. Terex (NYSE:TEX) and AGCO (NYSE:AGCO) both have equally low P/E ratios and strong earning yields.

Free cash flow strong enterprise
Deere has updated its 2013 full year guidance for operating cash flow by 12% from $3.4 billion to $3.8 billion and growth in OCF remains the prime driver of strong free cash flow origination which the company uses to remunerate shareholders. I estimate the normalized level of investment in property, plant and equipment to be around $1.5 billion per year. Net changes to debt fluctuated wildly in the past and I estimate normalized incremental debt increases to average $500 million a year going forward. Deere grew operating cash flow at an impressive 28.4% compound annual growth rate since 2008 which explains the source of its value generation (that is, operating activity vs. financial engineering):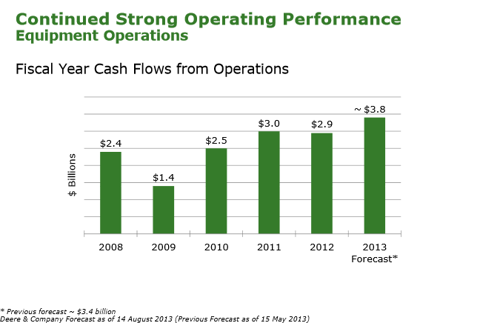 FCFE valuation and sensitivity analysis
The valuation models below assumes that Deere's 2013 core FCFE of $7.25 per share can grow 5% in 2014 with subsequent growth rates trickling down to a long-term average of 4%. The resulting intrinsic value yields $128.50 per share giving the stock about 56% upside.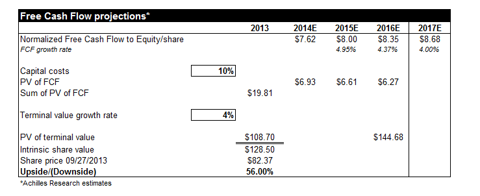 Investors who believe that Deere faces continued downside due to the contraction of the Chinese construction sector (net sales in the construction segment declined 11% to $1,469 million in Q3 2013 from $1,659 in Q3 2012 and operating income declined 5% from $113 million to $107 million due to lower shipment volumes) can incorporate a higher discount rate to account for higher perceived cash flow risk: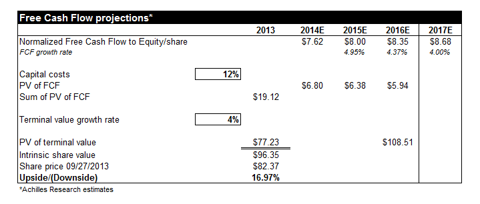 Free cash flows are passed through to investors
Deere might not be known very well outside the professional money management industry as a hidden dividend champion, but I think retail investors would certainly appreciate Deere's record of dividend increases: The quarterly dividend has increased 363% from $0.11 a share in 2003 to $0.51 in 2013 and although past performance is no indicator of future performance, it is likely that this trend continues. It is especially noteworthy that no dividend cuts were enacted during the economic recovery and, with the exception of 2009, dividends have gradually increased providing investors with a recurring and growing income stream.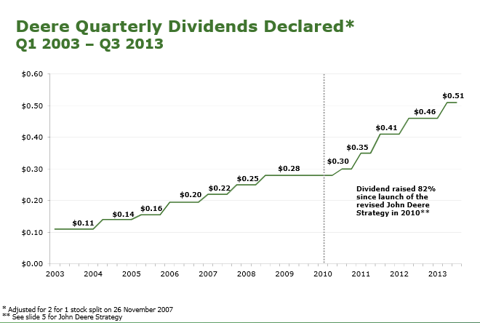 Deere's long-ranging share buyback plan supplements the regular quarterly dividend and adds another layer of value generation to the shares. Repurchases since 2004 amount to $9.9 billion with $0.8 billion worth of stock bought back year to date. A summary of yearly repurchases is provided below: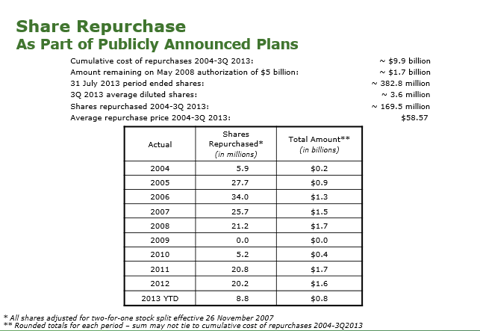 Conclusion
Deere offers outstanding cash flow growth and profitability. Even the incorporation of a higher discount rate to accommodate higher riskiness of operating cash flows results in an intrinsic value per share of $96.35 giving the stock 17% upside potential. Deere's track record in growing operating cash flow at a CAGR of 28% since 2009 as well as the recent increase in OCF guidance to $3.8 billion a year suggests that investors should not be overly concerned with cash flow contraction or higher riskiness of such cash flows.
More importantly, Deere passes high free cash flows per share directly through to investors via an ever increasing dividend stream and share buybacks. Given the prospects of free cash flow growth from an emerging market demand rebound, Deere is a very attractive investment for dividend investors. The 175-year track record of Deere's manufacturing experience is a tremendous asset that underpins its outstanding performance.
Disclosure: I am long DE. I wrote this article myself, and it expresses my own opinions. I am not receiving compensation for it (other than from Seeking Alpha). I have no business relationship with any company whose stock is mentioned in this article.