The Brookfield franchise is one that flies under the radar. Maybe it's because its roots are Canadian, although it remains a truly global franchise. Nonetheless, the numerous Brookfield listed entities provide investors a great value proposition under each of its operating platforms: excellent, easy-to-understand businesses that are run by terrific managers. Brookfield is one of those "compounder" franchises that has a consistent track record of compounding net asset value at high rates over a long time horizon.
Over the years, Brookfield Asset Management (NYSE:BAM) has rewarded shareholders through successful spin-offs of many of its businesses, including Brookfield Infrastructure Partners (NYSE:BIP), Brookfield Residential Properties, Inc. (NYSE:BRP) and most recently Brookfield Property Partners (NYSE:BPY) (although capital appreciation at BPY has yet to occur).
For an instructive organizational chart, I have included a graphic from BAM's Corporate Profile brochure: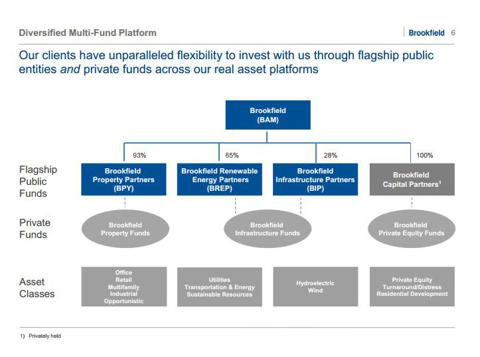 It is safe to say that BAM owns and operates a vast assortment of assets.
Today, I want to discuss the smallest of Brookfield's listed assets, Brookfield Canada Office Properties (NYSE:BOXC) (BOX.UN) ("BOX" or "the company"), which is 83% owned by Brookfield Office Properties (NYSE:BPO), which, in turn is 51% owned by BPY, which, in turn, is owned 92.5% by BAM. There is quite a bit of opacity in BAM and its subsidiaries operating structures which is one reason why I think many of Brookfield's entities currently trade at a discount to their net asset values.
Like the other Brookfield property plays (i.e., BPY and BPO), BOX is presenting considerable value after a recent sell off. Meanwhile, the real estate market is poised to deliver excellent risk-adjusted returns over the long-term, and BOX is set up to deliver generous compound returns from the operating leverage embedded in its operating model. Again, like BPY and BPO, BOX trades at a considerable ~25% discount to its net asset value.
Because of the low price BOX fetches in the market today, excellent risk-adjusted returns should accrue to investors who should enjoy compounding returns from growing tangible book value, a growing dividend stream and a likely multiple expansion. Businesses that compound returns in excess of 10% should trade at a premium to book value, not a discount.
Investors should note that BOXC is rather illiquid in the US market, but about 20 thousand shares trade daily north of the border. Investors interested in BOX, should consider investing in Toronto.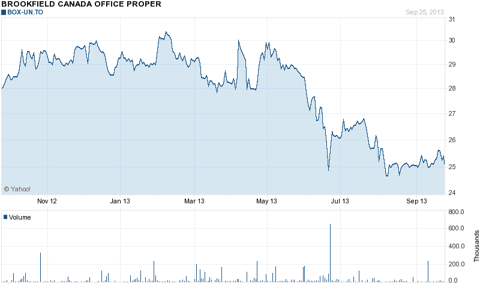 The Business
BOX owns numerous real estate trophy assets throughout Canada in Toronto, Ottawa, Calgary and Vancouver. Included in the portfolio are 28 properties, comprising 20.8 million gross leasable square feet. In addition, BOX recently purchased one development property (Bay Adelaide East in Toronto) from BPO, which will encompass another 1 million gross leasable square feet once complete. I understand Bay Adelaide East already has 60% pre-lease commitments.
Shifting the Bay Adelaide East property from BPO to BOX should benefit BOX's equity asymmetrically when it begins generating cash flow when the project is complete in a couple of years' time. BOX is a smaller entity, therefore Bay Adelaide East will provide significant incremental cash flows and funds from operations ("FFO") not reflected in BOX's current financials.
Speaking of current financials, there does exist some lease rollover risk at certain of BOX's properties in Ottawa. I understand about ~66% of its Ottawa space remains at risk with leases expiring in 2013, and another ~31% expiring in 2015. However, I think the sell-off in shares over recent months, more than reflects this lease roll over risk. On closer look, we see that the leases at risk are at the lowest rates per square foot ("psf"), at between $15 and $20/psf.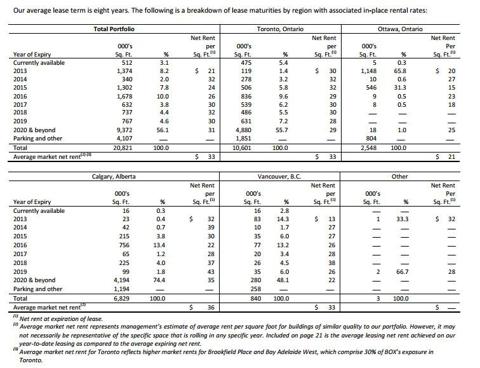 Ottawa, of course, is the capital city of Canada and where a lion's share of its governmental functions take place. As such, BOX's lease exposure here is mostly related to the Canadian government. In my mind, any lease exposure should be discounted when dealing with a government institution. While Canada is reining in government expenditures, Canada is still in better fiscal shape than many other developed nations. Canada is projected to return to budget surplus in a few years. As with any government, though, decisions take longer to make given multiple levels of bureaucracy; therefore, I expect lease renewals to come trickling in as we get closer to expiration. Deadlines spur action, and in my opinion, much of that space will be re-leased. However, I don't expect much, if any, appreciation in rental rates. If rates at least stay on par with the prior lease, I would consider that a good outcome as the space would at least continue to generate cash flow on par with historical levels.
If renewals don't come to fruition (which I don't expect will happen), the expiring leases represent low rental rates in terms of dollars psf relative to BOX's corporate leases, and the Ottawa leases in question (2013 and 2015) represent about 7.8% of BOX's total leasable space. Therefore, the 25% discount to net asset value seems too severe in my opinion. Given the strong track record of FFO generation, I think BOX should at least trade up to book value, considering it has a track record of growing FFO by ~10% or so annually.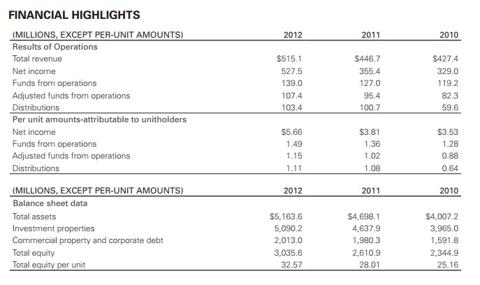 As one can see, BOX is creating substantial economic value from rising revenue and growing FFO. In 2013, it appears that BOX is tracking for about $155 million in FFO, about an 11% increase year/year. Based on projected $155 million in FFO and BOX's $2.5 billion market capitalization, BOX currently trades at about 16 times FFO. That doesn't appear overly cheap, but I do think it discounts the future growth attributable to Bay Adelaide East and the underlying earnings leverage in this model from the potential of significant rent increases in BOX's more dynamic real estate markets, Calgary, Vancouver and Toronto. Moreover, the current multiple discounts the "inflation hedge" component of owning real estate, and doesn't ascribe any premium for BOX being a best-in-class real estate owner/operator in Canada with trophy assets.
Considering the long-term tailwinds behind this business, I think a 19 - 20 times FFO multiple is warranted, which puts it in line with many competitors, suggesting potential upside of ~20% for BOX units. The downside risk appears fully priced in, given the lease roll-over risk in Ottawa.
Catalysts
In BPY's inaugural conference call as a publicly-listed company (who through its significant ownership stake of BPO, derivatively owns a majority of BOX), much of the discussion directed at management was in relation to its operating structure where private assets meet public assets. Management indicated that given $12 billion in capital today, they likely wouldn't set up a similar structure. Given that Brookfield managers invest on an opportunistic basis and because of the discounts to net asset value ascribed to BPY, BPO and BOX, I suspect management may find that buying back the public stakes of BPO and BOX may be the most accretive use of capital.
While there hasn't been any explicit mention of taking the listed assets (BOX or BPO) private, I'm sure BPY management will consider it if the market continues to ascribe a discount to the valuations of each, and if investors/analysts continue to be vocal about the less-than-ideal nature of the holdings.
Next, to the lease roll-over risk in Ottawa. I think the worst is priced into shares, and any incremental leasing activity should act to boost BOX's share price. I understand that Canada's federal government has shifted what, if any, remaining budget issues (specifically as it relates to healthcare costs) to the provincial level. Because of that shift, the Canadian federal government has somewhat shielded and extricated itself in terms of responsibility for bearing healthcare costs. With some better clarity as to their responsibility for healthcare costs, I think that could serve as a catalyst to get some routine business in order, like squaring away leases for office space. I suspect there is also demand from non-governmental institutions, such as from lobbyists, government contractors and other commercial enterprises looking to be closer to its government counterparts and relatively cheaper rent than in other major cities across Canada. Investors considering BOX should tune into BOX's 3Q 2013 conference call on October 22, 2013 to learn more about the leasing progress.
Downside risk is further mitigated by the underlying value in BOX's real estate itself, which is salable and, with real estate prices remaining robust in BOX's key markets of Calgary, Vancouver and Toronto, the increasing value in the real estate should protect to the downside.
Conclusion
Like the other Brookfield property entities, BOX appears to be offering considerable value. It is the easiest to value given it doesn't have stakes in other listed assets, but it is also the most concentrated in terms of exposure to risk in the Canadian real estate market.
Because of the large lease rollover risk in Ottawa in 2013 and 2015, that appears to be the source of the sell-off in BOX shares. While the Canadian government does appear to be going through a certain degree of austerity, I think this should be viewed as a temporary phenomenon given Canada is in better financial shape than the US, and because it has exposure to various commodity markets that should prove good assets to own if an inflationary environment rears its head in the medium-to-long term.
Do the best gifts come in a small box? In this case, I prefer Brookfield Property Partners since I think there are more levers to drive value and a more diversified asset base. But BOX certainly appears as if it could be the gift that keeps on giving. Buying a "compounder" business like BOX at low prices should continue to reward shareholders for the years to come, whether it's publicly traded or if it gets subsumed by BPY.
Disclosure: I have no positions in any stocks mentioned, and no plans to initiate any positions within the next 72 hours. I wrote this article myself, and it expresses my own opinions. I am not receiving compensation for it (other than from Seeking Alpha). I have no business relationship with any company whose stock is mentioned in this article.
Additional disclosure: I may buy shares of BPY which owns a significant stake in BOXC at any time.