The ancient maxim Caveat Emptor has never been a more fitting proviso when investing in today's biotechnology sector, which has outperformed all major sectors over the past two years with returns of 22% and 38%, respectively, as measured by the SPDR S&P Biotech ETF (NYSEARCA:XBI) and the Nasdaq Biotechnology Index (NASDAQ:IBB). And it is likely to continue the trend through 2013; the YTD return of 49% significantly outperforms the next best performing sector, Healthcare, by almost double. Not since the euphoria of the dot.com bubble in 1998-1999 has biotech been the best performing sector in consecutive years.
The enthusiasm behind the sector is no more evident than in this year's IPO window for biotech companies. According to data from Renaissance Capital, forty healthcare companies have listed on public markets raising $7.5 billion and prompting venture capitalists to refer to this current deluge of Biotech IPO's as a revival of its storied 1991-1994, 1996-2000, and 2004-2007 IPO windows. In fact, Bruce Booth of Atlas Ventures points to the fact that "it's already the 2nd busiest IPO year in the 30+ year history of biotech - bigger than both the 1991 and 1996 windows in terms of number of new offerings." And these IPO's have rewarded investors handsomely already with an average total return of 58.2% YTD, adding to the upward momentum as generalists chase the sector's outperformance.
While the Biotech IPO window continues to gain ground through the end of the year with a slew of additional companies listing just this week, there are good reasons to proceed with caution when it comes to investing in today's biotech boom. If history is any indication, then perhaps most worrisome is the fact that following 1998-1999 biotech experienced eight years of mixed performance before regaining the number one sector spot in 2008. Moreover, the cyclicality of the biotech space has been well-documented with sector performance closely correlated to IPO activity. It seems rather intuitive, but as Figure 1 illustrates, over the past decade the Biotech IPO window has consistently lagged behind sector performance. A year after the 1999 biotech boom, sixty-three healthcare and biotech companies raised $5.3 billion through public markets. The sector that year, however, posted negative returns. Additionally, following a strong rebound in sector performance in 2003, healthcare IPO's jumped more than six-fold in 2004, a year in which biotech returns were ranked ninth out of twelve major sectors. If the trend is any indication, a more than three-fold jump in healthcare IPO's this year compared to last could be a harbinger of mixed sector performance for 2014.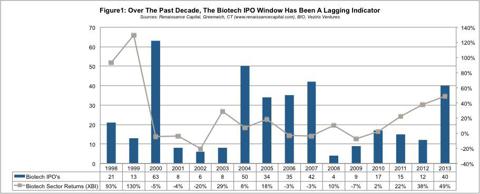 And as the biotech bull market continues its ascent, the ever changing landscape suggests that new interpretations of the game must be applied. Considering just two years ago, the Large-Cap universe for drug-making companies consisted of the traditional gang including Pfizer (NYSE:PFE), GlaxoSmithKline (NYSE:GSK), AstraZeneca (NYSE:AZN), Bristol Myers Squibb (NYSE:BMS), Johnson & Johnson (NYSE:JNJ), Novartis, Merck (NYSE:MRK), and Eli Lilly (NYSE:LLY). As a result of the recent multiples expansion in the sector, the old guard today welcomes newcomer companies including Alexion Pharmaceuticals (NASDAQ:ALXN), Biogen Idec (NASDAQ:BIIB), Celgene (NASDAQ:CELG), and Regeneron (NASDAQ:REGN) with market capitalizations of more than $15 billion.
Moreover, as the biotech tide rises, so do the valuations of the less-established Mid-Cap sized companies. Scanning the landscape of Mid-Cap biotech companies currently generating revenues (Figure 2), we found the majority to be wildly overvalued and trading at an average sales multiple (37x), which is more than three times the average garnered during this year's ten M&A deals (11x).

Based on the average deal size and one-month premium given to acquired companies over the past ten years (Figure 3), we determined that Mid-Cap biotechs are already trading at 64% of their buyout valuations.

And should they be taken out at the 55% one-month premium garnered by targets in the past ten years, their implied buyout value (avg. $8.5B) would be more than double the historical average (avg. $3B) and almost three times the deal value average for 2013 (Figure 4).

While biotech also hit a decade-high record for M&A deals this year with ten, the last two deal headlines, however, have raised eyebrows. Most analysts and investors have agreed that the $886M offer by Otsuka Holdings Co. for Astex Pharmaceuticals (NASDAQ:ASTX) is well below fair value as it ascribes little value to a promising pipeline that includes SGI-110. Many analysts across the Street believe the company is worth $13-$14 a share and by our previous analysis we agree. Dacogen royalties alone are worth $340M based on modeling $50 million in royalties annually through 2022 at 6% discount rate. Assuming approval by 2017, SGI-110 could realistically capture 20% market share by 2019 and be worth a fair value estimate of approximately $400 million for frontline AML/MDS (5x revenue multiple at 20% discount). Adding second-line AML, which is worth about $460M (assuming 25% market share within three years of $1.4B potential market, 5x revenue multiple at 25% discount rate), leads to a fair value estimate of $1.2B, or ~$13 a share.
Moreover, Clovis Oncology, Inc. (NASDAQ:CLVS), which has seen its share price rise five-fold since its IPO in November 2011, recently explored a potential sale of the company, but has since been unsuccessful in finding a buyer. It is not a surprising move that management would attempt to cash in on the cyclical euphoria in the sector, but buyers cannot seem to justify the $1.88B valuation for a phase 1 asset let alone the possible $3B buyout value it would garner based on historical premiums. The result could very well become the "canary in the coal mine" type event that marks the beginning of the end to the biotech buying bonanza. Add to the fact that the once-hyped rumors of Roche's bid for Alexion have since cooled down from the summer season and it becomes increasingly more evident that M&A activity has peaked and is coming to perhaps an abrupt halt.

Many colleagues on the buy-side certainly agree that the biotech sector has entered treacherous territory; too frothy to buy, but not quite ready to short. While the outperformance in the sector has gained significant momentum from generalist participation, generous IPO returns, the 'recycling-scarcity' cycle, the JOBS Act, and a conciliatory FDA, which approved a decade-high number of new molecular entities last year (Figure 5), they are also mindful of the fact that it does not take much to derail the train from the track. Continued outperformance will require support from robust clinical data, healthy M&A activity, positive IPO returns, and a risk-on investing environment in order to encourage generalist interest. Any clinical trial blowup or exogenous threat to the market from either a macro-event (i.e. US or Chinese credit event, rising interest rates) could spoil the risk appetite in the market, slashing biotech valuations in half over night. And the chances of a market event inciting a correction are becoming increasingly likely these days.
It is possible, however, that the biotech sector could continue to outperform and perhaps climb higher before year-end as investors chase the last deal and the market overshoots on the upside looking to break all-time high records. The peak in the rally could very well come right before this year's highly anticipated ASH Conference in December as investors will have one more chance to push valuations higher. ASH, thus, could turn out to be the boom's last hooray. And while recent talk of increased productivity and innovation in biotechnology attempts to justify the continued surge in returns, the promise of phase 2 assets to boost Pharmas' earnings seven years from now and the potential of Small and Mid-Cap pipelines simply cannot support current valuations.
Today's biotech boom brings to mind the South Sea Bubble anecdote in which Isaac Newton quipped "I can calculate the motion of heavenly bodies, but not the madness of men." Like the famed physicist, we cannot predict the moment or event that will bring biotech valuations back down to reality, but we remain confident that when Mr. Market decides the fate of the sector, which is sooner rather than later, the bust could be as big as the boom. Therefore, knowing when to be an optimist, a dreamer, or a realist in biotech investing can make all the difference. Buyer beware.
Disclosure: I have no positions in any stocks mentioned, and no plans to initiate any positions within the next 72 hours. I wrote this article myself, and it expresses my own opinions. I am not receiving compensation for it (other than from Seeking Alpha). I have no business relationship with any company whose stock is mentioned in this article.