The world of emerging market investing is changing, as global economies shift and redefine themselves.
The commodities slump has hit Brazil and Russia, while China is busy re-establishing itself as a consumer driven economy rather than a manufacturing one, and India has been devastated by a volatile currency and ongoing political strife.
Higher growth is now occurring in countries like Mexico, Vietnam, Thailand, and Indonesia. These markets are growing at double and even triple the rate of the United States and offer investors the ability to generate the kind of returns associated with emerging markets.
The most efficient way to get exposure to these growing economies is not through individual companies, but rather broad based exchange-traded funds as emerging market companies tend to be more volatile than their U.S. counterparts.
Four ETFs provide investors access to these countries: The iShares MSCI Mexico Capped ETF (NYSEARCA:EWW), Market Vectors Vietnam ETF (NYSEARCA:VNM), iShares MSCI Thailand Capped ETF (NYSEARCA:THD), and Market Vectors Indonesia Index ETF (NYSEARCA:IDX).
Mexico
Mexico is predicted to grow at 4% in 2014 - double that of U.S. expectations and 1.3% more than former emerging market darling Brazil. The country has inflation of just 3.6% and public debt is only 35% of total GDP. Thanks to efforts by current President Enrique Pena Nieto, much-needed energy reform has finally been passed which opens up the government-controlled oil company Pemex to competition, which could add as much as 2% more to the GDP growth of Mexico.
Industrials make up 34% of the economy, which has made them one of the next big manufacturing centers worldwide. The U.S. is Mexico's largest importer accounting for 78% of Mexico's exports, as their close proximity makes the transportation of products into the U.S. much cheaper than shipping them from across the globe.
The iShares MSCI Mexico Capped ETF is quite diversified - its top four held sectors are consumer defensive, financials, telecommunications, and basic materials. There are around 50 holdings in the fund with its largest, telecom giant American Movil, representing 16% of the ETF's net assets.
This ETF is currently trading at around $66 per share, but should rise as the Mexican economy improves and companies report higher than expected earnings.
Vietnam
Thanks to China's switch to focus on consumption-driven growth, manufacturing centers have moved into neighboring countries like Vietnam. For the first half of 2013, exports grew 16.1% to $62 billion, as compared to last year and GDP growth expectations for 2014 were raised to a robust 6.5%.
As of July, foreign investment in the manufacturing sector was $11.9 billion, a 19.6% increase over the previous year.
The government is actively pursuing ways to coax more investors into their economy by inviting foreign ownership of Vietnamese companies and an aggressive campaign to lower the inflation rate, now held below 7%.
Because the Market Vectors Vietnam ETF invests in companies that generate at least 50% of their revenues in Vietnam, investors will get a 68% exposure to the country, with additional diversification in the U.K., Malaysia, and India.
The top three held sectors in this ETF are financial services, energy, and industrials. The fund holds a range of different stocks, with two of its largest holdings, the Joint Stock Commercial Bank for Foreign Trade of Vietnam and Vingroup JSC, each with each representing over 7%. This fund is down 22.5% off its February highs, mainly due to foreign currency value loss with the strengthening U.S. dollar, but with recent news confirming Vietnam's improved growth rate, it looks as if things could be turning back to the upside.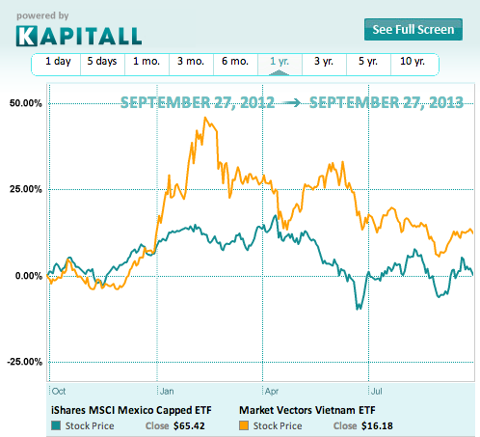 (Click to enlarge. Sourced from Zacks Investment Research.)
Thailand
Thailand is another country benefiting from movement in the manufacturing base away from China. Like Vietnam, this east Asian economy is expected to grow at around 6.5% in 2014, with heavy foreign investment leading the country's growth. According to reports, the Thailand Board of Investment expects to be on track for $32 billion in foreign investment for 2013, a 47% increase from last year.
Access to this region is very limited for the U.S. investor, making the iShares MSCI Thailand Capped ETF the only play available. The unemployment rate in Thailand is a scant 0.5% and inflation is staggeringly low at 1.59%.
Two sectors dominate this ETF: financial services and energy. The top two holdings, energy company PTT and Siam Commercial Bank, each making up over 7% of total net assets..
Like most of the new emerging market ETF's, the stock has been a volatile performer and yet only down around 5% year-to-date, suggesting resiliency in the fund during turbulent times..
Indonesia
Indonesia's GDP is growing at a healthy 6.2%, with a slight uptick to 6.4% in 2014. Tackling the budget deficit is a priority with government officials who are targeting $14.8 billion for 2014, a reduction to 1.49% of GDP as opposed to this year's 2.38%.
The Market Vectors Indonesia Index ETF took a huge hit at the end of August on fears that the U.S. could move against Syria, but has since been on the rise. And while Indonesia has been plagued with high unemployment, actions taken have reduced it from around 8% in 2008 to around 6% as of 2013.
The biggest threat to this market now is the fear of the U.S. Federal Reserve tapering and what impact that will have on Indonesia. For years, the low rates in the U.S. have prompted overseas investment, but with rates beginning to recover, monetary outflows could threaten the country's status as a booming emerging market.
Top three held sectors in the Market Vectors Indonesia Index ETF are financials, and consumer staples and discretionary. The largest individual holding, representing over 8% of net assets, is PT Bank Central Asia.
Like the Market Vectors Vietnam ETF, the Market Vectors Indonesia Index ETF has slumped on foreign currency value loss, but looks to be regaining strength.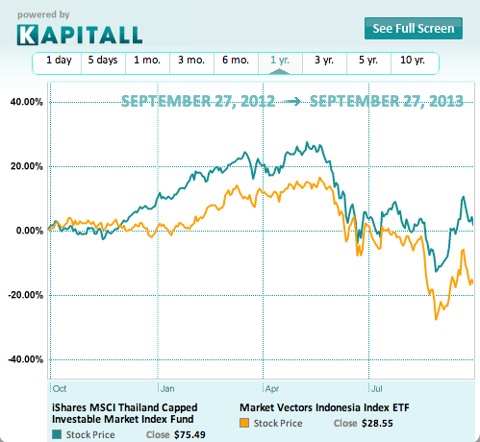 (Click to enlarge. Sourced from Zacks Investment Research.)
As with all emerging market investments, there are several risks that need to be kept in mind. Political risk can be found in all four countries, as free market capitalism is relatively new and government controlled enterprises are still commonplace. Still, for those investors that are willing to accept the risk that comes with investing in volatile emerging market economies, the potential upside could outweigh the negatives.
Disclosure: I have no positions in any stocks mentioned, and no plans to initiate any positions within the next 72 hours.
Business relationship disclosure: Kapitall is a team of analysts. This article was written by Daniel Cross, one of our writers. We did not receive compensation for this article (other than from Seeking Alpha), and we have no business relationship with any company whose stock is mentioned in this article.