Nike (NYSE:NKE) just presented fantastic Q1 2014 numbers. All key metrics such as revenues, earnings, diluted EPS, gross margins were up at impressive rates. Accordingly, the shares surged reaching a new two year high at $75 per share under above-average volume.
A summary of the most recent Q1 2014 results is provided below (numbers in comparison to Q1 2013):
Diluted EPS from cont. operations +37% to $0.86
Revenues from cont. operations +8% to $7 billion
Order book +8%, inventories +6%
Gross profit +11%
Improved gross margin to 44.90% from 43.70%
S&GA expenses as % of revenue improved to 29.5% from 31.8%.
Investors who think Nike's reported results are not impressive enough as they are might find solace in the notion that even the tax rate declined y-o-y: from 26.9% in Q1 2013 to 25% in Q1 2014.
Financial results are so strong that shares jumped intraday to $75 a share. The shares had already run up over the last five years with a plus of 133% but the gains accelerated in light of a strong expected first quarter.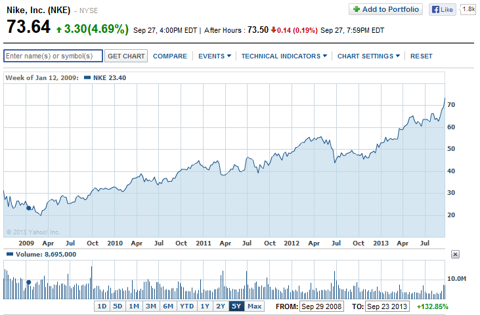 Segment overview
Analysis of Nike's divisional revenues exhibits strong underlying performance across the board.
Per Geography
North America performed healthily with Footwear and Apparel revenues both up 9% to $1.9 billion and $1 billion while Equipment sales increased 13%. The second core market, Europe, performed equally impressive: Footwear revenues were up 16% to $0.8 billion while total revenues grew 11% dragged down slightly by the less relevant Apparel and Equipment segments.
Central & Eastern Europe sales grew a total of 12%, Greater China contracted 1%, Emerging markets were nearly flat with a minimal plus of 1%. The only itch was caused by Japan with sales down 20% (total sales made up $158 million in Q1 2014 vs. $197 million in Q1 2013 and are not significant for Nike's overall results).
Per brand
Nike grew all of its brand revenues at decent rates:
Footwear +7% to $4 billion, Apparel +6% to $2 billion, Equipment +4% and Global brands +19%.
Bottom line
Nike's cash cow markets are the US and Europe. In terms of product lines, Footwear and Apparel dominate Nike's product mix: Footwear delivers 62% of Global Brand revenues and Apparel contributes 31% to Nike brand revenues (ratios unchanged y-o-y).
Futures growth
Nike also reported healthy growth in future orders (+8%) which are orders for the Footwear and Apparel category for delivery from September 2013 to January 2014. A geographic breakdown is provided below:
Share buybacks
In September 2012 Nike's board approved an $8 billion share repurchase plan. Since then Nike has repurchased $1.3 billion worth of shares with $0.5 billion falling into the first quarter 2014. As such, $6.7 billion remain authorized for the repurchase of additional Nike shares.
Conclusion
At the moment it can't get any better for Nike shareholders. The shares are fired up on double-digit sales growth, cost structure improvements, share buybacks and an explosion in EPS to $0.86 per share. A candle light chart indicates a huge gap after announcement of Nike's Q1 figures which makes a short-term fallback in the range of $70 likely in order to get rid of the speculative capital that moved into the stock. Nike's results have resulted in a premium valuation: It is currently valued at 21 times forward earnings which is a very rich multiple even considering the above-average growth rates achieved over the first quarter. From a long-term perspective those growth rates are unsustainable although the market prices Nike as if they can simply be extrapolated. Investors who are invested in Nike might want to think about taking their chips off the table for now and sell on good news.
Disclosure: I have no positions in any stocks mentioned, and no plans to initiate any positions within the next 72 hours. I wrote this article myself, and it expresses my own opinions. I am not receiving compensation for it (other than from Seeking Alpha). I have no business relationship with any company whose stock is mentioned in this article.