Sirius (NASDAQ:SIRI) stock is trading near its 52-week high. I recently wrote an article here in which I looked at the current valuation levels. For the reasons written, there is a lot of expected growth priced into the shares. The majority of that growth is expected to come from continued subscriber gains.
Net New Subscriber Additions
The chart below shows net subscriber additions in each quarter since 2011 (based on data from Sirius 10-Q filings since 2011).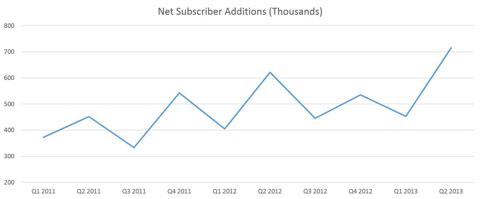 Additions have been remarkably steady, with around 400,000 to 600,000 net new subscribers added in each quarter. The trend seems to be increasing, although it's too early to tell whether the strong performance in the most recent quarter represents a break-out to a new, higher range.
Subscriber additions are driven by a few main drivers: new car sales, increased distribution in the used car channel and deactivations, or churn.
Of course underlying these drivers are several dynamics, including but not limited to pricing decisions, including both the overall service price and price incentives to keep customers, service quality, including content, ease of use and, most importantly, competition. Those are beyond the scope of this article - but stay tuned.
Larger Base Equals More Deactivations
Although net new subscribers in each period has remained relatively stable, that top-line stability hides increasingly dramatic movements in the subscriber base. The chart below shows subscriber deactivations in each quarter since 2011 (based on data from Sirius 10-Q filings since 2011). The increasing subscriber deactivations have resulted from a larger subscriber base and a relatively constant churn rate. It goes without saying that unless the churn rate decreases, a larger subscriber base will lead to an increase in deactivations. And this is exactly what has happened, although investors will note that the churn rate in the most recent quarter dropped to 1.7%. It is too early to tell whether this represents a new, lower steady state churn rate, but it is a positive sign that churn dropped while ARPU increased, which indicates that the drop in churn was not the result of heavy price concessions.
Distribution Channel Tailwinds
Increasing deactivations must be covered by new subscriptions, and two major tailwinds have allowed Sirius to cover higher deactivations. Those tailwinds are: (i) increasing new car sales and (ii) increases in the used car dealer distribution channel.
Peaking New Car Sales
The chart below shows new car sales since 1999 (based on publicly available data).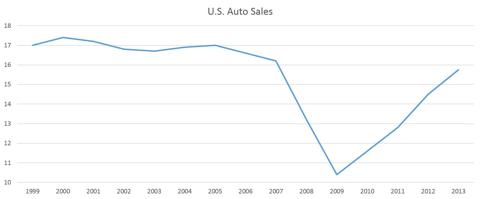 It goes without saying that new car sales cannot continue to increase indefinitely and it is likely that 2013 estimates of 15.75 million units are back up to or near long-term expected levels. Around 69% of new cars are equipped with satellite radios and around 45% of those cars are converted into new self-pay subscribers (from Sirius 10-Q).
The fact is that currently new cars still make up the bulk of Sirius' new subscribers, and new car sales cannot increase much further from current levels. While new car sales have been increasing more rapidly than the increase in subscriber deactivations, that trend looks to be reaching the tipping point where new car sales peak while subscriber deactivations continue to increase. A deficit will start to emerge, and the deficit will need to be filled by the used car channel.
Used Car Distribution Channels
The used car distribution channel has become more important over the last year and is expected to account for 1.5 million gross self-pay subscriber additions in 2013 (company guidance for total net subscriber additions is also 1.5 million). As of the second quarter conference call, Sirius had partnerships with over 10,000 used car dealerships. With an estimated 45,000 independent used car dealerships in the United States, there is room to increase this channel. It is likely, however, that the 10,000 current partners represent the larger dealers that were initially targeted and much of the remaining is the "long tail" that drives lower volume.
Unfortunately we do not have a lot of data but it is clear that this channel has room to continue to grow, particularly as satellite-equipped new cars (65-70% penetration) filter into the used car channel over time. Assuming new car sales of 16 million per year and a 69% penetration, the base of satellite radio-equipped cars (currently 54.5 million) will increase by around 11 million per year from today, minus an assumed number for satellite-equipped cars that are end of life (which is likely low now but will become significant relatively soon given that Sirius launched over 11 years ago).
The used car channel is really two separate tailwinds. The first is from the increasingly broad coverage through dealer partnerships. I expect that this tailwind will soon reach its steady state as I expect the 10,000 current participating dealers are the largest and most significant dealers and the remaining dealers are the "long-tail" of the market that do not represent as much volume. The second tailwind is from increases in the installed base of satellite-equipped cars as new cars filter into the used market. This will be a tailwind for many years.
The used car channel is a wild card at this point. We just don't know how many used car sales are "covered" by the program or the similar service program. We also don't know the conversion rate. Rough assumptions for an eventual steady state might be 40 million used car sales per year, 65% of which are equipped with satellite radio and 30% of which are converted into paying subscribers. That would be 7.8 million gross subscribers additions a year. This would only be possible if every dealership participated in the Sirius program and the current penetration rate on new vehicles filtered to the used car base (obviously that will take many years). Those are probably unrealistically optimistic assumptions, but it does show that there is theoretically a significant runway here.
More Subscriber Volatility Ahead
At the risk of mixing metaphors, subscriber growth in each period is like a tug-of-war between competing forces. Notwithstanding prior performance over the last couple of years, there is no guarantee that there will be a subscriber increase in any given period. In fact, the relatively stable new additions over the past few years mask very dramatic decreases from churn and dramatic increases from growing new car sales and the used car channel. Each of these movements - deactivations, new car subscribers and used car subscribers - are largely driven by independent drivers. There is no assurance that those dramatic decreases and increases will net to the stable increase that investors have come to expect.
If new car sales max out near current levels as I expect, and new car penetration rates and conversion rates stay stable as they have now for several quarters, the company will need to continue to grow the used car channel just to keep up with growing deactivations from the ever-larger subscriber base. The company needs to run the used car program just to stand still. And one of the drivers in the used car program - increased distribution - will reach its steady state soon as the majority of the large used car dealers join the program.
The task ahead will be made even more difficult because of increases in the accessibility, convenience and functionality of streaming alternatives. This is really the big long-term story for this stock but is unfortunately beyond the scope of this article. Given that the stock at current levels prices in significant additional subscriber gains, I would steer clear of Sirius at current levels.
Disclosure: I have no positions in any stocks mentioned, and no plans to initiate any positions within the next 72 hours. I wrote this article myself, and it expresses my own opinions. I am not receiving compensation for it (other than from Seeking Alpha). I have no business relationship with any company whose stock is mentioned in this article.