"Be so good they can't ignore you." - Steve Martin
It has been a mixed year for U.S REITs in general. The iShares U.S. Real Estate ETF (NYSEARCA:IYR), which tracks the Dow Jones U.S. REIT Index, is flat for 2013. After closing at $64.68 on December 31, 2012, the ETF closed at $64.67 on September 26, 2013, up a penny with a few distributions. The SPDR S&P 500 ETF (NYSEARCA:SPY) that tracks the S&P 500 is up from $140.03 to $169.69 over the same period however, for a return of 21.2% (excluding dividends).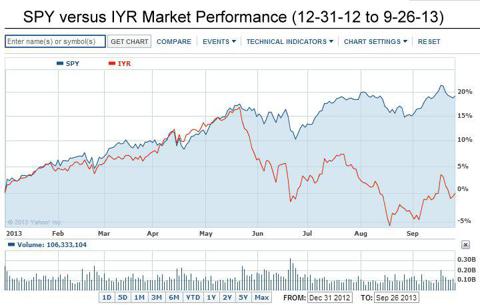 As noted by the performance chart above (SPY on Yahoo! Finance return looks short of 20%; however, it is 21.18%), both indexes shared correlated growth until May 22, 2013, when the market began to oppose REITs versus the general market on fears of prompt Fed tapering.
As we know now, the Fed did not taper in September. As many speculate today, the Fed will not announce such a move until 2014 at the earliest. According to David Robin, co-head of financial futures and trading strategies at Newedge USA (with over $17 trillion in assets under management), he would be "hard-pressed to see any tapering action until 2014," as stated in a CNBC interview this week.
While the market knows that tapering is inevitable, the drop in the Dow Jones U.S. REIT Index may be overblown and lead to value. In a recent article, I argued the long-view of a bull case for U.S. REIT market in general.
By doing the research and finding value in the midst of the mid-cap U.S. REIT market, the income investor is able to find yield, stability, growth and an extra layer of safety as prices have yet to recover from the recent summer swoon.
Mid-Cap REITs Offer Income, Stability & Market Participation
As REITs pay at least 90% of their taxable income to shareholders and are followed closely by income-investors, yield is an important function. Deeper analysis for the income-investor market reveals individual company ratings as a function of yield as well as dividend stability and growth, company safety and overall growth prospects.
In looking for value amidst the flat return of the aggregate U.S. REIT market, one can use the largest U.S. REITs as a benchmark for yield. Once declaring the benchmark, the investor is able to further analyze the mid-cap REITs to participate in the market and earn income above the VNQ benchmark while adhering to low-risk and long-term growth parameters.
The Top 10 U.S. REITs by Market Capitalization
The Vanguard REIT Index ETF (NYSEARCA:VNQ) is a better measure of traditional REITs versus the IYR, as the IYR includes non-traditional REITs Weyerhaeuser Co. (NYSE:WY), a lumber and wood-production company, and American Tower Corporation (NYSE:AMT), which owns cell phone and communication towers. Traditional REITs are those with buildings that provide physical property for rent or lease, such as apartments, offices, malls, hotels, hospitals, storage centers and industrial space. As such the index that VNQ tracks, the MSCI U.S. REIT Index, does not include such non-traditional REITs and is a better benchmark for this case study.
The top 10 holdings of VNQ, as shown below, yield (market-weighted) 3.45% as of 9-26-13. There are several sectors making up the top 10 holdings while the forward yield range is 2.44% to 5.03%. Also to note is the exclusion of General Growth Properties (NYSE:GGP) from the top ten holdings, as the market cap of GGP is nearly $19 billion, while VNQ weights it less than half as much as HCP and VTR (which have a very comparable market cap) according to the VNQ July 31, 2013 semi-annual report. For this reason, GGP is also not in the top ten traditional U.S. REIT benchmark in this study; however, it will be ranked in the mid-cap REIT rankings to follow.

While most of these REITs are between $15-$20 billion in market cap, only Simon Property Group (NYSE:SPG) and Public Storage (NYSE:PSA) are above $20 billion and thus weigh just over a third of the group as a whole.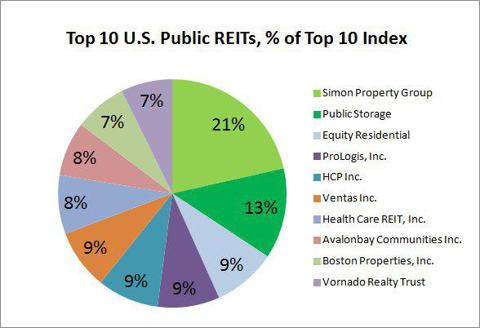 Regarding the definition of Mid-Cap REITs, just like in the general market it is up to the investor to decide what dollar amount to go by. This proprietary chart below showcases the general market terms, as well as a proprietary chart of REIT definitions that link market size to average yield. Under this proposal, REITs classified as "mid-cap" are valued between $10 and $20 billion and yield approximately 4-5%.

The general market definitions here come from the Wikipedia article Market Capitalization, which also states "there is no official definition of, or full consensus agreement about, the exact cutoff values." With inflation and relative company growth, these numbers may evolve throughout history.
The Mid-Cap REIT Research: Starting With The Top 10 List
Before ranking the mid-cap REITs, the starting point is research. With the top 10 traditional U.S. REITs, we have eight companies that are between $10 and $20 billion. By eliminating Simon Property Group, the lone mega-cap, and Public Storage, the only large-cap on the list, we are left with the following eight companies:
1. Equity Residential (NYSE:EQR)
2. ProLogis, Inc. (NYSE:PLD)
3. HCP Inc. (NYSE:HCP)
4. Ventas, Inc. (NYSE:VTR)
5. Health Care REIT, Inc. (NYSE:HCN)
6. Avalonbay Communities (NYSE:AVB)
7. Boston Properties, Inc. (NYSE:BXP)
8. Vornado Realty Trust (NYSE:VNO)

Important to note is that the mid-cap stocks comprise of nearly two-thirds of the top ten index. Category calculations with relative market-weighted yield are included in the spreadsheet above, as proof of yields to be discussed below.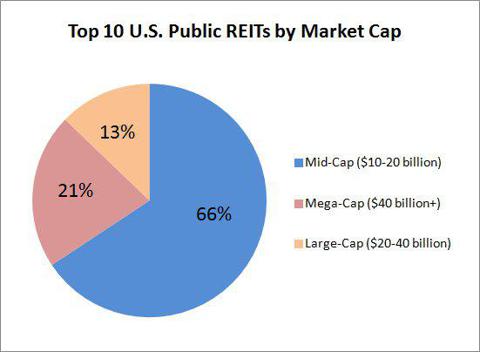 The Proof Is In The Pudding: The Mid-Cap Income Trade-Off
In the mid-cap arena, the market-weighted yield of the eight mid-caps in the top 10 list comes out to 3.65%, which is about 20% higher than the yields of the larger peers. By trading down to a mid-cap REIT, the investor is rewarded with a higher level of cash, which is important for the income investor.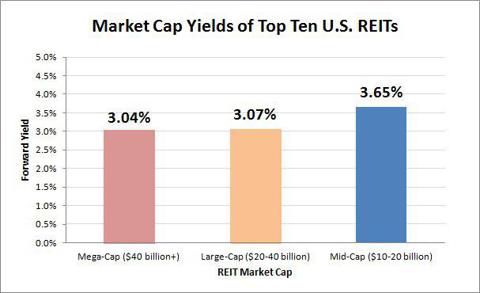 The trade-off for a mid-cap REIT seems light for such a high reward. Although the larger companies should have a higher level of stability, a $10 to $20 billion REIT in addition to yield may offer faster growth, as investments will make a bigger impact to the bottom line versus the larger counterparts.
The Total Mid-Cap REIT Market
Regarding the rest of the mid-cap U.S. REITs, there are two other companies that are valued at between $10 and $20 billion. These are General Growth Properties as mentioned above, as well as hotel owner/operator Host Hotels & Resorts, Inc (NYSE:HST).
With the addition of these two other mid-caps, there are a total of 10 REITs to analyze in the category. The yield range is 2.44% to 5.03%. The market-weighted yield is 3.46%. Also to note, only traditional property rental and leasing REITs are included (no mortgage, timber, etc.) in reflection of the VNQ standards. Below are the ten U.S. REITs that fit this model.

The REIT Income Property Endurance-Investability Quotient (RIPE-IQ) Score
The RIPE-IQ Score (1-100 points)
With the ranking weights below, the highest score a company can receive is 100 points. When added together the score is an investability quotient for income investors looking for stable, income-generating REITs that offer a high margin of safety. This proprietary score is a complex yet easy-to-comprehend number that in theory allows income investors a REIT grading system suitable to their needs.
In this study, each REIT is ranked according to different weightings on the following seven criteria: market capitalization, yield, 10 and 5-year dividend stability, 10 and 5-year dividend growth, TTM dividend yield, sub-sector growth prospects and property moats, % from 52-week high and portfolio distribution among geographic diversity and sector diversity. The weightings rely heavily on yield and safety with total return secondary, as these are the generally accepted mandates of an income portfolio.
The RIPE-IQ Ranking Metrics (100 Points Max)
1. Market Capitalization (6% weight)
Companies ranked are mid-cap REITs as defined "between $10 and $20 billion market capitalization." As companies grow and become closer to $20 billion, they become less risky and are assigned a higher score. The ranking gives 6 points for $15 to $20 billion market caps, 5 points to $12-$15 billion and 4% to $10-$12 billion. Companies are only mildly penalized for the lower-end market cap range here.
2. Yield (12% weight)
Companies with a higher forward yield achieve a higher score. Yield is doubled for weight, such that a 5% yield equates to 10 points in the final ranking score. There is a maximum of 12 points in this category.
3. 10-Year Dividend Stability (20% total weight)
When the global financial crisis hit, many companies either eliminated their dividend or lowered it. Those who were able to maintain the dividend achieve a higher stability score. 2 points per year of stable dividends, if a dividend cut the company is ineligible for points until the calendar year proceeding the cut.
4. 10-Year Dividend Growth (20% total weight)
The ability to grow the dividend is a key investment component for income investors. Those able to achieve growth through the global financial crisis earn extra points. 6 points for one raise in last five years, 6 points for one raise years 6-10, 1 point each additional year the dividend is raised. If the dividend was cut, ineligible for points until the calendar year proceeding the cut.
5. Sub-sector Growth Prospects & Property Moats (20% total weight)
The growth in demand for certain types of property is expected to grow faster than others over the next 20 years due to demographics, government influence and economic growth. Also, economic constraints, such as the limited amount of land in high-density locations, add huge value to REITs as it increases the difficulty of competition. A company can make computer chips anywhere, however the placement of property in high-population areas presents legal challenges, as well as time-constraints and limited supply of land. This could be termed a "property moat." Proprietary grading of points.
6. % From 52-Week High (7% weight)
As the market rewards an uptick in good times, the sector-wide divergence from the broad-market in this stage of the current bull market has put single-REIT stocks at large discounts to the May 2013 high. Everyone likes a stock on sale, especially when the market diverges according to investor sentiment rather than fundamentals. The lower price increases the margin of safety, thus increasing the score. 1 points per 4% below peak, up to 7 points. No penalty for new 52-week high, this will be termed the "discount score."
7. Geographic Diversity & Sector Diversity (15% weight)
A property company with 100% of their assets in one state, with only one type of property in the sub-sector (say only hospitals in medical sub-sector, with no exposure to research facilities, medical offices, senior living facilities, biotech facilities, etc.) would receive less points than a property company with major diversity in the sub-sector as well as geographically. As these are U.S.-based REITs, no extra points are given for ex-U.S. holdings. Country-wide based holdings are ideal. Multi-sector, up to 5 points. Multi-regional, up to 10 points.
The RIPE-IQ Scores of the 10 U.S. Mid-Cap REITs
The RIPE-IQ scores of the U.S. mid-cap REITs fall into a range of 58.8 to 97.7. The companies score well in most categories as the $10-$20 billion market capitalization showcases a higher margin of safety versus smaller REITs, as well as established dividends. In most cases, these companies showcase excellent diversity geographically and within their prospective sectors.

The biggest hit to scores were from companies who slashed their dividend during the global financial crisis or have a short dividend history. As income stability and growth is a major concern of income investors, the 40% total weighting in this model heavily influences the score.
The Passing RIPE-IQ Scores
The highest score is HCP, with VTR and HCN a close second and third. All three are ranked high as they all have a solid 10-year dividend history of stable and growing dividends. With the exception of HCN not raising the dividend in 2009, all three companies raised the dividend each year of the last 10 years. All three companies are down 20-25% from their 52-week highs, which offers a higher margin of safety and bonus to the score.
Avalonbay Communities is the only other company that achieved a passing grade. AVB has a consistent 10-year dividend history as well, with only three years in the last 10 where the dividend was not raised. In the event of another financial calamity or stock-market swoon, these four companies have already proven they can deliver consistent results and therefore this score gives them a likely edge over their peers.
The RIPE-IQ Low Scores
The lowest scores are F grades from PLD, VNO and HST. All three cut their dividends in 2009 and have since raised their dividends, with the exception of PLD. To pass our test, these companies need to raise their yields each year for at least two years. HST is stuck in a riskier market as hotels are prone to recessionary dips more than other REIT classes. In addition to an increase in market cap, the company can rank higher with diversification away from the luxury and upscale hotel segment they participate in.
The RIPE-IQ Grade Distributions
With most of the scores equating to a below-passing grade, the RIPE-IQ grades deem only 40% of the mid-cap REIT sector passable for the income investor. Three companies, HCP, VTR and HCN have an A-Grade, while AVB has the lone B-Grade score.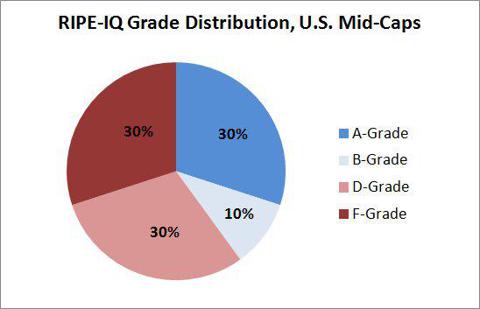 Conclusion
With a little research, income investors are able to select REITs that make long-term sense in their portfolio. The RIPE-IQ scores showcase mid-cap REITs that are ripe for the picking in the marketplace today. Those with a passing RIPE-IQ grade are dividend-growth achievers that have a stable payout history and a diverse base. They are trading at a discount versus the recent market high thus a higher margin of safety is achieved.
To read more about secular-growth trends in the U.S. and REITs that may benefit, please read 7 Secular Growth REITs to Generate Income Now.
Disclosure: I have no positions in any stocks mentioned, and no plans to initiate any positions within the next 72 hours. I wrote this article myself, and it expresses my own opinions. I am not receiving compensation for it (other than from Seeking Alpha). I have no business relationship with any company whose stock is mentioned in this article.