I have been combing through the S&P 500 Dividend Aristocrats Index to cull out companies that still make the cut for long-term dividend investors looking for stable retirement income that's ahead of inflation, with the additional lure of capital appreciation potential. Dividend Aristocrats is an exclusive club of 54 dividend superstars -- companies with sizable market capitalization and institutional ownership that have consistently raised dividends over each of the past 25 years.
The table below, from FAST Graphs, lists my picks in descending order of 5-year estimated annual total returns through 2018 -- pharmacy chain Walgreen Co. (WAG); pharmaceuticals major Abbott Laboratories (NYSE:ABT); asset management firm T. Rowe Price (NASDAQ:TROW); Abbott's January 2013 biopharmaceutical spin-off AbbVie (NYSE:ABBV); and industrial supplier Air Products & Chemicals (NYSE:APD).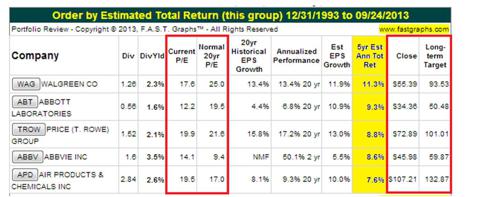 Reasonably Valued
All, except AbbVie (the new kid on the block) and Air Products, trade at discounts to their normal 20-year price-to-earnings ratios. Walgreen, for example, trades at a current P/E of 17.6 versus its 20-year average P/E of 25. I highlight this to underscore its reasonable valuations despite the 36% to 52% run-up in shares over the past two years. Lower P/E ratios partly reflect slower future earnings growth (as is the case with Walgreen and T. Rowe Price); higher than historical P/E ratios reflect higher future earnings growth (Air Products); and Abbott trades at a significantly lower current P/E because of the recent (Jan 2013) spinoff of AbbVie, its biopharma arm. (Abbott's AbbVie spinoff also makes 20-year comparisons not meaningful in some instances. So I like these five on P/E valuation.)
Strong Share Price Upside
While the past is reassuring on dividend reliability, future earnings growth is what draws me to these stocks because annual total returns are expected to range from 7.6% to 11.3% over the next five years, with steady dividend income reinforced by solid estimated share price gains. At the low end, for example, Air Products' shares are expected to grow from about the $107 level currently to about $133 over the next five years. These share price projections are based on consensus analyst estimates on earnings growth.

Consistent Dividend Growth
As is typical with Dividend Aristocrats, their dividend yields are nothing to write home about and appear pretty mundane at first glance, ranging from a lowly 1.6% for Abbott (with the yield distorted by the AbbVie spin-off) to a passing grade 3.5% current yield for AbbVie.

But what I love about these five is how they have consistently grown dividends over each of the past 25 years, through good economic cycles and bad, and reliably rewarded long-term dividend investors with total annualized 20-year returns of between 9.3% at the low end (Air Products) to 17.2% with T. Rowe Price -- well above inflation and well above the 7.8% annualized 20-year return of the S&P 500 index. Abbott's 6.8% return reflects the AbbVie spin-off so I will ignore some Abbott and AbbVie metrics.
Each of these companies pays out a substantial portion of its cash as dividends, with payout ratios (dividends as a % of earnings per share) that range from 41.3% to 60.6%.
Share Buybacks Have Been Prudently Withheld Of Late
On top of dividends, these companies spend big on share repurchases that significantly enhance shareholder value. I see buybacks as a buffer that lets management boost returns through a tax-free transaction without jeopardizing annual dividend increases.
But the table below reflects management's recent unwillingness to spend big on buybacks, possibly because of strong two-year share price gains that may not be accretive to shareholder value should shares retreat after the strong bull run we've just seen.

Shares Have Kept Up With or Handily Beaten the Market
The 20-year share price chart below (does not reflect dividend payouts) shows that companies such as Abbott and Air Products have marginally beaten the S&P 500 index while T. Rowe Price and Walgreen have handily outperformed. I expect these trends to continue into the future.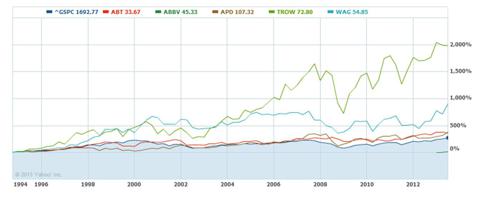 Segment Leaders with High Cash Flow
All five are category leaders that are continuously scrambling to gain market share and grow earnings, with solid revenue and cash flow that they use for dividends and buybacks. While margins are slim at Walgreen's retail store model and for Air Products industrial materials distribution business, there is reasonably high revenue visibility and consistency in cash flow generation. Companies such as Abbott, AbbVie and T. Rowe Price have higher margins and higher operating cash flow. As a result of these differing business models, operating cash flow ranges from $903 million to $9.3 billion, and between 6.2% and 34.5% as a percentage of revenue.

Fiscally Conservative Operations Increase Dividend Assurance
Barring AbbVie, which was spunoff with a fair amount of debt relative to book value, each of these companies operates with debt that can be easily managed relative to operating income and cash flow.
As a result, three of these companies carry high investment-grade Morningstar corporate credit ratings that range from AA- to A-, with the poorest rating of UR- for Walgreen related to competitive weakness, which the company likely will overcome through performance and execution. Walgreen is also under attack for losing the Express Scripts business and for high-profile competitive mergers within its sector.

Double-Digit ROI
Management quality at each of these companies is reflected in their double-digit returns on equity and invested capital. Even the much-attacked Walgreen delivered a handsome 12.6% return on equity and a 9.4% return on invested capital.
Hedge fund manager Bill Ackman is less than enthused with Air Products & Chemicals Inc. management team. The company's CEO, John E. McGlade, will retire next year. Three new directors will be added to the board. Ackman's hedge fund controls 9.8% of Air Products & Chemicals' shares.

Summary
I am bullish on the future prospects of each of these five companies and like their valuation relative to historical levels and future EPS growth estimates. I am confident that even Walgreen will overcome the near-term uncertainties it faces with health care reform in the U.S. In fact, stocks such as Walgreen could offer up buying opportunities on further sentiment-induced weakness. Each of these five will likely continue to deliver dividend increases, specially as U.S. and world economies recover in the years ahead with continued support through easy monetary policies.
Management confidence in revenue stability is also reflected in the relatively high dividend payout ratios for each. There is a lot of talk of a near-term market retreat, primarily on profit-taking after a fairly sustained bull run, and any retreat could present buying opportunities for each of the five stocks I listed above. Moreover, their status as Dividend Aristocrats places a floor on share price drops due to high long-term institutional demand and reduces risk relative to most other shares.
Disclosure: I am long APD, TROW, WAG, ABT, ABBV. I wrote this article myself, and it expresses my own opinions. I am not receiving compensation for it (other than from Seeking Alpha). I have no business relationship with any company whose stock is mentioned in this article.