RealNetworks (RNWK $8.53) Looks to Simplify Video Sharing With RealPlayer Cloud
Video sharing in the mobile age is still a time and labor intensive process as much as it was in the desktop era. Few options exist for sharing video directly with others outside of Facebook or YouTube or for sharing content across mobile platforms such as Android or iOS7. But a new service from Real Networks (NASDAQ:RNWK), RealPlayer Cloud, aims to eliminate the hassle of uploading and sharing video altogether.
Rather than encoding video before being uploaded, RealPlayer Cloud utilizes proprietary SurePlay technology to convert video automatically in the cloud. RealPlayer Cloud optimizes the encoding process so that video can be replayed while it is still being uploaded. When content is shared to someone running a separate OS, an example being when an Android user sends a video to an iOS7 user, the platform will automatically adjust itself to the correct settings. Shared content can either be streamed online or downloaded to a device for offline playback.
Rob Glaser, founder and interim CEO of RealNetworks, spoke about how RealPlayer Cloud addresses the video sharing shortfall. "The amount of video content that consumers are capturing and watching is exploding, but moving that video around is often painfully difficult."
"RealPlayer Cloud is a breakthrough product that gives consumers a seamless and easy way to move, watch, save, and share their videos across all their devices. In short, we've made video easy." Glaser concluded.
Jeff Chasen, VP of Product and Software Development at Real Networks was quoted during a recent demonstration explaining the RealPlayer Cloud business model. "We're going have a plan that gives you 25 gigs, 100 gigs and 300 gigs, for different price tiers; $4.99, $9.99, and $29.99. Not only do the plans give you more storage, but they also give you video profiles, so you can get a higher resolution. If you start with an HD, the higher tiers will give you higher quality so you can play on a big screen TV and it will look great."
RealPlayer Cloud looks to compete with other services such as Amazon's (NASDAQ:AMZN) Cloud Drive, Dropbox, and Google (NASDAQ:GOOG) Drive.
RealNetwork's Revival
The introduction of RealPlayer Cloud marks the culmination of a very eventful year. RealNetworks is long thought to be a relic of the tech boom of the late 1990s and early 2000s. The company was known as one of the pioneers in streaming media until challenges arose from both Microsoft (NASDAQ:MSFT) and Apple (NASDAQ:AAPL). In 2004, RealNetworks' drew the wrath of Apple by creating a service called Harmony that enabled music from its Rhapsody music service to be played on iPods. Apple repeatedly changed its software to thwart RealNetworks and ultimately, Harmony was shelved and Rhapsody was spun-off as a stand-alone company in 2010. Currently RealNetworks owns 45% of Rhapsody.
Real Networks did enjoy success with an antitrust lawsuit it filed against Microsoft to compel the software giant to include the RealPlayer streaming media software in Windows. In 2005, Microsoft agreed to settle the case and paid RealNetworks $761 million.
Last year, there was a management revamp that created dramatic changes at RealNetworks, culminating in the introduction of the RealPlayer Cloud on September 24th. In July of last year, CEO Rob Glaser returned as CEO. Let's hope that his return is as important as it was when Howard Schultz returned to Starbucks (NASDAQ:SBUX).
Joining Glaser is Edmund O. Belsheim, Jr. as Senior Vice President of Corporate Development. Belsheim, an experienced business executive and corporate attorney will work with the rest of RealNetworks's senior team to revitalize RealNetworks. Another new addition to the RealNetworks' management team is Max Pelligrini, who is the President of the company's Mobile Entertainment division which delivers mobile entertainment services and media to carriers and device manufacturers worldwide. Under Pellegrini, RealNetworks will create new smartphone-based consumer services.
Recently RealNetworks unveiled new products such as RealPlayer Cloud and the new version of the Helix Media Server, which provides enterprise media delivery services to companies looking to reach customers across a broad range of devices. Helix Universal Media Server offers universal streaming for iOS, Android, tablet, PC, Mac, Smart TV and other platforms.
RealNetworks "Slings" for Higher Revenue
RealNetworks acquired Slingo in July for $15.6 million. Slingo is one of the most popular social casino games with more than 4.5 million people playing versions of Slingo each month on FaceBook, and millions more playing it on mobile devices, on Slingo.com and in physical slot machines in casinos around the world.
RealNetworks CEO Glaser remarked that "Our team is hard at work creating even more compelling new versions of Slingo for Facebook, iPhone, iPad and Android."
RealNetworks also announced GameHouse Casino Plus, the first social casino game to use a sweepstakes to offer an opportunity to win a cash prize for users in the U.S. Based on Real's GameHouse Casino product on Facebook, Casino Plus offers this cash prize via a monthly sweepstakes promotion.
Each month, one entrant will win $100,000. The cash sweepstakes will be available to Facebook users in 31 states and Washington DC. Entrants who live outside of these territories will be eligible to enter a monthly virtual coins sweepstakes.
"This is a powerful approach," said Ken Murphy, vice president and general manager of GameHouse. "GameHouse Casino Plus now delivers the excitement of a chance to win real cash through a staple of American culture, a sweepstakes."
On a recent conference call, CFO Tim Wan talked about RealNetworks securing a new headquarters building in Seattle. "In May, we announced the relocation of our Seattle headquarters. We entered into an 11-year lease at a new location in Seattle and concurrently terminated our existing lease. We expect our new annual rent to be about $3.5 million, resulting in annual cash savings of over $7 million from our current facility. The termination cost for our existing lease is $6.6 million against a remaining obligation of about $10.5 million."
Although the recent past has been a disaster for RealNetworks, CEO Glaser has remained optimistic. Glaser said that "I'm very confident that we're on a path to revitalize Real and that the products and services we're bringing and planning to bring to market this year will enable us to do so."
Technical Analysis by Harry Boxer (TheTechTrader.com):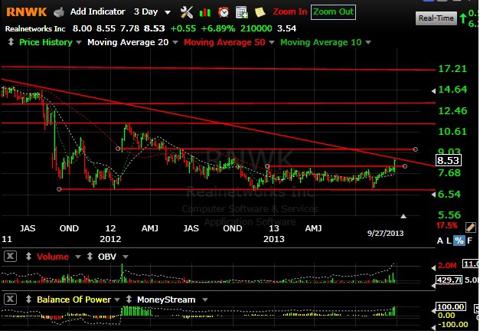 RealNetworks RNWK had been in a long term decline from its multi-year high near $48 in 2006 which then saw it drop down to under $7. Over the last 2 years it has tested and held that level multiple times , creating a nice 2 year base. Recently it's surged out of the last years trading range and last Friday it popped $.50c or 6.2% . RNWK now appears poised to breakout & run. Targets are $11-$11.25,then $13 with an intermediate target near $17 once resistance at $9.25 is taken out.
Conclusion
On the Q2 2013 conference call, CEO Rob Glaser said that "We feel good about the prospect of success in social casino games based on our 2-pronged differentiated strategy: GameHouse Casino Plus with the Golden Dreams Sweepstakes; and Slingo."
"In the months ahead, we'll have more to say about the growth strategies for our other 2 divisions: Mobile Entertainment and the Real Player Group. While the details are different, the philosophy is the same: revitalize growth by bringing compelling and differentiated products to market."
With the cloud storage market estimated to grow to over $46 billion by 2018, RealNetworks is betting that RealPlayer Cloud will cater to social media and personal users uploading their videos and storing them on the cloud as much as Helix will cater to enterprise users who will upload and stream video for advertising, both of which would generate significant revenue for RealNetworks. The differentiation strategy along with any new Slingo and GameHouse Casino Plus games would also drive further growth.
With new management, new platforms to drive revenue and a new headquarters, it looks like the RealNetworks comeback story might actually become "Real".
Disclosure: I am long RNWK. I wrote this article myself, and it expresses my own opinions. I am not receiving compensation for it. I have no business relationship with any company whose stock is mentioned in this article.
Additional disclosure: I was assisted by my associate Anthony Orbanic