"Our confidence [in Kyprolis] is reflected in the price that we've moved forward the transaction with." Robert Bradway - Amgen's Chairman and Chief Executive
Last week we wrote an article on the hugely profitable field of drug development and research, "The One Billion Dollar Molecule". This week we decided to up the ante and examine a "Ten Billion Dollar Molecule".
In August, Amgen (NASDAQ:AMGN) struck a deal to acquire Onyx Pharmaceuticals (NASDAQ:ONXX) for $10.4 billion. Most analysts agree that the acquisition's main prize is Onyx's Kyprolis, which gives Amgen a strategic presence in the lucrative multiple myeloma market.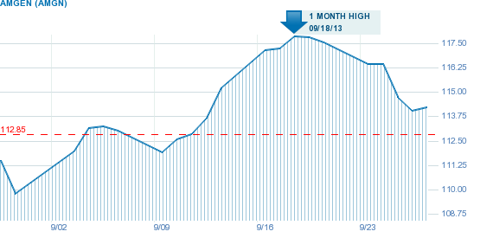 Investors appear to view the deal as a positive step for Amgen in offsetting continued sales declines among some of its core drug franchises. Amgen's shares rose 4.6% to $113 since it announced the deal.
Kyprolis, approved by the FDA in July 2012 as a third line treatment for patients with relapsed, refractory multiple myeloma, is the second to be approved in a new class of therapeutics dubbed "Proteasome Inhibitors".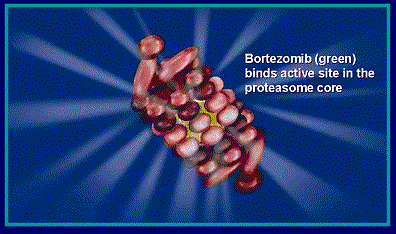 The proteasome is a naturally occurring intracellular nano molecular machine that is responsible for degrading the majority of regulatory proteins including those that control cell-cycle progression.
Cancer cells generally have higher levels of proteasome activity compared to normal cells and are more sensitive to proteasome inhibition, making the proteasome a rational therapeutic target for oncology drug development.
The first proteasome inhibitor to be commercialized was Velcade, which was approved by the FDA for multiple myeloma in 2003.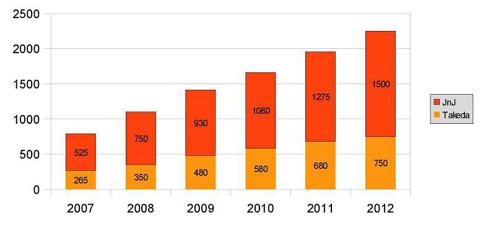 Velcade Global Sales Revenue - Proteasome Inhibitors Market
Velcade (bortezomib)
Velcade, was developed by Millennium Pharmaceuticals, acquired by Takeda Pharma (OTCPK:TKPYY) for $8.8 billion in July 2008, is currently approved as a first line treatment for patients with newly diagnosed multiple myeloma and some patients with Mantle Cell Lymphoma.
Velcade, which is co-marketed by Johnson & Johnson (NYSE:JNJ) and Takeda, generated close to $2.3 billion last year, of which 66% were realized by Johnson & Johnson in international markets.
Takeda is also developing Ixazomib (MLN9708), the first oral proteasome inhibitor to be studied for the treatment for multiple myeloma. Ixazomib is currently being evaluated in an international Phase 3 study, in combination with Revlimid and dexamethasone and appears to be effective in refractory myeloma that has stopped responding to Velcade.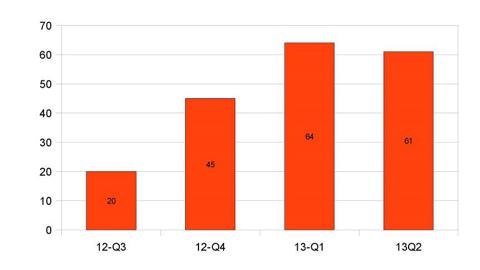 Kyprolis Quarterly Sales - Source: Onyx Fillings
Kyprolis (carfilzomib)
Kyprolis, a small molecule injectable proteasome inhibitor, was approved by the FDA in July 2012 for the treatment of patients with relapsed, refractory multiple myeloma who have received at least two prior therapies including bortezomib and an immunomodulatory agent, and have demonstrated disease progression on or within 60 days of completion of the last therapy.
Kyprolis is currently being studied in two Phase 3 head-to-head studies against Velcade, Clarion and Endeavor, as a first and a second line treatment for relapsed multiple myloma.
Kyprolis, which saw its revenue decline, sequentially, in Q2-2013, will still have to compete with other multiple myeloma therapeutics from outside the proteasome inhibitors class, namely Celgene's (NASDAQ:CELG) Revlimid, Thalomid and newly launched Pomalyst.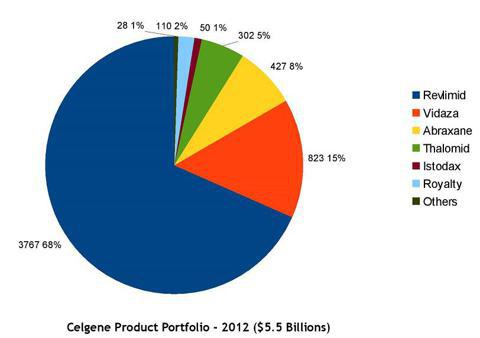 Revlimid (lenalidomide)
Revlimid, an oral immunomodulatory drug approved for treatment of patients with multiple myeloma who have received at least one prior therapy, generated sales of $3.8 billion in 2012, an increase of $559 million, or 17%, compared to 2011. Celgene estimates Revlimid will generate $4.3 billion in global sales in 2013, an increase of 14% over 2012.
Thalomid (thalidomide)
Thalomid, marketed for patients with newly diagnosed multiple myeloma, achieved net sales of $302 million in 2012, a decline of 11% compared to 2011. Celgene is actively replacing Thalomid with Revlimid, so the product should not pose a threat to Kyprolis in the near future.
Pomalyst (pomalidomide)
Pomalyst, a small molecule orally administered immune system modulator, was approved by the FDA in February 2013 for patients with multiple myeloma who have received at least two prior therapies, the same exact indication that Kyprolis was approved for.
Pomalyst second quarter sales, the first full quarter of sales in the US, reached $66 million, $5 million more than Kyprolis. Pomalyst, which was also approved in Europe in August 2013, shows all the signs of a potential blockbuster and the product is being evaluated for an expanded role in multiple myeloma.
| Company | Ticker | P/E | P/S | Mrkt Cap |
| --- | --- | --- | --- | --- |
| Amgen | AMGN | 19 | 4.9 | $85 B |
| JnJ | JNJ | 19 | 3.7 | $244B |
| Celgene | CELG | 43 | 11 | $64B |
In Perspective: Three Leading Multiple Myeloma Competitors
Kyprolis is expected to compete in an increasingly crowded multiple myeloma space that is currently lead by Celgene's Revlimid and JnJ/Takeda's Velcade; companies that either have launched a new product in the space or preparing the near launch of such one in the near future; Pomalyst and Ixazomib, respectively.
Total number of newly diagnosed multiple myeloma patients in the developed world is approximately 60,000 per year, of them 21,700 are diagnosed in the US.
Kyprolis, used in combination with other drugs like Revlimid, costs $10,000 for a 28-day cycle while Revlimid costs $7,900 per cycle. With pressure to contain healthcare costs mounting in both the US and Europe competition in this space seems to have reached a zero sum game.
Kyprolis success depends on achieving approval for an extend role in multiple myeloma and a launch in Europe, two events that are likely to happen in 2014. Then it is basically down to competing companies slugging it out in the market place.
The price that Amgen paid for Kyprolis seems comparable to the price Takeda paid for Velcade, so the main question is: will Amgen be able to extract value out of its Kyprolis investment in the long run? Our answer is: may be, but it is going to be tough.
Disclosure: I have no positions in any stocks mentioned, and no plans to initiate any positions within the next 72 hours. I wrote this article myself, and it expresses my own opinions. I am not receiving compensation for it (other than from Seeking Alpha). I have no business relationship with any company whose stock is mentioned in this article.