PPL Corp. (NYSE:PPL), with annual revenues in excess of $12 billion, is among the largest utility companies in the U.S. The company has delivered a healthy financial performance in recent years. Also, the company's regulated rate base growth is likely to increase at a rate of nearly 8%, on average, through 2017, which remains one of the most important earnings drivers for the company. Moreover, PPL offers a healthy dividend yield of 4.6%, has attractive valuations, and has higher profit margins in comparison to its competitors. Therefore, I reaffirm my bullish stance on the stock.
The company offers investors an attractive risk adjusted return; nearly 85% of the company's EPS is derived from regulated business operations, which provide earnings and dividend stability in a weak market and economic environment. Also, PPL has an efficient generational fleet with a diverse fuel mix. It also has a strong management team with a proven solid track record, which portend well for the stock.
Given that a significant proportion of the company's operations are regulated, rate base growth remains an important long term earnings driver. Recently, PPL presented at the Wolfe Research Power and Gas Leaders Conference, in which it stated that its regulated business was anticipated to significantly grow; its planned capital expenditure (CapEx) is likely to result in rate base growth of nearly 8%, on average, through 2017. Given that growth in earnings is expected to be achieved through incurring CapEx, which will later be recovered through rate increases, growth in earnings remains more certain. The following chart shows the rate base growth for PPL from 2012 through 2017.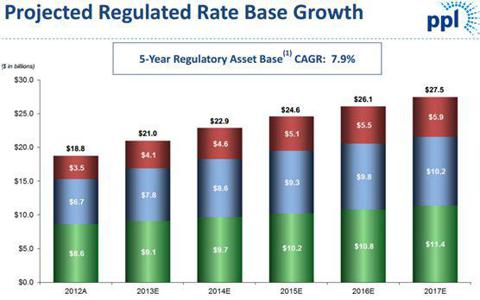 Source: Presentation Slides
Also, PPL announced that it would sell 11 of its hydroelectric plants with a generational capacity of more than 600MW for $900 million in cash to North Western Corp. (NYSE:NWE). The transaction will help the company raise liquidity, with the proceeds from the transaction being reinvested into regulated business operations. The deal is expected to be closed by September 2014 and is subject to PERC and Montana PSC approvals. The deal is consistent with the company's long term plan to strengthen its regulated operations and increase investment, which will result in future earnings growth. Also, as PPL's regulated operations increase, its earnings will become more stable and certain.
Dividends
Other than attractive growth potential, PPL offers a decent dividend yield of 4.6%. The company has been consistently paying quarterly dividends over the last 261 quarters, and has increased its regular quarterly dividend 11 times in the last 12 years. Also, the company has a solid operating cash flow yield of 14.5%, which shows that dividends offered by the company are sustainable. The following chart shows the healthy relationship between the company's earnings and recent dividends.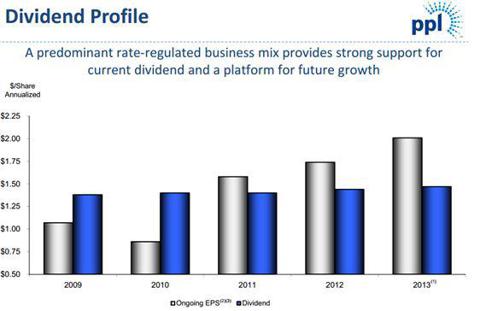 Source: Presentation Slides
Conclusion
| | | | | |
| --- | --- | --- | --- | --- |
| | Forward P/E | ROA | ROE | Profit Margin |
| PPL | 14x | 4.3% | 14% | 13% |
| Duke Energy (NYSE:DUK) | 14.75x | 3.7% | 6.3% | 8.5% |
| Southern Company (NYSE:SO) | 14.6x | 3.5% | 9% | 11% |
| Consolidated Edison Inc. (NYSE:ED) | 14.5x | 3.4% | 8.6% | 8% |
| Average | 14.5x | 3.7% | 9.5% | 10% |
Source: Yahoo Finance
Valuations seem to appear attractive for PPL in comparison to its competitors. The stock is currently trading at a cheap forward P/E of 14x, in comparison to its competitors' average of 14.5x. Also, the company has a higher ROA of 4.3%, ROE of 14% and profit margin of 13% in comparison to its competitors, as shown in the table above. Moreover, the company is likely to experience a healthy rate base growth of nearly 8% on average over the next five years. Due to the aforementioned factors, I remain bullish on the stock.
Disclosure: I have no positions in any stocks mentioned, and no plans to initiate any positions within the next 72 hours. I wrote this article myself, and it expresses my own opinions. I am not receiving compensation for it (other than from Seeking Alpha). I have no business relationship with any company whose stock is mentioned in this article.