Some people report that they feel so good after a long run that it is almost as if they are experiencing a blissful high on some real good mood-altering drug. Is that feeling real or is it just an illusion?
On Friday Nike (NYSE:NKE) reported first-quarter revenue of $7 billion and earnings of 86 cents per share. Since analysts were expecting earnings of 78 cents per share, Nike's share price soared to an all-time high of $75.25 before ending the day at 73.64. (Earnings Call Transcript)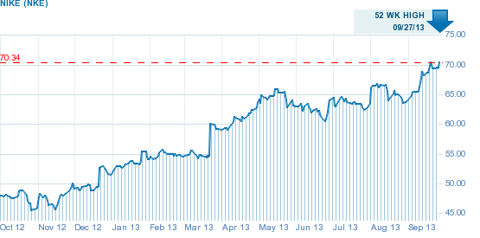 Nike's share price is up 43% for the year. Is it time to cash out?
Last week, I wrote an article, The Nightmare Before Christmas, on the debt ceiling crisis, the S&P 500, a possible October stock market crash and the global economic outlook in general. My conclusion, in concurrence with other respected Seeking Alpha analysts, was that it is not a bad idea to hold on to a fairly heavy cash position these days.
Nike ends its financial year in May, so it is rather cumbersome making comparative quarterly trends, so I took the time to chart its chronological three-month results since early 2012; the legends on the following graph are the initials of reporting months.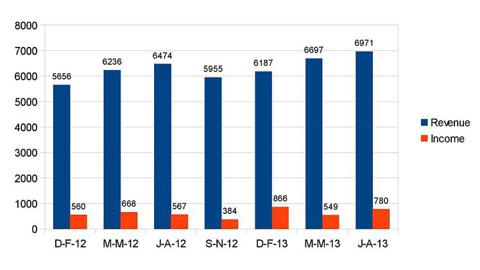 Now, let us take a closer look at the four main headlines in Nike's early Friday's financial release that got everyone so excited:
1. Revenues from continuing operations up 8% to $7 billion
2. Diluted earnings per share from continuing operations up 37% to $0.86
3. Worldwide futures orders up 8%
4. Inventories as of August 31, 2013 up 6%
Revenue
Revenues came at $7 billion, an increased of 8% compared to same financial reporting period in 2012; quite impressive. However, sequentially, revenue only increased by 4% compared to previous quarter, less than Friday's one day spike in Nike's share price.
Year to date, Nike's average sequential quarterly revenue increase was 5%, compared to 1% for the same period last year, so we are talking of a differential increase of 4% over 2012; hardly a reason for 43% overall increase in share price in 2013.
Earnings
Quarterly net income, at $780 million, increased 33% over the same period the previous year and 30% sequentially. Diluted earnings, at $0.86 per share, also increased 37%. That reflects a 1.2% improvement in gross margins combined with a 1% decline in the weighted average diluted common shares outstanding.
Again impressive, and annualized would give a P/E of 21, rather high for a shoe maker but compared to that of the S&P 500 as a whole, which currently stands at 19, I would consider it a very good metric.
Future Orders
As of the end of the quarter, worldwide futures orders for NIKE Brand athletic footwear and apparel scheduled for delivery from September 2013 through January 2014 were 8% higher than orders reported for the same period last year.

Looking closely, we can see that the widely-watched sales in China increased by only 3%, on a quarterly basis, and future orders increase was also in the same bracket. Reported future orders for Japan actually declined 19%.
Still, it is good to know that we are looking at a secure 8% growth in revenue in the last quarter of the year, given that these orders have been secured at last year's average price level.
Inventories
In a just-in-time world it is hardly rational to celebrate an increase in inventory. This increase might be due to the decline in sales in either China or Japan.
Verdict
I love the winged Goddess of Victory and I believe its stock is a good long-term store of value. However, given the current macro-economic outlook for October, I feel that the 4.7% spike in share price on Friday might be an overreaction to elegantly spun good news. If I was holding Nike right now I would sell in the frenzy and buy my shares back after the fall.
Disclosure: I have no positions in any stocks mentioned, and no plans to initiate any positions within the next 72 hours. I wrote this article myself, and it expresses my own opinions. I am not receiving compensation for it (other than from Seeking Alpha). I have no business relationship with any company whose stock is mentioned in this article.