The U.S. economy is slowly expanding, and ready supplies of oil, along with the continuation of the easy money policy kept in place by the Federal Reserve last Wednesday, are going to be integral to the recovery process that finance institutions worldwide acknowledge is ongoing. The major focus of American production comes in the form of the development of domestic oil fields, and has evolved spastically and drastically in two regions recently: the Eagle Ford formation in the southern portion of what is euphemistically known as West Texas (of West Texas Intermediate, or WTI fame) and the Bakken/Three Forks formation that straddles Montana, North and South Dakota, and sprawls into southern Canada. The Southern extent of this range, the Williston Basin, is where we find one of the key players in this E&P Cinderella story.
Kodiak Oil & Gas (NYSE:KOG) has had a meteoric rise to its current $3.2bb valuation in the past 3 years, with the value of its underlying commodity, oil, trading at mid-2011 prices for the first time since the announcement of the Federal Reserve's intention to scale back their bond-buying program. This attempt to generate available, loan-able liquidity to banks to help drive the economy has proven itself functional, if fraught with the inherent danger to printing more money: inflation. Proof of this relationship can be clearly seen in gold prices prior to and immediately post Fed announcement of the continuation of its bond purchasing program as gold rose 4% in a matter of hours after the press release. Oil, being a dollar denominated commodity as well, benefits nominally from any devaluation of the dollar against other currencies, and due to slack demand side pull, is just now commanding the price-per-barrel it did in August of 2011 as the economic recovery picture began to take a fuzzy, volatility laden form.
The remote location that is the Williston Basin suffered one of the most brutal winters in recent history in 2011-2012, leaving hundreds of thousands of barrels of oil sitting at remote drilling locations, unable to be delivered to market. The logistics gurus at Kodiak seem to have overcome this obstacle handily, as the price spread between WTI and Brent crude, reflective of this lack of mobility in oil drilled domestically, was previously almost $20 per barrel. It has now diminished to less than $5 for that same barrel in less than 9 months. This is a clear statement from the market that Bakken producers are now capable of finding buyers for their product in any market, not simply an American one.
Recently, Goldman Sachs published an estimate of continuing production numbers in the Bakken and Three Forks regions.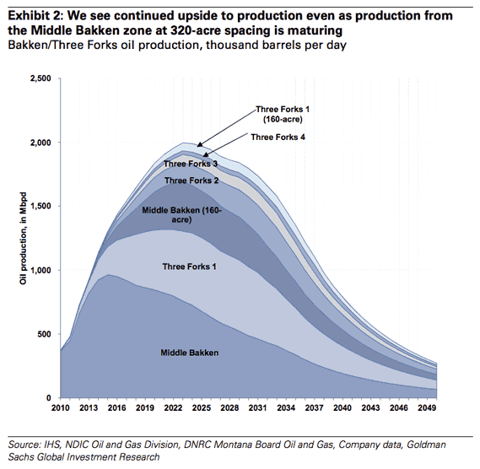 This graphic indicates three key things for investors to take note of:
1. The production numbers seen in the region, on average, are expected to climb to almost 1500 MBoP in the region. Kodiak's Polar drill site has recorded IP rates of as high as 2500 MBoP in the same locale, and while we don't yet know the consistency of this site, if it's on par at 1500 MBoP with the remaining 28 wells Kodiak should have completed by the end of Q3, it will be a prodigious quarter indeed.
2. The maximum output in the region isn't supposed to be reached until mid to late 2023, guaranteeing almost a decade of potential upside to plays in this area.
3. Fracking technology, while no longer in its infancy, is still developing methods for progressively higher rates of completion. This reality, when coupled with what is, right now, an almost pure play (KOG generates 94% of its revenue from oil sales), offers long term growth to a company that will slowly but steadily add a secondary revenue stream to an already extremely functional business model.
There is only one potential rock in this shoe that could slow down the rate of progress Kodiak is experiencing: the looming specter of global contraction. The GDP numbers from China have been accused of being soft this quarter, and the EU remains stymied, if now slightly less than previously estimated, by untenable debts incurred by the peripheral states and a large amount of resentment as a result in the central economic powers. These two issues, in conjunction, could result in a near term drag on global oil demand, and the cumulative effects they could have on global oil prices will remain one the largest impacts on the rate of development of the domestic oil plays, and will be coupled with further downside risk associated with the recent surplus of oil reported in the past few months. It appears, however, that the major economic powers of the world will still manage to counterbalance this drag, and potentially propel oil prices and, assuredly, American oil producers, to new heights.
The end result is a company that has finally found its footing, and is about to truly hit its stride, as KOG appears capable of running for years in one of the most exciting Oil and Natural Gas producing regions in the world.
Disclosure: I am long KOG. I wrote this article myself, and it expresses my own opinions. I am not receiving compensation for it (other than from Seeking Alpha). I have no business relationship with any company whose stock is mentioned in this article.
Additional disclosure: I am not a certified CFA, and all investment decisions are the sole responsibility of the investor and/or broker. These statements only serve to estimate the course of a stock, and should not be construed as a guarantee of future performance.