Pfizer's (NYSE:PFE) shareholders booked an 11% increase in the value of their Pfizer holdings so far this year. The characteristics of Pfizer's business model and its successful pipeline record make Pfizer stock a core holding in portfolios for long-term oriented income-focused investors. Over the most recent two year period, Pfizer has continued its upward trend with gains in the neighborhood of 60%.
In a select peer group of international large-cap drug manufacturers, Pfizer had the best two-year and five-year performance (+60% and +50%). Pfizer's peer group includes Novartis (NYSE:NVS), sanofi-aventis (NYSE:SNY), GlaxoSmithKline (NYSE:GSK) and Johnson & Johnson (NYSE:JNJ). Drug manufacturers like Pfizer spend huge amounts of capital on Research & Development in order to gain patents that allow them to book a constant stream of royalties which is backing a relative safe dividend. A prime reason to be invested in Pfizer stock.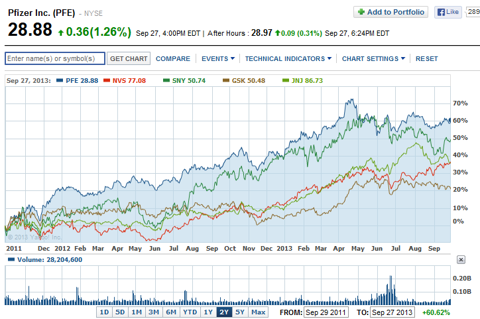 Pfizer committed to prudent capital allocation
As a multinational operation Pfizer faces a significant amount of currency and translation risk due to foreign currency transactions. In the long-run those effects should cancel out as foreign currency investments provide a natural hedge against global economic imbalances. The chart below depicts the impact currency volatility had on Pfizer's Q2 top line and select cost items of the P&L: Revenues were negatively impacted by $400 million while cost of sales declined by $146 million (6%). Foreign currency transactions negatively impacted Pfizer's adj. EPS marginally by $0.02 a share.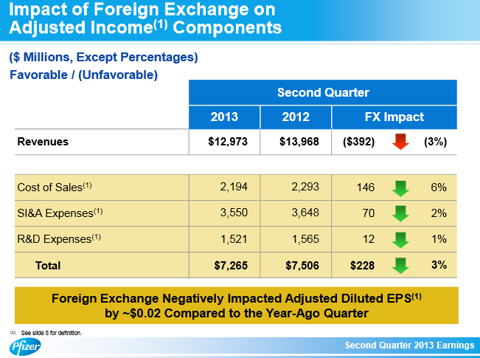 While global operations provide a natural hedge against currency fluctuations, local revenue challenges are unhedged and any company will have up and down quarters, which is why investors should not pay too much credence to Pfizer's short-term performance. Confidence-injecting is a track record of long-term performance in terms of adding shareholder value-- which Pfizer clearly does.
Pfizer executed massive share buybacks in 2013: $8.7 billion worth of stock has been repurchased. Additionally, Pfizer sets up a new commercial structure: It separates its business into three distinct segments in order to increase financial transparency and allow the market to better understand and value its service lines. I assume that this raises the possibility of a future entity spin-off or trade sale of one of those three business units: The Innovative Product Group which contains exclusivity products, the VOC unit (vaccines, oncology and consumer healthcare) and the Value Products Group (patent-protected products).
Zoetis transaction closed
Regarding the animal health business Zoetis, Pfizer announced that the transaction closed with a pre-tax gain of $10.5 billion:
Pfizer accepted 405.1 million shares of its common stock valued at $11.4 billion in exchange for its remaining 80.2% stake in Zoetis. As a result, Pfizer no longer has an ownership interest in Zoetis and recorded a gain of $10.5 billion (pre-tax) on the disposition. As of June 24, 2013, those 405.1 million shares are no longer outstanding, which will have a favorable impact on earnings per share over time.
A summary of key developments in Q2 2013 is provided below: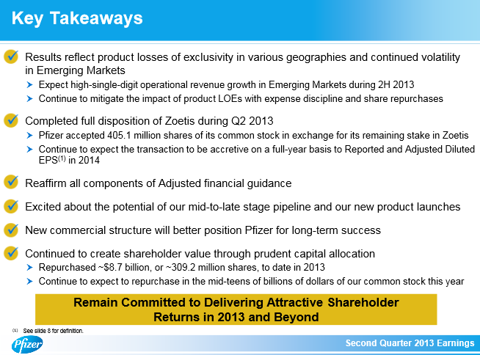 P&L forecast and fair value
I have reproduced my Pfizer 2014 P&L forecast below. Higher estimated income from continuing operations of $14.5 billion in 2014 compared to $12.1 billion in 2012 is predominantly driven by lower SG&A expenses and costs of good sold. In any case, the value per share yields $2.62 and includes the estimated after-tax cash value of the Zoetis transaction. The implied forward P/E multiple would stand at just above eleven. Cheap for a dividend champion with decades of distribution increases. Depending on the P/E multiple Pfizer can grow into, the upside ranges from 9-45%.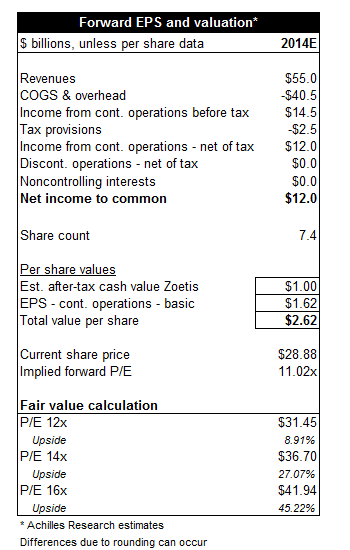 Market valuation for the entire sector remains low
The market suggests a 12.53 earnings multiple for Pfizer, while my model included the value generation from the Zoetis transaction as a cash contribution. From a peer group perspective, Pfizer trades at a 7.5% discount to the sector average of 13.54 and is relatively undervalued. Dividend investors could purchase Pfizer stock now at an initial yield of 3.32%, which could reasonably be expected to increase.

Conclusion
Pfizer investors are getting a bargain. With the exception of 2009, Pfizer has a consistent record of increasing dividends. In 2010 Pfizer paid $0.72 per share in dividends which have increased to $0.96 per share in 2013; A compound annual growth rate of 10%. Investors who need a bigger data set with respect to Pfizer's dividend power are well advised to check out the dividend section of Pfizer's webpage: The dividend and stock-split data range well into the 1980s.
Considering that investors can purchase Pfizer's extraordinary dividend stream at only 11x forward earnings with added upside potential from multiple expansion (driven by share repurchases and operational improvements in the emerging markets) as well as potential spin-offs/trade sales, Pfizer represents a very attractive value proposition and remains a key pillar of my income-driven investment strategy.
Disclosure: I am long PFE. I wrote this article myself, and it expresses my own opinions. I am not receiving compensation for it (other than from Seeking Alpha). I have no business relationship with any company whose stock is mentioned in this article.