In this article, I continue exploring my interest in how weighting tactics affect portfolio structure and performance. In Part 1 of the series, I focused on large-cap funds to reveal how portfolios change with weighting style. In Part 2, I tried to get a clearer picture of performance across the spectrum of weighting tactics for large-, mid- and small-cap ETFs.
I've recently become interested in investing strategies employing sector funds. There is a wealth of information and backtesting on strategies using S&P Sector mutual funds from Fidelity's family of Select funds. These have a long history, a clear asset when evaluating investment strategies. But the mutual funds also have limitations. Among them is their restrictions (by charging extra fees) on the ability to sell a fund at any time. The mutual-fund-derived strategies have to take this into consideration by building rules for holding a fund long enough to not be subjected to frequent trading fees, and for not moving in and out of any fund too frequently in a given time period.
One advantage of ETFs is that this restriction on trading frequency is no longer an issue, so strategies using ETFs have become increasingly common. These are based, to some extent, on data gleaned from the mutual funds' long histories. These strategies primarily use sector ETFs from StateStreet (SPDR). Of course, offsetting the advantage of not having fees on too frequent trading is the ETFs' disadvantage of having commissions charged on every trade.
I think it's fair to say that the market-capitalization weighted SPDR funds have become the default standard as sector benchmarks, and for analyzing the performance of sectors for comparison or investment purposes. But, market-cap weighted funds are not the only options in this space. My interest in how weighting affects performance led me to take a look at sector ETFs that employ weighting tactics other than market-capitalization.
The Funds
I will compare S&P sector ETFs from four fund families: SPDR, iShares, Guggenheim and First Trust. SPDR and iShares are market-capitalization weighted. They use different indexes, so their components do differ somewhat.
Guggenheim's ETFs are equal weighted which produces a quite different sort of portfolio (see Part 1 of this series for a discussion on this topic). I should note here, too, that the Guggenheim funds are the only ones that can be traded commission-free (via Charles Schwab) which can confer some advantage in a trade-intensive strategy.
First Trust ETFs follow a fundamentals weighting. Details are not as clear as one might like. The sponsor reports the selection methodology attempts to identify stocks "that exhibit the fundamental characteristics that provide the greatest potential for capital appreciation."
Basic information about the funds is summarized in the table below:
Family

SPDR

iShares

Guggenheim

First Trust

Weighting

Market Cap

Market Cap

Equal

Fundamentals

Expense Ratio

0.18%

0.48%

0.50%

0.70%

Sector

Consumer Discretionary

Ticker

AUM

$6,000M

$443M

$74M

$843M

Avg Daily Vol

5.52M

32K

9.8K

180K

Consumer Staples

Ticker

AUM

$5,000M

$575M

$81M

$626M

Avg Daily Vol

10.3M

51K

13K

223K

Energy

AUM

$8,000M

$1,000M

$38M

$250M

Avg Daily Vol

10.9M

422K

6.7K

100K

Financial

Ticker

AUM

$15,000M

$1,000M

$0.056M

$0.451M

Avg Daily Vol

46.4M

320K

37K

237K

HealthCare

Ticker

AUM

$7,000M

$1,000M

$184M

$1,000M

Avg Daily Vol

7.07M

149K

16K

210K

Industrial

Ticker

AUM

$6,000B

$1,000M

$55M

$282M

Avg Daily Vol

10.7M

181K

7K

282M

Materials

Ticker

AUM

$3,000M

$64M

$43M

$322M

Avg Daily Vol

6.52M

156K

4K

101K

Technology

Ticker

AUM

$11,000M

$2,000M

$258M

$366M

Avg Daily Vol

7.71M

0.281M

36K

144K

Utilities

Ticker

AUM

$5000M

$829M

$49M

$110M

Avg Daily Vol

11.3M

K280K

105K

255K
Historical Performance Comparison
The charts below show 1mo, 1, 3 and 5 year returns for each of these 36 funds.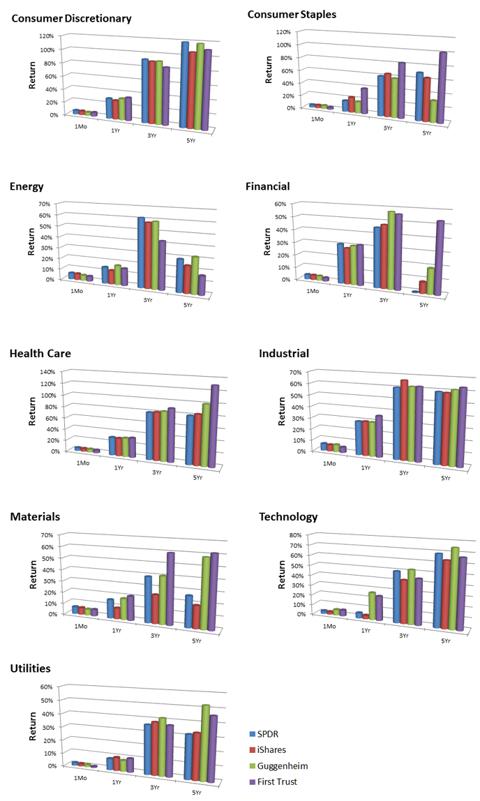 At first look, it appears that no weighting tactic seems to stand out as consistently outperforming or underperforming across the full spectrum of sectors. In some sectors, such as Consumer Discretionary and Industrial, performance is reasonably consistent across the board. In others - Energy, Materials and Financial especially - marked variation is evident.
The variation makes it difficult to generalize any patterns here and I invite any readers who see something especially insightful to contribute their thoughts in the comment section.
One might suppose that some approaches do better under conditions that prevail in individual sectors. One might predict, for example, that a strategy that does well for Energy might also be successful for Materials, but that does not seem to be the case. The First Trust ETF turns in a dominant performance in the Materials sector, but falters in Energy. The Guggenheim ETFs, on the other hand do quite well in both.
Or, take the example of two low-beta, defensive sectors, Consumer Staples and Utilities. Here the First Trust ETFs perform well in each; the Guggenheim funds, by contrast, are leaders in Utilities but laggards in Consumer Staples.
Ranking the Fund Families
In an effort to generate an overall comparison, I ranked each of the funds by their relative performance in each sector for each of the time periods with 1 being the best performance and 4 being the worst. Then I calculated an average rank. If there are no differences among the ETFs, the expected average ranking would be 2.5. Results indicate that differences among the fund families do exist. These are shown in the following table which is coded green for top ranks (1.00-1.99), yellow for middle ranks (2.00-2.99) and red for bottom ranks (3.00-4.00)

An interesting pattern emerges when rank is used. The iShares ETFs have a solid lock on last place with only a single first-place ranking (Industrial at 3 years). And, as I'll discuss below, even that lone first place slot is a bit of a hollow victory. Consider that there are 108 fund + time-scales combinations here. By failing to turn in a top performance less than 1% of the time, iShares turns in a performance that one might reasonably consider dismal.
The other market-capitalization weighted funds, SPDR ETFs, beat iShares offerings to finish in third place, although in the broader picture their results are only marginally better.
The clear winners are the Guggenheim and First Trust ETFs. The First Trust offerings have done exceptionally well over the past 52 weeks, compiling a first-place rank for 7 of the 9 sectors, and second place for the remaining two. Guggenheim was first in those two. Thus, for the past year not a single one of the cap-weighted funds ranked first in any of the 9 sectors.
Returning to iShares, let's consider what happens if we omit the Industrial sector from this ranking analysis. This is not an unreasonable tweak because this sector shows the least variation among the funds. Simply by looking at the chart one can see how little distance there is between adjacent ranks in the Industrial sector. Here, differences are making only minor contributions to a portfolio. Under this scenario, iShares would lose its lone top finish and even more ground overall; First Trust would gain.
Conclusions, Summary and Discussion of Results
As I stated at the beginning, I became interested in performing this analysis as background toward exploring an investing strategy based on trading sector-funds. The idea was to see which, if any, of the ETFs available stood out as providing a preferred vehicle for such a strategy. I am led to conclude that Guggenheim's equal weighted family, but for one caveat, best meets that objective.
In Guggenheim's favor is the fact that its funds rank highest for 3 and 5 year performance, and second for 1 year. They beat the two market giants handily, and compare more or less equivalently with the First Trust ETFs. Fees are modest: essentially equal to iShares, two-thirds that of First Trust, but well behind the SPDR ETFs. A not insignificant factor in the Guggenheim's plus column is that they can be traded commission-free in a Schwab brokerage account, an advantage none of the others shares.
The caveat (and it's a big one): There is a very real downside for the Guggenheim ETFs. Their average daily volumes are by far the lowest of the group, clocking in some 2 to 3 orders of magnitude lower volumes than the giant SPDR funds. Five of the 9 have average daily volumes under 10,000 shares and 3 of these are below 5,000. This raises the specter of potentially painful liquidity issues.
Although I did not do a rigorous analysis, a cursory look shows Guggenheim funds' Premium/Discounts to NAV at closing to exceed 0.5% about half the time for the 9 funds, likely a consequence of this liquidity problem. While this might be of lesser importance in a longer-term investment scheme, it bears consideration if the intent is to trade regularly among the ETFs. Sufficiently so, that it may offset the other advantages the Guggenheim ETFs offer.
On a performance basis, the First Trust set is as attractive as Guggenheim, indeed, even more so by some measures. Its funds are larger and they have somewhat better liquidity than Guggenheim's. On the minus side are their high fees and the fact that commissions are unavoidable. These factors alone could make up for the liquidity losses one could sustain in the Guggenheim funds. My plan, as time permits, is to run models in an attempt to sort this out. I'll report results here.
Although I started this exercise as a prelude to exploring a trading model, I am struck by the extent to which the equal- and fundamental-weighting tactics appear to improve on the performance of market-cap weighting. I think this an interesting area for continued exploration. Perhaps it's already been done and I'm simply reinventing the wheel, but I've not found good data to show that. If readers are aware of such data, please let me know.
Finally, if readers find this interesting, I welcome your feedback. If there is such interest, I will continue this series by looking at other specialty and/or niche areas.
Obviously, this article is an analysis of past results. Nothing here should be interpreted to imply that past results are an indication of future performance.
Disclosure: I have no positions in any stocks mentioned, and no plans to initiate any positions within the next 72 hours. I wrote this article myself, and it expresses my own opinions. I am not receiving compensation for it (other than from Seeking Alpha). I have no business relationship with any company whose stock is mentioned in this article.