Western Asset Mortgage Capital Corp. (NYSE:WMC) is a mortgage REIT. It IPO'd May 15, 2012, so it has very little history. However, after the recent "June from hell" and a tough Q1 2013, WMC was able to claim it had delivered an economic return on book value of 8% since its IPO. Not only this, but WMC is one of the few mortgage REITs to have maintained its dividend recently. It currently pays a huge 22.25% annual dividend based on the September 19, 2013 WMC dividend announcement of $0.90 per share for Q3 2013. Both of the above are great statements to be able to make.
WMC's investment strategy focuses primarily on Agency RMBS; but it also invests in non-Agency RMBS, CMBS, ABS, and other asset-backed securities. WMC is externally managed by Western Asset Management Company, a global leader in diversified fixed-income management since 1971. Western Asset Management Company is a wholly owned subsidiary of Legg Mason (NYSE:LM). Western Asset Management Company has approximately $459B in assets under management. This includes $58B in total mortgage exposure. $39B of this is in Agency RMBS. $8.8B is invested in non-Agency RMBS. $1.3B is invested in CMBS; and $8.8B is invested in ABS. In other words, WMC may be a new company; but its management team has a wealth of experience.
The only downside appears to be that WMC also announced on September 19, 2013 that its book value had fallen to $16.37 per share as of August 31, 2013. This was down -5.87% (-$1.02 per share) from the $17.39 per share book value as of June 30, 2013. This would seem to be very bad news considering the dividend is only $0.90 (slightly less than the announced book value loss). However, after what can only be described as a great September 2013, WMC may not lose any book value at all. In fact, it may gain book value. The following one month chart of the 30-year FNMA 3.5% rate MBS is probably typical of WMC's RMBS performance in September 2013.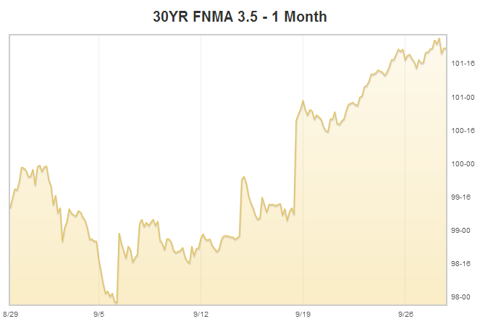 It is easy to see from this chart that this MBS has gained more than 1% in September 2013. WMC had relatively high leverage of 9.4x as of June 30, 2013. If one estimates that the leverage rate is approximately the same now as it was on June 30, 2013, that means that the above charted MBS' value with leverage taken into account has increased roughly 10% in September. This far exceeds the WMC stated -5.87% loss over the first two months of Q3 2013.
If you look at the change in price from the beginning of Q3 2013, you still seem to see an overall gain in book value on this example MBS (see chart below).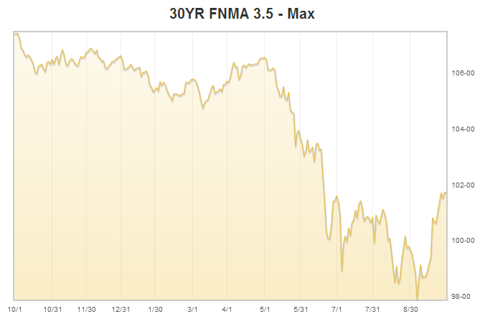 The current book value of the MBS looks just a smidgen higher than the book value as of June 30, 2013. If this example is representative of WMC's Agency holdings, it should mean that those holdings are worth slightly more at the end of Q3 2013 than they were at the beginning of Q3 2013. It should mean there has been a slight book value increase in Q3 2013.
Another major factor involved in book value gains or losses is the hedging. Hedges are typically done against rises in the US Treasury yields for 5 and 10 year notes. The chart below shows the yield of the 10 year US Treasury note over the last year.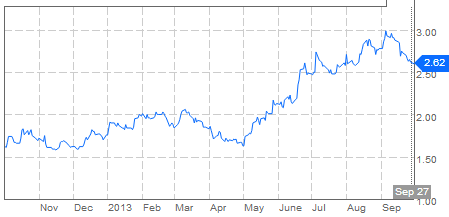 The chart shows that the yield closed at 2.49% on June 28, 2013 (the last trading day in Q2 2013). The yield is at 2.60% as of this writing on early September 30, 2013. This means the yield has climbed 11 bps to this time in Q3 (with only 1 trading day left in Q3 2013). Since WMC is hedged against rises in the yield rate, this should translate into a slight rise in book value for WMC for all of Q3 2013. Both major factors (hedges values and MBS values) so far have indicated a rise in the book value.
The only worry is then the dividend. However, most mortgage REITs (if not all) have indicated that the average net interest spread for Q3 2013 will be higher than the average net interest spread for Q2 2013. This is further confirmed by the fact that US mortgage rates rose throughout Q2 2013; and they have continued to rise. The table below of the Freddie Mac rates is a clear indicator of this.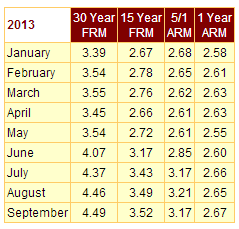 There has been a steady progression upward of the average mortgage rate. This should mean that the average net interest spread for mortgage REITs was higher in Q3 2013. In addition to this, the average CPR (constant prepayment rate) of many, if not all mortgage REITs, has gone down in Q3 2013. The following chart of ARR's average CPR rate (another primarily Agency RMBS mortgage REIT) is an example of this.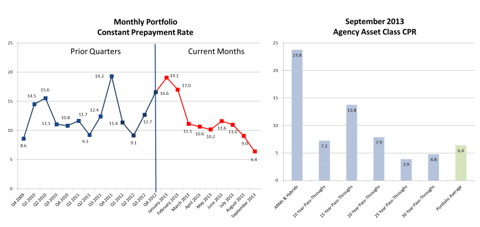 WMC's average CPR will be different as it has different investments. However, the downward trend of ARR's CPR during Q3 is so strong that it is almost impossible to believe that WMC's did anything but go downward during Q3 2013. Unfortunately, WMC did not provide an actual update with this information in it in September as ARR did. Still ARR's result undoubtedly means that WMC's net interest spread should have been positively affected by a decrease in average CPR during Q3 2013.
In sum, all indicators from WMC point to an increase in both book value and net interest rate spread (the main factor in dividend payouts) in Q3 2013. It is a buy. Investors will want to know that the X-dividend date for WMC for Q3 is September 26, 2013. This means that you had to own WMC stock on September 25, 2013 in order to get the Q3 dividend. The record date is September 30, 2013. What usually happens from the X-dividend date to the record date (two days later) is that the stock price falls roughly the amount of the dividend that is being paid out ($0.90). It may not fall that much in this case; but investors should be prepared to buy WMC by the record date (Monday September 30, 2013), if they think it is a good value after reading this article.
For those who like to have a more specific idea of WMC's investments, the table below shows WMC's portfolio as of June 30, 2013.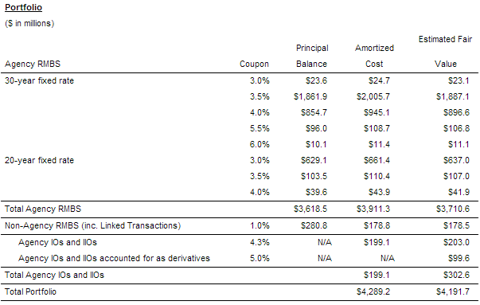 The 30 year fixed rate of 3.5% RMBS is by far the biggest holding. This indicates that the chart I chose above should largely reflect the overall behavior of WMC's Agency RMBS investments in Q3 2013.
On top of this, the near-term future looks bright for WMC. The IMF cut its world economic growth estimate from 3.3% (April 2013) to 3.1% as of July 9, 2013. The World Bank lowered its world economic growth estimate from 2.4% (January 2013) to 2.2% as of June 12, 2013. The Fed lowered its US economic growth outlook for 2013 to 2.0% from 2.3%. It lowered its estimates for 2014 by approximately 0.25% too. This does not sound like a backdrop for rampant global inflation in spite of the Fed's QE. Further refinancing activity continues to decrease. There will be fewer new RMBS available in the near term. This will tend to increase or stabilize Agency RMBS values. The chart below shows the Composite Index (a composite of the Refinancing and the Purchase Indices data).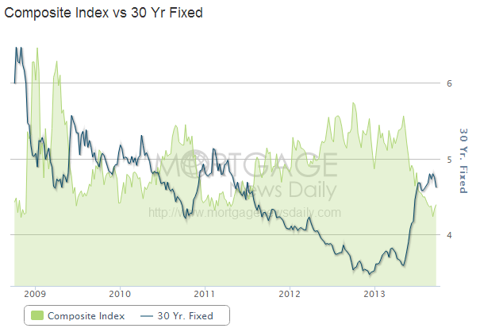 The above again just tends to strengthen a buy recommendation for WMC. If an investor further examines the dividends of some of the mortgage REIT companies, WMC looks just that much better (see table below).
| | | |
| --- | --- | --- |
| Stock | Stock Price at the close on September 27, 2013 | Q3 2013 Dividend Rate Annualized |
| WMC | $16.18 | |
| Annaly Capital Management (NYSE:NLY) | $11.63 | |
| American Capital Agency Corp. (NASDAQ:AGNC) | $22.88 | |
| Armour Residential REIT (NYSE:ARR) | $4.21 | |
WMC is not going to lose book value in Q3 2013. At least I have presented substantial evidence that such a loss is highly unlikely. That means WMC's net interest income will really be income without losses. With the weakening Fed US economic outlook and the probable further worsening due to the budget and debt ceiling tribulations in Congress, we could well see stabilization of WMC's book value (and the book values of other primarily Agency mortgage REITs). WMC is a buy in this situation. It is set up to outperform. It has outperformed over its short lifetime, which tends to confirm this outlook for investors. Investors will have to monitor interest rates and mortgage rates if they buy this stock; those rates will tell investors whether or not they should consider selling. However, it is extremely difficult to ignore a 22.25% yield.
The two-year chart of WMC provides some technical direction for this trade.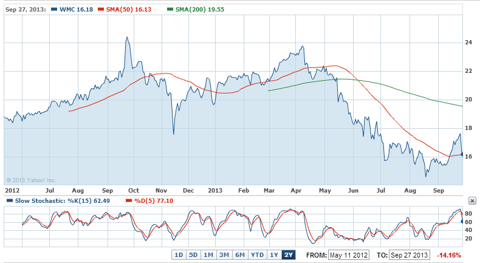 The slow stochastic sub chart shows that WMC is not overbought, but it is just coming off those levels. The recent move down was likely due to the normal drop from the X-dividend date to the record date (September 30, 2013). The main chart indicates WMC may have bottomed after a downtrend from April 2013 through August 2013. The fundamentals indicate that WMC should be a buy, at least for the near term (next six months or more).
WMC's plan to eventually invest more in non-Agency RMBS, CMBS, ABS, etc. should also tend to assure investors that WMC's management is thinking ahead. Such investments should make WMC less susceptible to rapid interest rate and mortgage rate increases. These are sure to come eventually. However, WMC may have been smart in realizing that the recent reaction of the MBS markets was overblown. Its lack of panic may have saved it money. It may have notched more losses in early Q3 2013 than it should have (with a little panic), but the data still indicates a flat book value at worst for Q3 2013. Plus the higher net interest spread should be a big plus.
WMC is a buy. Its average analysts' recommendation is 2.6 (the highest hold). This is a rise from the average analysts' recommendation of 2.9 as of August 13, 2013. Further WMC has seen insider buying in the last six months. It is nice when the company's officers believe in the near-term performance of the company. The CAPS rating is five stars (a strong buy).
NOTE: Some of the above fundamental financial data is from Yahoo Finance.
Good Luck Trading.
Disclosure: I have no positions in any stocks mentioned, but may initiate a long position in WMC over the next 72 hours. I wrote this article myself, and it expresses my own opinions. I am not receiving compensation for it (other than from Seeking Alpha). I have no business relationship with any company whose stock is mentioned in this article.