Investors are beginning the last trading day of the third quarter knowing there is a high likelihood the government will experience its 18th shutdown since 1976. These shutdowns occur when Congress fails to pass a budget that would continue to fund government operations. The media would have one believe a shutdown is going to lead to a catastrophic market event. History does not guarantee the future outcome will be the same; however, the below table suggests a government shutdown is pretty much a non event as it pertains to the equity market. The median return for the S&P 500 Index during these shutdown periods is -.3% and one month later the S&P return median is .7%.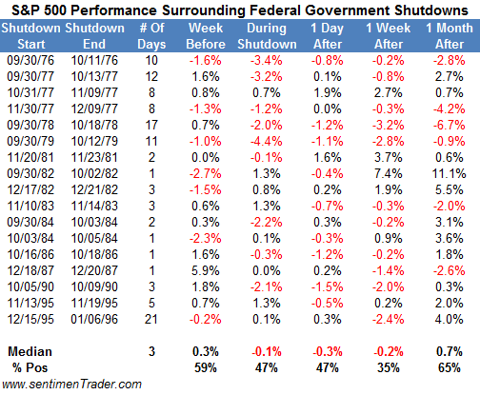 From The Blog of HORAN Capital Advisors

Source: Forbes
Certainly, the market action may be much different than detailed in the above table, assuming the government does shutdown. However, investors should continue to focus on company fundamentals and technical market action and attempt to minimize the noise associated with the shutdown debate.