Shares of Lionsgate (LGF) have seen a banner 2013, rising almost 119% year-to-date, driven by the success of Lionsgate's media franchises, as well as continued optimism over The Hunger Games. However, we believe that shares of Lionsgate have further room to rise, particularly if The Hunger Games performs well during the 2013 holiday season. And with Lionsgate's market capitalization standing at less than $5 billion, the company is one of the smaller-publicly traded content companies (encompassing the major movie studios and independent companies such as AMC). Continued success at both the box office and the television set will lead to upside on a standalone basis, and may also bring an offer from a larger media company; with a market capitalization of less than $5 billion, Lionsgate is on the smaller end of the spectrum of publicly traded media companies. With a diverse slate of content, Lionsgate is far more than simply The Hunger Games, and we see upside of 20% on a standalone basis, and possibly more if a larger media company makes a bid. Unless otherwise noted, the following sources will be cited in this article: Lionsgate's Q1 2014 earnings release, its Q1 2014 earnings call, or its latest 10-Q.
Q1 Results: A Solid Start to Fiscal 2014
Lionsgate grew total sales by 20.75% in Q1 2014 (the company's fiscal year ends in March) to $569.728 million. We note that this double-digit growth was achieved with virtually no contribution from The Hunger Games; revenue from that franchise accounted for less than 1% of the company's total quarterly sales. This highlights the diversity of Lionsgate's business mix, as does the fact that over the last two fiscal years, the number of Lionsgate television business has grown from an international distribution base of 430 in fiscal 2012 to over 1,000 for fiscal 2014. Pro forma EPS came in at $0.18 (versus a loss of 20 cents per share in Q1 2013), and both sales and profits came in well ahead of consensus estimates. Pro forma EBITDA rose over 255% on a year-over-year basis, as interest expense fell by almost $6 million, and the company's underlying operating income turned positive relative to Q1 2013. Lionsgate saw triple-digit profit growth in both its motion picture and television production divisions (these are the two overarching segments in which Lionsgate reports its results), and we present the results for both in the table below.
Lionsgate Segment Results, Q1 2014 (in Thousands of $)
| | | | |
| --- | --- | --- | --- |
| | Motion Pictures | Television Production | Consolidated |
| Q1 2014 Sales | $438,646 | $131,082 | $569,728 |
| Q1 2013 Sales | $406,534 | $65,286 | $471,820 |
| Y/Y Change | +7.9% | +100.78% | +20.75% |
| Q1 2014 Segment Profit | $53,671 | $18,720 | $72,391 |
| Q1 2013 Segment Profit | $23,117 | $4,628 | $27,745 |
| Y/Y Change | +132.17% | +304.49% | +160.92% |
| Q1 2014 Segment Margin | 12.24% | 14.28% | 12.71% |
| Q1 2013 Segment Margin | 5.69% | 7.09% | 5.88% |
| Y/Y Change | +655 bps | +719 bps | +683 bps |
Lionsgate expanded its segment margin by almost 7 full percentage points on a consolidated basis during Q1 2013 (with EBITDA margins coming in at 21.33% for the quarter), as the company kept a tight lid on distribution and marketing expenses (total segment marketing expenses declined by 4.06%), and maintained general & administrative expenses at virtually the same levels as in Q1 2013. Lionsgate's revenue growth during the quarter was broad-based, particularly in its international markets, where total international sales grew by 71%, driven by continued growth in its television business (CEO John Feltheimer specifically cited increased spending by both Netflix (NASDAQ:NFLX) and Amazon (NASDAQ:AMZN) as being key factors in Lionsgate's international growth), as well as continued growth in its movie business. Now You See Me in particular is set to drive further growth; the movie's international gross has already exceeded its domestic gross, and it has yet to open in China, Japan, and Australia. In addition to further international growth, Now You See Me also came in at number 1 on the DVD, Blu-Ray, and video on demand charts in September (in addition to topping the charts at iTunes and Amazon). We also note that Lionsgate's motion picture segment sales growth was muted in Q1 2014 by the fact that Q1 2013 saw all but nine days of the theatrical release of the first Hunger Games. However, muted growth in Lionsgate's motion picture segment was more than made up for with triple-digit sales growth in its television segment. There, growth was driven by a number of factors, including the new Netflix original series Orange is the New Black, which Lionsgate has already sold in Russia, Israel, and India, and Lionsgate's Asian partner (Celestial Entertainment) has also reached a deal to license the show in China as well. The new Netflix original series has debuted to solid reviews, and filming on the 2nd season has already begun. CFO James Keegan noted that during the quarter, Lionsgate delivered 11 episodes of Mad Men and Anger Management, six episodes of Nashville, and five episodes of Orange is the New Black. During fiscal 2014, the company will produce between 28 and 33 different television shows for over 20 different networks, highlighting the diversity of Lionsgate's television revenue base.
The Road Ahead
Naturally, the key event of fiscal 2014 is the release of the 2nd installment of The Hunger Games, which will be released on November 22, 2013 (more detail on this later). However, this is far from Lionsgate's only growth driver. On September 19, Lionsgate announced a new co-distribution and co-financing deal with OddLot Entertainment, with Mordecai, starring Johnny Depp, being the first movie covered by the agreement. This deal expands upon the existing agreement between the two companies, which also covers Ender's Game and Draft Day. On the television side, the company has inked new agreements with FX for two new comedy series starring George Lopez and Kelsey Grammer. These shows build on the relationship between FX and Lionsgate, which currently covers Anger Management. FX has already booked 10 episodes of both series, and they are set to begin airing in early 2014 (as a reminder, Lionsgate's fiscal year ends in March). On the film side, Lionsgate is planning production of a sequel to Now You See Me, which has grossed over $322 million worldwide, on a production budget of $75 million. Lionsgate's specialty film business is also set for continued growth, with management forecasting 20% revenue growth for the business, which generated around $300 million in revenue in fiscal 2013. This business, which is managed in partnership with sister company Roadside Attractions, is set to release 6-8 movies this year, including All is Lost, which stars Robert Redford in his first starring role since 2007. Despite consisting of mostly under-the-radar movies, this business is a profitable part of Lionsgate's overall motion picture division. We note that Mud, one of the movies in this business, has grossed over $21.5 million this year, and management has stated that this is the highest grossing independent movie of the year.
Naturally, Lionsgate's fiscal 2014 will be anchored by the 2nd installment of The Hunger Games. The movie will be released on November 22, and it is estimated to be even more of a success than the original. The first Hunger Games grossed over $691 million worldwide on a production budget of $78 million, and the sequel is projected to gross as much as $900 million, on an estimated production budget of around $150 million. We note that the growth of the 2nd installment is likely to be driven by international sales. There is ample precedent at the domestic box office for sequels to underperform the original (despite solid international sales), including Harry Potter (only the final film managed to outperform the first), Iron Man, Spider Man, and Cars. In tandem with preparations for the release of the 2nd installment of the Hunger Games (Catching Fire), Lionsgate has begun production on the next two installments of The Hunger Games this month. But Lionsgate's fiscal 2014 will be about much more than The Hunger Games, starting with Ender's Game, which will be released on November 1. Ender's Game is unlikely to be as profitable for Lionsgate as Catching Fire, given a production budget of $110 million (with a large portion of the budget likely spent on special effects), and expected lower ticket sales, but Lionsgate's threshold for profitability is also lower; CFO James Keegan stated on the company's Q1 call that, "we're 25% of the equity investment in the film and [we have] a very low threshold as it relates to domestic performance in order for our breakeven." The theatrical release of Ender's Game (as well as Catching Fire) will be recognized in Q3 2014 (the three months ending December 31), which Lionsgate usually reports in February. The Hunger Games and Ender's Game are not the only major film projects that Lionsgate is currently working on. Divergent, which finished production during the summer, may very well become Lionsgate's next core franchise, following The Hunger Games. Like The Hunger Games, Divergent is based on a book series by Veronica Roth, and consists of three separate installments (Divergent, Insurgent, and Allegiant). Both Divergent and Insurgent have already made the New York Times' bestseller lists, and Allegiant, which will be released October, is also likely to make the list. Lionsgate will release Divergent on March 21, 2014 (the film's production budget stands at $80 million), and work on the script for Insurgent is already underway. We expect more color on the series in November, when Lionsgate reports its Q2 2014 results. With sales for the first two installments of the book trilogy now at 4 million, Divergent will be released with a solid fan base, just like The Hunger Games, and early estimates put the film's worldwide gross at $500 million (as the release date draws nearer, we believe that more precise estimates will be produced).
Financials & Growth
Lionsgate's growing revenue and profits have allowed the company to fortify its balance sheet. Lionsgate ended Q1 2014 with $917.071 million in debt, and $51.019 million in cash & equivalents. While this may appear to be a weak balance sheet on the surface, it represents significant progress for the company. Lionsgate has paid down the $500 million loan needed to take control of Summit Entertainment two years early, and recent refinancing moves will cut annual interest payments from $75 million to $37.5 million. Both Moody's and S&P upgraded Lionsgate in June (Moody's to Ba3 from B1 and S&P to B+ from B), citing increased visibility into future cash flows and profitability, as well as the hedging nature of digital distribution as it relates to "feature-film risk." In July, Lionsgate conducted two separate refinancing transactions. The company issued $225 million in new 5.25% notes due 2018 and inked a new $225 million term loan due July 2020 (at LIBOR plus 3-4%) in order to redeem $450 million in 10.25% notes currently held on its balance sheet.
With shares of Lionsgate up over 119% so far in 2013, is there further upside to be realized? Although further increases of such magnitude are unlikely, we believe that there is room for further upside, and present the forward estimates for Lionsgate below, as provided by Reuters.

Lionsgate is estimated to post EPS of $1.27 in fiscal 2014, with EPS rising by 29.92% to $1.65 in fiscal 2015. Based on its September 27 closing price of $35.84, Lionsgate is currently trading at 28.22x fiscal 2014 EPS (and 21.72x fiscal 2015 EPS), a level we do not believe to be overvalued. More notable is Lionsgate's current EV/EBITDA multiple of around 9x, well below historical levels, as shown in the chart below.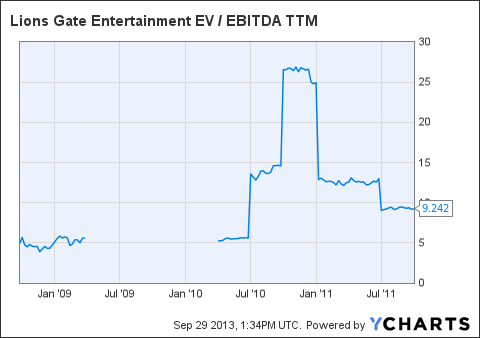 Should Lionsgate merely return to historical EV/EBITDA multiples, solid further upside is possible. Applying an EV/EBITDA multiple of 11x, not unreasonable given Lionsgate's historical valuation, yields upside of 19% from current levels. And even this methodology ignores two additional sources of potential upside: rising forward estimates, and the prospect of a takeover of Lionsgate. We see the potential for rising forward estimates from several sources: 1) as Divergent moves closer, clarity about its market potential, as well the release of critic reviews for the film, will likely yield firmer estimates about its worldwide gross, which could drive estimates higher for fiscal 2014 and 2015 (Divergent's release will occur just before the end of fiscal 2014). 2) Increased profitability may lead to further credit upgrades for Lionsgate, which could result in either further refinancing on favorable terms, or accelerated debt reduction, which will yield even more in interest savings over the next several fiscal years. 3) There has been concern in some corners of the entertainment industry that Ender's Game will not be very profitable for Lionsgate, given that the novel Ender's Game was released in 1985, making the movie's potential fan base older than that of the fan base for The Hunger Games and Divergent. In addition, controversial comments (about a variety of subjects such as President Obama and the LGBT community) made by Ender's Game author Orson Card have led to increased worry that certain people will not see Ender's Game because of them. Therefore, solid box office results in November may lead to upward revisions to earnings estimates. In addition to the potential for increases in EPS estimates, there is also the potential for a takeover of Lionsgate.
Takeover Target?
Long-term Lionsgate investors likely remember the company's three-year battle with Carl Icahn over control of the company, which ended in August 2011, largely in favor of Lionsgate, after two separate bids by Carl Icahn to acquire a majority stake in the company in 2010. Since then, Lionsgate has worked diligently to create shareholder value as a standalone company. However, given Lionsgate's size, as well as its forward growth prospects, a successful debut for Catching Fire, as well as Ender's Game, may convince a larger media company to make a bid. There are several possible contenders for Lionsgate, including Disney (NYSE:DIS), Viacom (NYSE:VIA), CBS (NYSE:CBS), Time Warner (NYSE:TWX) and 21st Century Fox (NASDAQ:FOX). With a forward thinking approach to online content, Disney may be a cultural fit for Lionsgate, which has also embraced online content more rapidly than many other media companies. In addition to its work on Orange is the New Black, Lionsgate has also finished productions on a pilot for Amazon, and management noted on its Q1 2014 earnings call that the company was (and remains) close to securing a contract for an original series for Hulu. Viacom and CBS could also be acquirers, given Lionsgate's relationship with the two companies. Lionsgate owns 31.2% of Studio 3 Partners, the parent company of video on demand and premium television channel EPIX, with the remainder of the company owned by Viacom and MGM. In addition to its stake in EPIX, Lionsgate also owns 50% of TV Guide Network (also known as TVGN), with the remainder owned by CBS. The two companies have shown themselves to be active owners, with a meaningful push into reality television on TVGN slated for this calendar year. Given that both Viacom and CBS are controlled by Sumner Redstone (through an 80% stake in National Amusements, which holds the majority of voting shares of both companies), it is largely irrelevant which of the two companies makes the bid, given that neither company is likely to move without the approval of Sumner Redstone. Potential turmoil over the succession plan for the 90-year old Redstone could also cut both ways. The dispute, which centers on the fate of Sumner's shares and the role of the CEOs of CBS and Viacom (Leslie Moonves and Philippe Dauman, respectively) could result in increased turmoil at the two companies, which may place a halt on any sort of strategic moves, such as a takeover of Lionsgate. On the other hand it could spur one of the companies into action to cement its position as the more dominant company, something that may involve moving quickly to secure independent media assets, such as Lionsgate. Other bidders include Time Warner and 21st Century Fox, but we do not see anything highly compelling about potential bids from these two companies, other than the fact that they are likely to always be on the lookout for new sources of quality content, something Lionsgate has plenty of. We do not believe that Comcast (NASDAQ:CMCSA) is a potential acquirer, given the fact that it is under the watchful eye of anti-trust regulators due to its acquisition of NBC and its dual ownership of both a wide array of television and film content and its large cable subscriber base.
While we wish to stress that our thesis for Lionsgate is based on its standalone prospects, we do note that the potential for a takeover does exist. There are a number of potential acquirers for Lionsgate, and given its size, the company is digestible for any number of larger media companies (of all the companies we listed as potential acquirers, the smallest company in the list, CBS, has a market capitalization of over $33 billion, versus less than $5 billion for Lionsgate). Should a takeover occur, we believe it to be a 2014 event, after the financial impact of Catching Fire and Ender's Game is fully known, and after Divergent is released, which will allow these larger media companies to better assess the company's longer-term potential, particularly the durability of The Hunger Games franchise.
Conclusions
At current levels, we would be buyers of Lionsgate ahead of the release of Catching Fire and Ender's Game, particularly if shares fall on the back of further uncertainty in Washington, D.C. Even with a solid run year-to-date, we believe that there is further upside to be realized in shares of Lionsgate heading into a key fiscal year. Led by Catching Fire, Lionsgate has a solid slate of film and television projects set for release in fiscal 2014, and on an EV/EBITDA basis, Lionsgate is currently trading below historical levels, even the company is poised to reach new highs in terms of profitability. With a compelling content portfolio, we see Lionsgate as a solid media holding on a standalone basis, one that is made more solid when the potential for a takeover is factored in. In our view, shareholders of Lionsgate will not be left hungry for profits through fiscal 2014 and 2015 as earnings continue to grow and the company continues to demonstrate that it is far more than simply The Hunger Games.
Disclosure: I am long LGF, DIS, TWX, FOX, CMCSA, CBS, VIA, AMZN, NFLX. I wrote this article myself, and it expresses my own opinions. I am not receiving compensation for it (other than from Seeking Alpha). I have no business relationship with any company whose stock is mentioned in this article.