We recommend a SHORT position in Lumber Liquidators (NYSE:LL) ("Lumber Liquidators", "LL", or the "Company") with a 12-18 month price target of $52.4/share (-50% expected return) versus its current price of ~$106. As shares are up over 100% over the past year, the business is grossly overpriced due to the proliferation of the bull thesis on the street, which focuses on the Company's margin expansion, store growth potential and housing rebound. However, peeling back the "onion", reveals a business with questionable sourcing practices and significant quality issues. On top of the product issues, Lumber Liquidators is currently offered at a tech-boom multiple of EBITDA and earnings.
Our differentiated short thesis is predicated on the following attributes, which make the Company a highly attractive short at current prices:
Unattractive Valuation Priced for Perfection: At current prices, LL's current valuation implies absolutely no margin of safety, as the business trades at a drastic 26.4x TTM EV/EBITDA, 47.4x earnings and a miniscule 1.9% FCF yield. Current metrics are very similar to that of companies in the tech boom, albeit the biggest difference is that Lumber Liquidators operates in a mature, low barriers to entry, highly competitive business. Importantly, well-positioned peers such as Home Depot (NYSE:HD) and Lowe's (NYSE:LOW) are priced at drastically lower multiples, roughly ~11x EBITDA, and are diversified businesses with higher or similar margin profile and a leading combined market share. At most, LL's business is worth 11x - 13x EBITDA, if not lower.
Rampant Insider Selling: Insiders such as the Chairman have sold over $39MM in shares over the past year (not including option exercises and dispositions). Businesses with strong prospects tend to have "higher" insider ownership, which obviously is not the case with LL. Further, the insider sales go contrary with the bull story, as if the business had a clear runway for growth in profitability, why would the Management team want to sell out? Additionally, it is important to note that the Board and Management team have a clearer understanding of the business versus outside passive shareholders.
Non-Differentiated Business: The Company operates in a highly fragmented industry, in which small mom and pop operators control 60% of the industry and the two largest, Home Depot and Lowe's control a combined ~27%. Additionally, the Company also faces stiff competition from Home Depot and Lowe's, two competitors with scale and a greater store base. Further, the business has no barriers to entry, as competitors can easily build-out a new store base and source product from China.
Potential Lacey Act Violation and Sourcing Issues: On September 26th, 2013, Lumber Liquidators' Toano, VA headquarters were raided by federal agents on the suspicion that the Company has been importing protected wood products into the states. Further, other issues have been raised such as high formaldehyde levels in their products.
Rampant Customer Complaints and Quality Issues: Simple scuttlebutt research suggests that Lumber Liquidators' products are of low quality compared to its competition and has disgruntled its customer base, which comprises both DIY users and contractors.
Reversion to Mean: The Company's gross and EBITDA margins have expanded 450 bps and 510 bps, respectively, since FY2011. The Company's sourcing initiatives are behind a majority of the margin expansion; however, evidence suggests that margins are unsustainable given the quality and sourcing issues that are now evident (i.e. recent government intervention, poor quality and potential illegal formaldehyde levels). If margins return to FY2011 levels, the Company trades at an even more unsustainable EV/EBITDA multiple of 44.4x.
Bull Thesis
Sell-side analysts and "growth" investors have been enamored by Lumber Liquidators, as the consensus bull thesis has been predicated on:
The Company's projected store growth initiative.
Rebuttal: LL could continue to build out its store base to grow revenue; however, the store base increase is predicated on sustained margins, and a loyal client base, which appears not to be the case. Further, the Company's capex will increase for a build-out.
Vast growth in margins through the Company's "favorable" sourcing.
Rebuttal: Mean reversion is a high probability given the issues uncovered with its sourcing practices.
Value Proposition to its customers
Rebuttal: Scuttlebutt research tends to discredit the Company's value proposition. Although in many cases LL can sell the "cheapest" product, customers ultimately get what they pay for in terms of poor quality and potential health hazards, which has left many customers disgruntled.
Housing Rebound.
Rebuttal: None, however, we believe there are more attractively priced opportunities linked to a housing rebound.
Company Overview
Founded in 1994, Lumber Liquidators operates retail stores in the United States and Canada. The company has approximately 279 retail stores throughout the United States, and 9 retail stores in Ontario, Canada.
The Company distributes hardwood and flooring products aimed at undercutting competitors. At its core, the Company acquires lumber from mills and wholesale distributors and sells to end users through its network of retail locations. The Company operates in a relatively low margin segment.
The core value proposition of the Company hinges on LL's ability to negotiate directly with the mills, eliminating the middleman, by which it allows the Company to pass along savings to customers and generate above market margins. Further, we believe that Lumber Liquidators' core value proposition is at risk due to regulatory concerns.
Products
Lumber Liquidators offers an assortment of exotic and domestic hardwood species, engineered hardwoods, laminates, bamboo and cork at low prices designed to appeal to a diverse customer base. The Company also provides flooring enhancements and accessories, including moldings, noise-reducing underlay, adhesives and flooring tools. LL's product offering is substantially comprised of proprietary brands, including its flagship Bellawood.
Competitors
The Company's primary competitors include: The Home Depot, Inc. and Lowe's Companies Inc. and smaller mom and pop retailers. The hard surface market is highly fragmented with more than 11,000 independents representing over 60% of the market. Home Depot (2,250 stores) and Lowe's (1,825 stores) have significant scale through national footprints, which translates into a ~27% market share combined. Importantly, Home Depot and Lowe's have more diverse product categories, greater scale and efficiency through store locations, sourcing capabilities and franchise value.
Sequoia Floorings Inc.
In 2011, LL expanded its supply chain operations by making an acquisition of Sequoia Floorings in Shanghai China. LL acquired certain assets of Sequoia for $8 million. According to the Company, Sequoia provides product quality control and development services for Lumber Liquidators' supply chain and product purchasing operations. The acquisition helps LL improve its supply chain flow, especially from Asian mills and lumber suppliers.
Margin Expansion
Management has not been bashful of highlighting Sequoia's role in the company's dramatic margin expansion over the last 24 months. In a recent Goldman Sachs Retailing Conference, management highlights Sequoia's role in the company's strong financial performance.
Between FY2011 and LTM June 2013, the company's gross margins and EBITDA margins have increased 450 bps and 510 bps respectively. Importantly, the company's EBITDA margins increased 68.2% from 7.5% for FYE 2011 to 12.7% for TTM June 2013. A significant portion of the Company's gross margin increase is a result of sourcing initiatives - which are now under greater scrutiny. According to a Company presentation at Canaccord Genuity Consumer Conference on August 14, 2013, the Company is citing product savings for the majority of its gross margin expansion.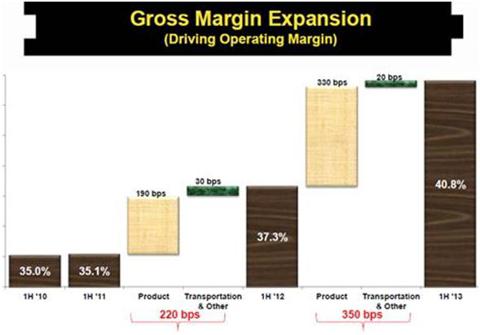 Questions Regarding Sourcing Practices
On September 26, 2013, Government officials raided LL's offices due to concerns over importation practices. According to press releases, the searches by U.S. Immigration and Customs Enforcement (ICE) and the Fish and Wildlife Service were related to importation of wood-flooring products. According to a specific report from WWBT-TV, a Richmond, Virginia, NBC station (LL is headquartered in Toano, VA), the raid was related to the importation of protected wood from the habitat of the Siberian tiger. The wood in question originates in Russia and is processed in China, and government agents suspect it was declared as coming from other countries.
Formaldehyde Contamination
Suspicion has been raised in various cases regarding higher than regulated levels of formaldehyde, a known carcinogen. As recent reports, (including a well-written article by Seeking Alpha contributor Xuhua Zhou on 6/20/2013) have noted, reports have surfaced containing studies that some products within LL's private label brands (sourced primarily from China) contained over 3.5x the legal limit of formaldehyde. Further, these implications carry dire consequences for the Company as they could face numerous fines. Although gross margins have significantly expanded since acquiring Chinese sourcing, it appears to have come at the cost of safety and quality.
Insider Selling
Insiders have been steadily dumping shares, selling over $41MM in shares (only counting open market disposition/excluding option exercises and sales) over the past year alone. We view this as a negative sign on Management's view of the Company's long-term prospects and exorbitant valuation. Contrary, we tend to prefer to invest with "owner-operators" who create value over the long term ( "The Outsiders" by William Thorndike is an excellent book on this topic).
CEO - Thomas Sullivan - Mr. Sullivan has been selling shares aggressively since 2007.

Customer Reviews
As the bull thesis is predicated on Lumber Liquidators' ability to continue growing its store base, customer satisfaction is an important indicator for Management's ability to expand the business. In our review, customer satisfaction appears to be very low, citing poor quality and inconsistency. For instance, according to the 91 reviews on resellerratings.com, LL holds an ultra-low rating of 0.17/10, along with other poor reviews on other websites such as yelp.com, both among DIY users and contractors. Two reviews posted on 9/09/2013 and 8/29/2013 on resellerratings.com noted the following:
"I have been a contractor for about 12 years. Over the years, I have had issues with this company. I would like to detail some of that here.

There was an order of laminate flooring. The floor would not lock. Upon inspection of the floor, I noticed the joints were defective.

I went to LL, with the customer, and told them the issue and showed them. They told me it was a warranty issue and I needed to contact their corporate office. I told them I just wanted to exchange the floor with new product so my customer could have the floor installed on time. They said they could not.

We called the corporate office and, the people we talked to, gave the run around. 2 months later, after the customer hired an attorney, he got a refund. He purchased some product at another place and had me install it. This time the job got done. That family walked on bare concrete for that time.

Then their (sic) was a time I was asked to install an engineered floor that was purchased from there. We took it out of the box and there were scratches on the floor. Every scratch was in the same spot, meaning it had been milled improperly at the factory.

I went with this customer to LL and they told us that we needed to call the corporate office. This time the corporate office said the same things again. I told this customer to get an attorney. He did and he was given a full refund.

As you can tell, I deal with high income clients. They could afford attorneys. Ask yourself a simple question: After spending thousands of dollars on a floor, can you afford to pay an attorney to defend you if things go wrong? If the answer to that question is no, then do not use LL. There is no security when you buy from them. Their 100 million year warranties mean nothing."
"My experience with Lumber Liquidators has been atrocious. I had professionally installed over 2000sq feet of bamboo click flooring. The flooring doesn't stay together and I have gaps all over my flooring. I tried to resolve this with LL with only further dissatisfaction as they have blamed the installer who has been doing installations for 20 years and that my 12 year old home is not level. Lumber Liquidators lack of complying with their warranty and acceptance of selling a faulty floor to a customer. I need the public to know that Lumber Liquidators does not warranty or stand behind their product as they state on their website and packaging. In addition, their credit card company GE also did not investigate or resolve the issue when I filed a dispute."
Once again, it becomes evident that the Company has sacrificed quality for margins, which has taken a toll on end-users and in turn greatly diminished its future prospects.
Margin Analysis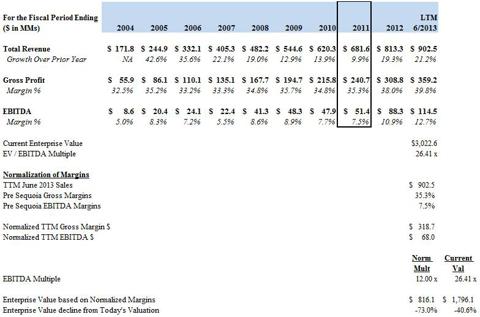 Porter's Five Forces Analysis
Risk

Severity

Effect

Threat of New Entrants

High

The industry is highly fragmented with over 11,000 smaller operators controlling ~60% of the market. Additionally, LL competes against heavy weights such as Lowe's and Home Depot.

Threat of Substitute Products

Low

Substitutes to hardwood floors include laminate, leather, cork and bamboo, which are also offered by LL.

Bargaining Power of Suppliers

Moderate

Hardwood flooring is affected by raw materials pricing and is a commoditized product. This has led LL to source its products from unsavory whereabouts in order to temporarily expand its margins.

Bargaining Power of Customers

High

Flooring is a big ticket item which is used daily by customers, who demand quality followed by pricing. Lumber Liquidators at times has favorable pricing, but loses multiple marks on quality.

Rivalry

High

Rivalry is high, as the industry is highly fragmented with over 10,000 competitors, on top of having Home Depot and Lowe's at the top of the food chain.
Lumber Liquidators' ability to source products favorably from China is not a sustainable moat, as many competitors can source product overseas. Further, this has potentially led to LL's quality issues.
Intrinsic Valuation
At ~$106, Lumber Liquidators trades at ~26.4x EBITDA, and 47.4x earnings. Likewise, privately owned flooring retailers have traded hands in the mid to high single digit multiples of EBITDA, which constitutes our low end valuation. Lowe's and Home Depot, Lumber Liquidators' largest competitors, trade at 10.4x and 11.3x, respectively, which would equate a "fair" multiple for LL to trade, although we feel it is quite generous given Lowe's and Home Depot's diversified business and real estate ownership.

LL's intrinsic value is estimated by applying a range of multiples to the Company's TTM EBITDA of $114.5MM. The multiples selected are conservative, given that they are in line, if not higher by three turns from its private and public peers. Our estimates yield a price between $44 to $60 per share, which is a wide divergence from the Company's current price. Importantly, our base case target of $52, implies a sizable ~50% expected return .
Catalysts for Downside Realization
Catalyst

Description

Government Intervention

The government's recent intervention/warrant search in the Company's possible breach of the Lacey Act could possibly open the door for other issues, beyond potential fines the Company faces.

Margin Decline/Growth Sputter

Mean reversion is highly possible given that the Company's margin expansion has been primarily attributed to its Chinese sourced products, which are of poor quality and potentially hazardous.

LL is priced for perfection, even a small hiccup in growth will have a detrimental effect on the stock price.

Unattractive Valuation

Lumber Liquidators trades at over 40x earnings and ~26x EBITDA. Further, if margins revert to its historical average, the EBITDA multiples jumps to 44x. Even with abnormal growth, it is near impossible that the Company will grow into a multiple that leads a satisfactory owner's yield.

The Company's closest competitors (who are market leaders) trade between 10x -12x EBITDA. Further, small private operators trade hands roughly in the mid-high single digits of EBITDA. Henceforth, the sell-side's target multiples (in the high 30's) leads to a pipe dream valuation, which we've seen before in the tech bubble.

Loss of Wall Street Sponsorship

Once/when the Company loses its Wall Street sponsorship, it will be hard for the valuation to find support.
Risks & Mitigants
| | | |
| --- | --- | --- |
| Risk | Impact | Mitigant |
| Continued Wall Street Sponsorship | Share Price Support | Although it takes time, investors will come back to reality, which will cause the business to trade at a realistic multiple. |
| Lack of Government Action | Continued Sales of the Company's Chinese Products | We believe the government is serious in their recent actions, along with a vocal customer base who have been demonstrated a negative reaction to the Company's products. |
| Share Price Volatility | Potential Short Squeeze | The stock price can be volatile at times. As the fundamentals do not support the Company's current price, short investors must have temperament and patience before the share price drops into a multiple that is sustainable. |
Conclusion
In conclusion, Lumber Liquidators is clearly overvalued based upon its business fundamentals and unsustainable valuation, with the Company's target price of $52 versus its current price of ~$106. Moreover, government and product quality woes will continue to chip away at the Company's brand image, which is critical for a retailer's survival. Further, Management is clearly not in the same boat as shareholders, as it continues to cash out of the Company. As the Company has no room for error, we believe the Company could trade back to the $40s, which is at the low end of its 52-week trading range and represents a "fair" value for the business.
Disclosure: I have no positions in any stocks mentioned, but may initiate a short position in LL over the next 72 hours. I wrote this article myself, and it expresses my own opinions. I am not receiving compensation for it (other than from Seeking Alpha). I have no business relationship with any company whose stock is mentioned in this article.