Verizon Communications (NYSE:VZ) is a telecom company that focuses on the provision of communication, information and entertainment products as well as services to businesses, consumers and government agencies. Verizon Communications has two main subsidiaries: Wireline and Verizon Wireless. Verizon Wireless offers wireless voice/data equipment and services in the US while Wireline offers internet access, voice, broadband video and data, IP network services and other services. Verizon Wireless is a giant mobile communications company with more than 116.7 million subscribers in the US, making it the largest in this market segment.
Overpriced shares?
Several investors and a number of analysts have been proponents of the view that Verizon shares are overpriced. This sentiment still remains after the firm's $130 billion leveraged buyout of Vodafone's 45% stake in Verizon. Verizon is currently trading at a 86.89 PE TTM compared to AT&T's (NYSE:T) 25.65 PE TTM. AT&T earnings yield comes in at 3.91% which is more than triple Verizon's 1.15%. Although Verizon's shares are currently trading at $47.00 and trending south, they had hit an 11-year high of $51.06 around mid-April this year.
The net effect of the buyout on Verizon's balance sheet was a massive increase in leverage, which jumped from 1.1x to 2.5x. The market reaction to the deal was tepid at best. The deal led to an increase in wireless business for Verizon, which will now have to contend with a 35+% tax rate as opposed to 30% formerly.
Verizon recently overtook Amazon (NASDAQ:AMZN) as the 22nd largest company in the S&P 500. Here's the share movement for the two giants.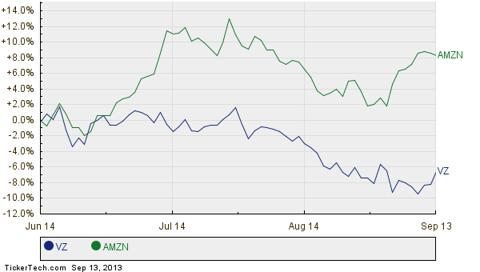 Compared to its two main telecom peers, Verizon has a better expected future growth rate.
| | | | |
| --- | --- | --- | --- |
| Companies | Adjusted Net Debt | P/S | Growth Rate for Coming 5-Year Period |
| AT&T | 1.68 x | 1.49x | 6.28% |
| BCE | 2.15x | 1.64x | 4.50% |
| VZ | 1.2x | 1.22x | 10.48% |
| | | | |
| | | | |
| | | | |
VZ has a higher growth rate than that of its peers and this trend is likely to continue in the fore-seeable future.
So what has been driving the strong bullish trends for VZ, and what is the future outlook both in the near-term and long-term? Verizon Communications has a number of positive growth factors that have made its stock very attractive to investors and driven the high share price. Its revenues and margins in recent times have been stellar while maintaining a healthy cash flow.
Solid Financial Performance
Below is the Future Valuation of Verizon Communications.
| | | | | |
| --- | --- | --- | --- | --- |
| Years | 2014 | 2015 | 2016 | Terminal Value |
| Free Cash Flow | 13.526 | 14.712 | 15.469 | 247.88 |
| Present Value | 12.537 | 12.714 | 12.427 | 199.148 |
| Discount Factor | 0.9296 | 0.8642 | 0.8034 | 0.8034 |
| Total Firm Value(Debt + Equity) | 236.86 | | | |
| Total Equity | 183.98 | | | |
| Total Debt | 52.881 | | | |
| Equity after Market Discount | 147.18 | | | |
| Total # of shares | 2.861 | | | |
| Share Price | 51.44 | | | |
| | | | | |
Monetary Values in Billions of Dollars
Below is the P/E Multiples for Verizon
| | | | |
| --- | --- | --- | --- |
| | Forecast Earnings | Historical P/E Multiples | Share Price |
| Bullish Case | 3.65 | 16.1 | 58.76 |
| Bearish Case | 3.03 | 16.1 | 48.78 |
| | | | Average Share Price=53.78 |
Verizon Communications offers a 4.5% dividend yield and has sufficient free cash flow to continue paying out dividends.
Deals, Deals
Verizon's buyout of Vodafone (NASDAQ:VOD) was finally actualized after an impasse that lasted more than a decade. The two firms have in the past decade failed to come to an agreement over the valuation of Vodafone's stake in Verizon Wireless.
Verizon Communications has also made an offer to buy Wind Mobile, a Canadian wireless carrier, for $700 million. Verizon made the offer after VimpelCom, a European operator, withdrew its early bid. The government of Canada recently relaxed long-standing restrictions on foreign companies' ownership of small Canadian telecom companies with less than 10% market share of the Canadian market, in the hope that this would increase competition for Canada's incumbent carriers Rogers Communication, TELUS and Bell Mobility. The acquisition will give Verizon Communications a good entry point into the lucrative Canadian Telecom market.
Entry into Canada bound to be a lead balloon?
Verizon's planned entry into the Canadian market through the purchase raised a major storm in the country's telecom space, with shares of major carriers taking a massive hit the moment the news hit the markets. Rogers Communication and Telus were the hardest hit, recording drops of 8.8% and 7.9% in their respective share prices. BCE lost 4.3%. The huge sell-off left many investors wondering whether the panic was warranted, considering that both Rogers and Telus are large companies worth around $22 billion and $21 billion respectively , while BCE has a $34 billion market cap. Why were investors so apprehensive of Verizon's entry into the Canadian telecom market, given that most subscribers in the country are already locked in 3-year contracts with the ''Big 3'' carriers? After all, even if Verizon was to achieve the estimates of some telecom analysts' of grabbing a market share of 1.5 million subscribers in five years, in a country of 26.5 million subscribers, that would still work out to just 5.7% market share, hardly big enough to unsettle the Canadian carriers. Moreover, the 1.5 million subscribers figure is quite optimistic, and Verizon will be hard pressed to get there.
The Big 3 vehemently opposed Verizon's planned takeover of telecom upstart Wind Mobile on grounds that it would amount to favoritism by the Canadian Federal Government. What they failed to concede is that any preferential treatment that Verizon might get at an upcoming spectrum auction might only be quid pro quo to compensate the giant American carrier for traversing the traditional huge entry barriers into a foreign telecom industry. Making spectrum more affordable certainly helps to level the playing field a bit.
In the end, Verizon will be getting a taste of its own bitter medicine if it fails to make any significant inroads by cracking the Canadian telecom oligopoly, and wrenching market share from the Big 3. The firm's own duopoly with AT&T offers protection for Verizon against telecom upstarts in the US. Maybe Verizon will attempt a price war by undercutting the incumbents on price, in a bid to win over customers, although this is unlikely since the firm is a no-discount carrier in its home turf. Verizon targets higher-end, higher-margins customers in the US, and this segment is already well-covered by the leading 3 Canadian carriers, so it will be interesting to see if it will be willing to lower its sights and venture into rural Canada. That's a real wild card. The venture might only turn out to be exploratory at best, but at least it will give Verizon (and maybe its curious rivals) a better understanding of how the Canadian telecom market works. Investors should not expect too much from this deal.
Early Deployment of 4G LTE Set to Help Verizon Trounce Rivals
Verizon Communications holds a clear lead, by a wide margin, in the race to deploy 4G LTE networks. The telecom firm was the first carrier in the US to begin rolling out LTE services to its customers. Big Red, as the company is fondly known, recently made the announcement that it had completed its 4G LTE service rollout throughout the US with 99% of the company's 3G coverage footprint now able to access LTE services. 57% of all the company's data is now being transmitted via 4G LTE.
In sharp contrast, AT&T has only managed to roll out 4G LTE services to just 284 markets in the US. The two companies have historically tried to outdo each other whenever there is a new technological platform to deploy. Verizon Communications is marketing its 4G LTE services as the ''largest'' network while AT&T is marketing its own as the ''fastest.'' Verizon is working hard to roll out its Voice-over-LTE (VoLTE) services sometime in early 2014.
The transition by Verizon to VoLTE represents an important milestone for the company because it will enable it to phase out its 3G CDMA network and now focus solely on LTE. Once this is achieved, Verizon can now offer LTE-only communication devices to its customers. These devices do not require many cellular radios and carry a simplified design and a lower cost. Expect to see LTE-only devices by Verizon Communications sometime in late 2014.
AT&T's 4G network consists of both LTE and HSPA. To launch LTE-only devices, Ma Bell, as the company is fondly known, will first have to complete its LTE services network roll-out; an exercise that is likely to take at least two years at the minimum. Verizon Communications, therefore, has a very good edge over its fierce rival, and can enjoy its position as the sole provider of LTE-only device for some time before any competition by its main telecom rivals, AT&T in particular, comes knocking.
Risks
At this point, the biggest threat to Verizon's dominant position is the SoftBank and Sprint deal which will help Sprint update its 2.5GHz spectrum across its entire network. Verizon's foray into the Canadian market might take time before paying off, though, on a lighter note, the $700 million Wind Mobile investment might be little more than a rounding error on Verizon's balance sheet (especially if it is amortized over, say, five years).
Looking Forward
Despite the very high P/E for Verizon Communications, which has some analysts concerned about the possibility of a long-term market correction, Verizon continues to have sound fundamentals and strong leadership in important telecom market segments such as high-speed voice and data services. Verizon's future growth seems to be assured, and it would, therefore, be advisable to hold the shares.
Disclosure: I have no positions in any stocks mentioned, and no plans to initiate any positions within the next 72 hours. I wrote this article myself, and it expresses my own opinions. I am not receiving compensation for it (other than from Seeking Alpha). I have no business relationship with any company whose stock is mentioned in this article.