[click to enlarge charts]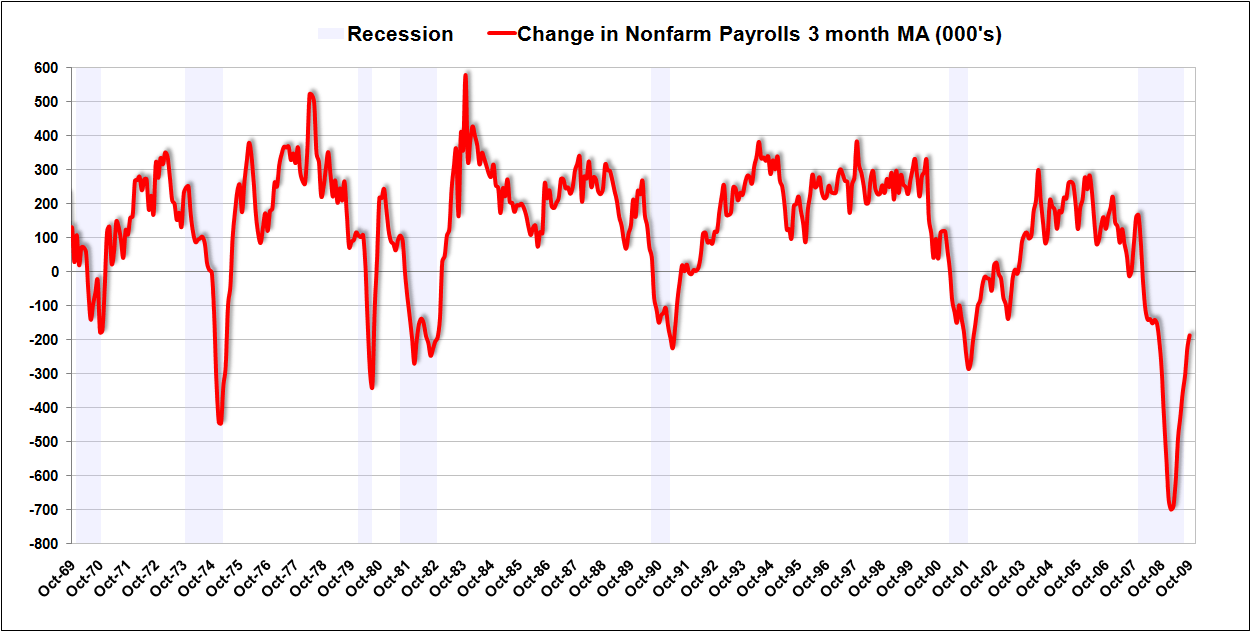 US non-farm payrolls fell a seasonally adjusted 190,000 in October whilst prior months had positive revisions. August was revised from -201k to -154k whilst September was revised from -263k to -219k. The 3 month moving average of monthly job losses fell below 200k for the first time since September 2008. Details of the establishment survey were as follows:
Construction -62,000
Manufacturing -61,000
Service providing -61,000
Retail trade -40,000
Professional and business services -18,000
Education and health services +45,000
Leisure and hospitality -37,000
Government 0
Positive revisions to prior months are good news, however that's about where the good news in this report ends.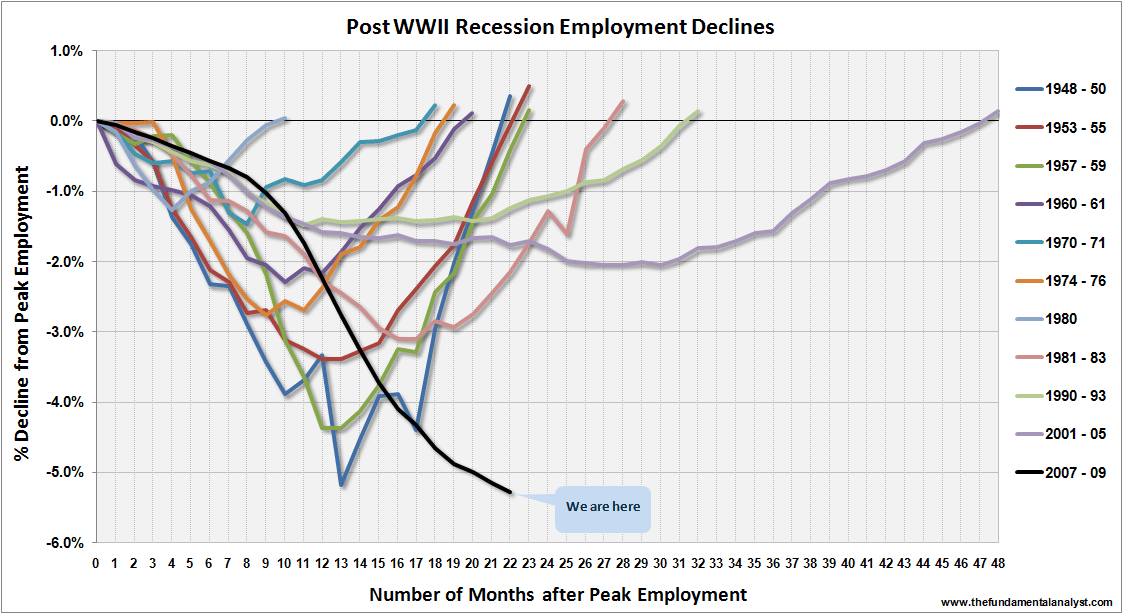 Since employment peaked in December 2007, 7.3 million US jobs have been lost amounting to 5.3% of the workforce and given the preliminary estimate of a further -824k for the annual revision to be announced in January, that number will likely to exceed 8 million. The chart above tells the full gruesome story, the current employment cycle has seen the deepest plunge in jobs since WWII.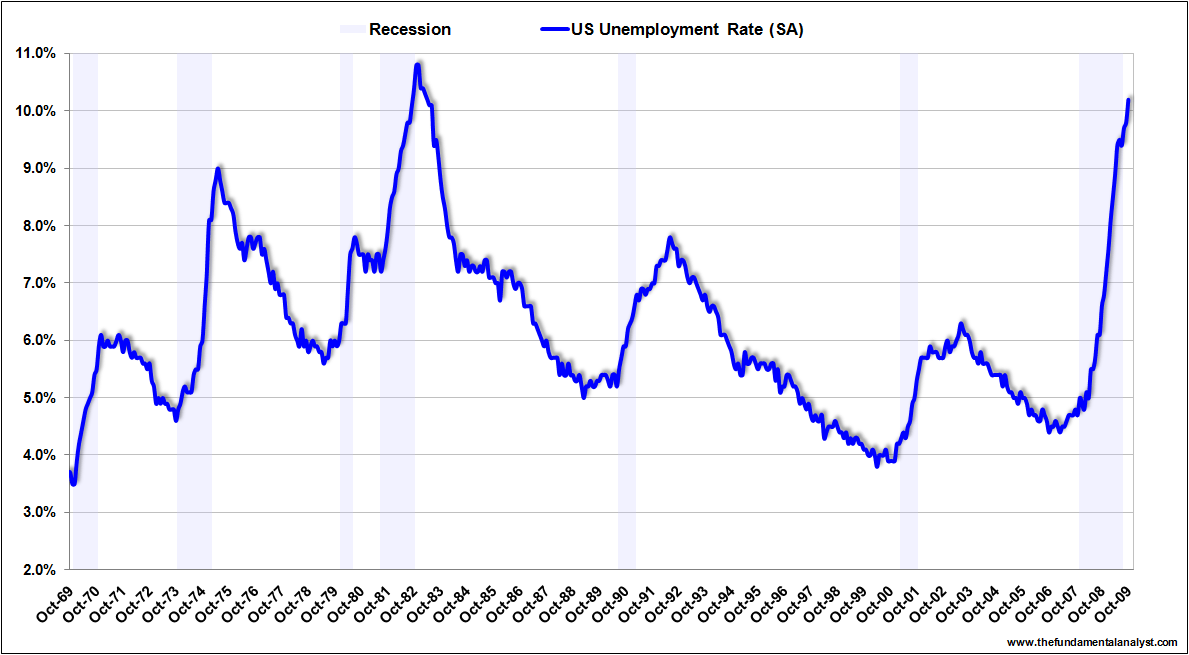 The unemployment rate jumped to a seasonally adjusted 10.2% in October, the highest rate since April 1983. U6, which includes so-called discouraged workers and those working part-time for economic reasons, rose to a new record of 17.5%. Of course the unemployment rate is measured by the household survey which is different from the establishment survey used to calculate the non-farm payroll number. The 3 month moving average of job losses from the establishment survey is now at -188k whilst the more volatile household survey is at -589k.
Some have speculated that the divergence between the two surveys in recent months represents the skew of the establishment data which is better at capturing job losses at large corporations whilst the household survey more accurately captures small business job losses. The establishment data tries to make up for this via the controversial Birth/Death model which continues to show positive net additions of businesses each month, despite overwhelming evidence to the contrary. Thus, since small business is getting smashed by limited access to credit and crowding out from the government sector, the establishment data is possibly a more accurate picture of the employment situation.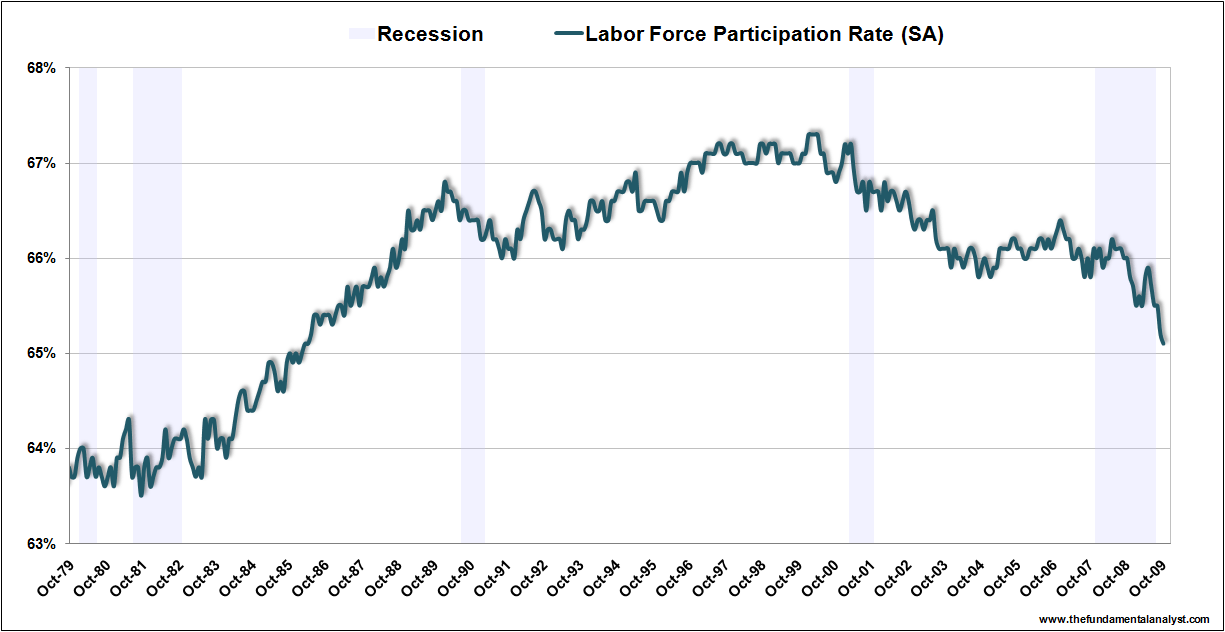 In addition, the labor force participation rate continues to fall as shown above. Typically, when discouraged workers believe labor market conditions are improving, they will start looking for work again which has the effect of increasing the workforce and thus keeping the unemployment rate high. In September 1982, the unemployment rate punched through 10% for the first time since the Great Depression and remained above 10% for 10 months peaking at 10.8%.
Just a repeat of that performance would keep the current unemployment rate above 10% until July 2010. However, given that the current employment cycle is compounded by a credit crunch that restricts the ability of small businesses to expand, I wouldn't be surprised to see the unemployment rate stay above 10% for all of 2010. That doesn't mean that there can't be an economic recovery, just that it will be a slow, jobless one akin to the 2002 – 2004 experience.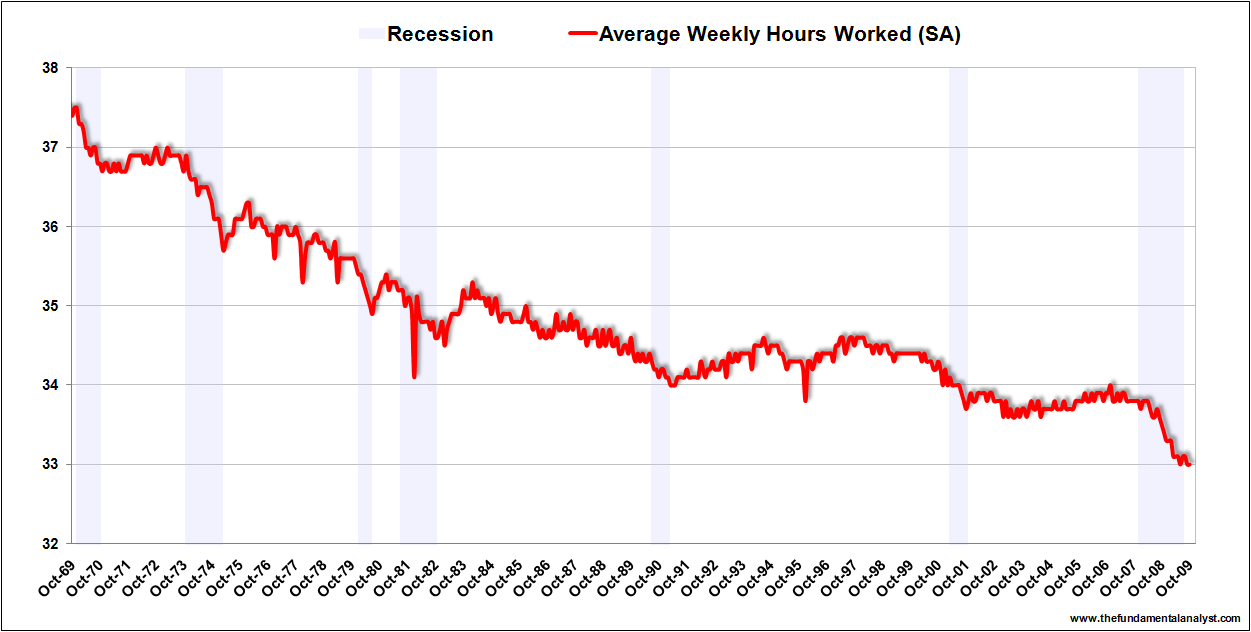 Also not encouraging was the average work week which remained at an all time low of 33.0 hours. Typically an upturn in average weekly hours is a harbinger of an improving labor market however, we have yet to see it.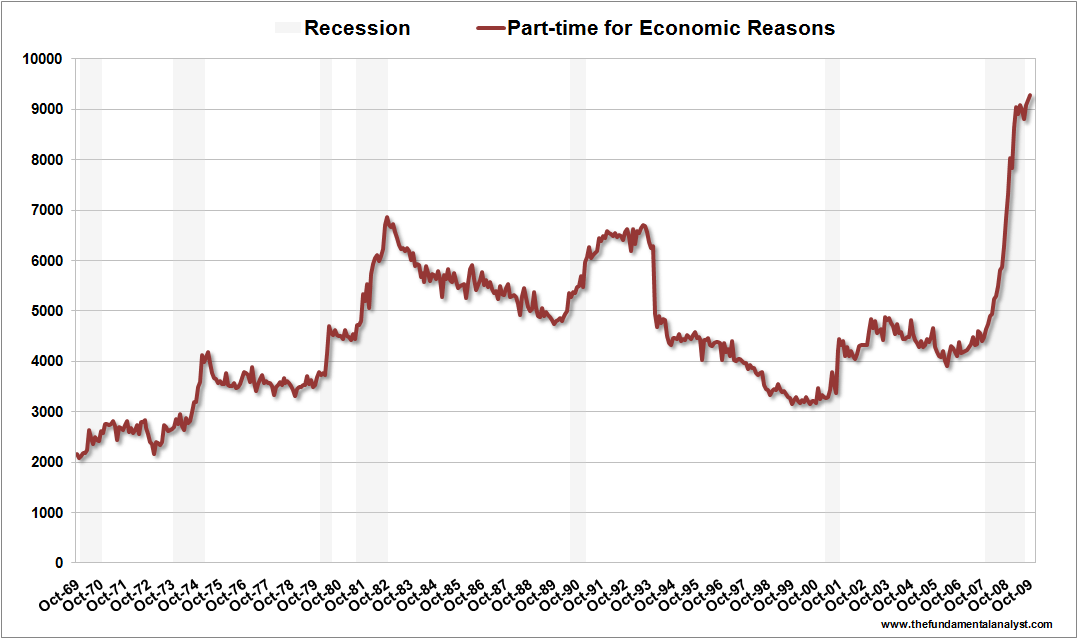 The number of persons working part time for economic reasons or in other words, people who were working part time because their hours had been cut back or because they were unable to find a full-time job, hit another record (even adjusting for population) in October at 9.3 million.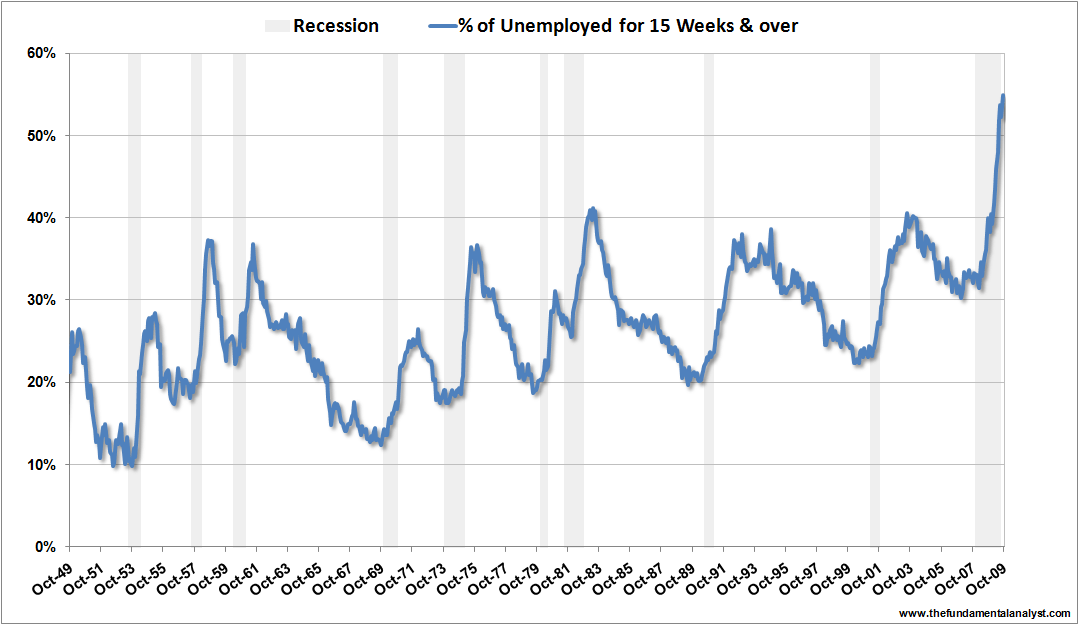 On the duration front, the news continues to worsen with the percentage of the unemployed out of work for more than 15 weeks hitting a new record of 56.3% whilst the percentage of the unemployed out of work for more than 6 months remained at a record high of 35.6%.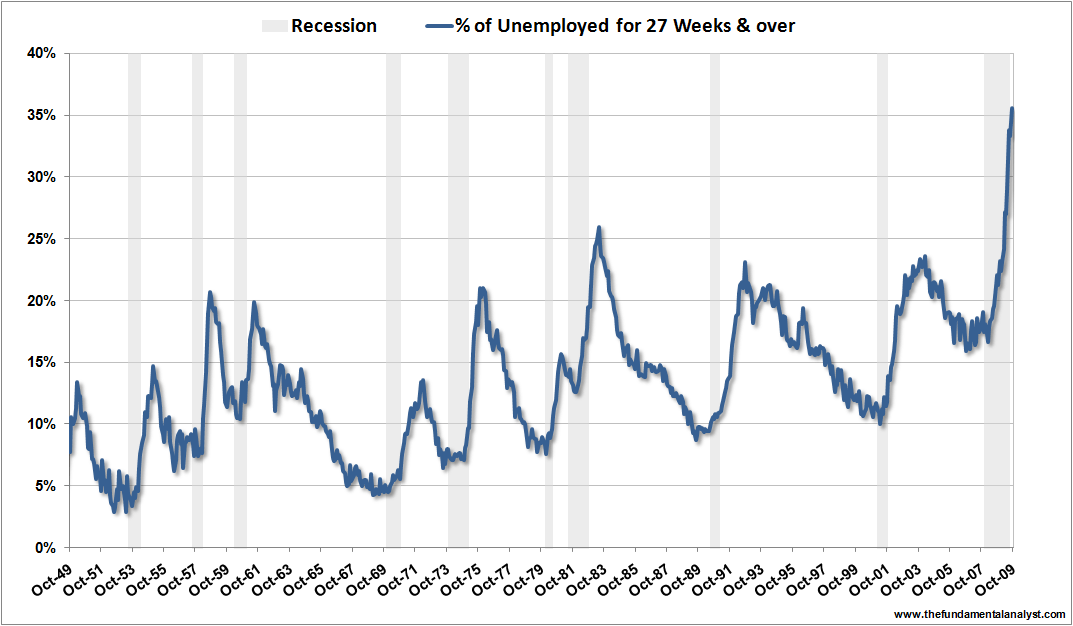 Very little to be positive about in this report except that job losses are getting less worse. However as stated numerous times before, less worse does not equal good and definitely not good enough to stop unemployment from rising further in the coming months.