The Tech euphoria still continues but has narrowed down to the four horsemen (Netflix, LinkedIn, Facebook and now possibly Apple). The rest of the tech titans from IBM (NYSE:IBM) (which I wrote about recently) to Accenture (NYSE:ACN) to now Oracle (NYSE:ORCL) are putting out reports that on the face of it range from dour to depressing. So why am I writing about a stock that 'stank it up' in its recent earnings call this month. Well, because there are two buy points for a stock - one when its future is replete with nothing but good tidings, and the other when its future is far less bad than it is priced for. In real life, the latter might seem foolhardy, but as the saying goes in stocks 'Price is what you pay and Value is what you get.' As long as the price-to-value exchange is reasonable, you have a long thesis. Here are a few reasons why I think ORCL merits a close look as a Buy.
The America's Cup is Over. This might seem a facetious fact as far as Oracle (the stock) goes, but the reality is that Larry Ellison is Oracle. For as long as the stock has traded, it's his personal ability to sense what's coming around the corner in terms of business tranactions, that has kept ORCL going where many (Sybase and Informix come to mind) have perished or languished. With the America's cup victory on 9/28, I expect Ellison to focus back on ORCL, where much of his wealth lies. Not to mention, as this article shows, America's cup was a heck of an advertisement for Oracle. I expect Oracle marketing to (not so) subtly use this to associate Oracle with victory, American pride and a variety of other positive brand messages.
Headwinds have Reduced. This was a year characterized by sales whiffs and currency headwinds. Oracle earnings were slightly under guidance, but the biggest hit was Foreign Exchange related, something that should moderate in the next quarter or so. While this isn't quite as gangbuster a punch line as killer new product, it makes a notable difference to a multi-national's bottom line when 60% of sales are International (below).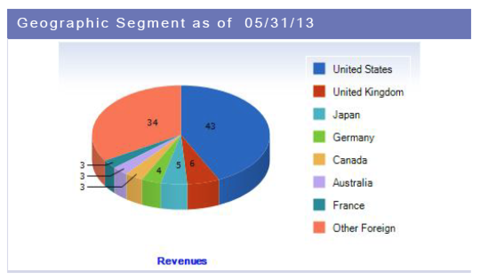 Relative Value. On a valuation (EV/EBITDA) basis, ORCL is cheaper than SAP and IBM and on par with Microsoft (NASDAQ:MSFT). Companies that are cheaper in the enterprise space such as Hewlett-Packard (NYSE:HPQ) and Intel (NASDAQ:INTC) have secular issues that could come to bite them. VMWare (NYSE:VMW) and Salesforce (NYSE:CRM) are great companies, but priced for infinite prosperity and zero competition.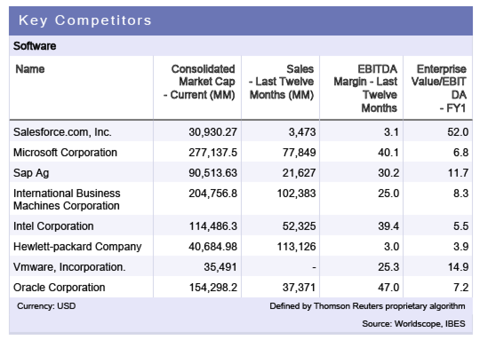 The Software Appliance Space has Room to Run. While the database business is healthy, both applications and hardware are lagging. I would argue that these are spaces where some key acquisitions (Eloqua,Tekelec, Acme Packet) haven't yet been digested and should show positive revenue impact in the next 6-12 months. Tekelec, Eloqua and Acme Packet were both very solid companies in and of themselves, and should substantially benefit from Oracle's sales muscle. Additionally, Oracle's 'bundling' deals with Salesforce , Microsoft Azure (Virtualization) and NetSuite (NASDAQ:HCM) should bolster its platform sales with IT customers who want an all-in-one solution.
Seasonality. Last but not least, Oracle has had favorable seasonality in the fall months. For 4 of the 5 years, Oracle returned about 10% between the end of September and early January.
Unsurprisingly, the stock has run up a little bit in the second week of the month, leading up to Oracle World. For those with a bullish mindset on ORCL, I would advise a short wait to see if there is a test of the $32 support before dipping your toes. I see an upside to the $37 range by year-end, aided by seasonality, flight to known brands, and positive course corrections in ORCL's internal sales strategies.
Disclosure: I have no positions in any stocks mentioned, but may initiate a long position in ORCL over the next 72 hours. I wrote this article myself, and it expresses my own opinions. I am not receiving compensation for it (other than from Seeking Alpha). I have no business relationship with any company whose stock is mentioned in this article.