Over the weekend, I went in search of a new online broker. What I found was not only a better broker than I use currently, but also a compelling investment opportunity. Interactive Brokers (NASDAQ:IBKR) ("IB" or "the company") is an undervalued online brokerage ("the brokerage") and market making ("the market maker") business, undergoing significant transformation which is causing shares to trade at a discount.
In particular, IB CEO and Founder Thomas Peterffy has indicated to the market that IB will wind down the market maker business if acceptable rates of return cannot be generated (generally defined as a 10% return on equity on recent conference calls), and return value to shareholders. I understand that the rise in high frequency trading firms ("HFTs") has made the market maker industry more competitive though tighter bid/ask spreads, etc., making it clear that IB should focus on its best-in-class brokerage platform if the market maker cannot produce acceptable returns. Moreover, there are increasing levels of risk in the market making business from trading glitches and/or sophisticated counterparties, as seen from the Knight Capital implosion in the summer of 2012.
Investors though can trust that Mr. Peterffy will be a good steward of investor capital because, after all, he holds a majority stake in the business. The IB shares that trade in the public market only represent an 11.9% effective interest in the company, leaving the entire enterprise valued at some $7.9 billion at current prices (of which the public float is valued at $936 million). That is why there is a significant minority interest deduction taken from IB's income statement to account for earnings that are not attributable to the common shareholders.
While shares have had a solid run in 2013, I think the shares are still undervalued on the back of record results in the brokerage business, and are protected to the downside given the well-capitalized market maker business, which retains significant value that could be returned to shareholders if the business underperforms management's stated goals (10% ROE).
It appears though as if Mr. Peterffy is reluctant to totally wind down the market maker business because he believes there is still opportunity in the business. Who can blame him? He built his market maker business from scratch starting in 1977. But he does appear to be turning the corner in terms of winding the market maker down in the absence of ample economic returns in that business. Prospective investors are reminded to keep a mindful eye on how this situation plays out over time, given Mr. Peterffy's affinity for the business.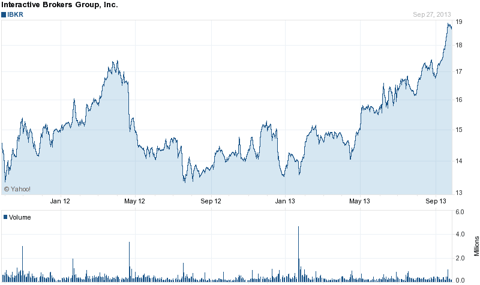 Valuation
As stated, IB is made up of two businesses -- one that is ramping up (the brokerage) and the other that is winding down (the market maker). That makes for an interesting valuation challenge in that one should not value IB from a consolidated basis. Rather, we should look at each business to determine a fair value range for the shares.
Brokerage
The brokerage business represents the lion's share of IB's underlying value. It is a fantastic growth business for IB, with revenues and profits growing at a fast pace over the last several years. And combined with the significant growth potential comes an operating model that is equipped with a significant operating leverage. When thinking about "platform" businesses that can scale up quickly with little cost, IB's brokerage business is the quintessential example. Let's take a look at the historical performance to see why.

As sales have ramped, profits have increased at a faster pace. That is because there are little, if any, fixed costs attributable to serving additional customers on the IB brokerage platform. Rather, incremental revenues are spread across the same fixed cost base allowing for earnings leverage to be exposed.
Based on my analysis, execution costs on customer orders runs at about 33% of sales and which appears to be the only truly variable expense for IB. With that in mind, I think pre-tax profit margins will continue to expand as revenue growth continues, and should peak in the low sixty percent range. Those are the type of profit margins that cause envy.
What I like more about the IB operating model is that even though they are currently spending very little on marketing the platform, subscriber growth continues a heady pace. As of June 30, 2013, IB had 224,000 brokerage customers, up 12% year/year. I understand that one of the main reasons holding back even greater subscriber growth and market share capture is that Interactive Brokers is not a household name like Charles Schwab (NYSE:SCHW) or Scottrade. Yet IB continues to win accolades among industry participants as the best trading platform. That suggests to me that an increase in marketing spend could help IB capture additional market share as consumers are educated about the value proposition.
The other way IB benefits from additional customers is from the potential for increased trading activity among its customer base, and from increased interest income from margin lending. I expect that as markets continue to be buoyant with episodes of volatility, renewed investor interest should increase trading activity among IB's customers. Therefore, IB has a number of levers to drive future revenue from its scalable brokerage platform.
As it were, IB's brokerage business looks to be on track to continue its record setting performance in the first-half of 2013. For the full-year 2013, I expect between $475 and $500 million in pre-tax profits. If we apply a 15 times multiple to the range, we arrive at a valuation between $7.12 and $7.5 billion, leaving the public float's share worth about $850 or $900 million, nearly the entire market capitalization of IB. Given IB grew profits 37% year/year on the back of substantial revenue growth and margin expansion, I think a 15 times earnings multiple is conservative and because it is a discounted multiple from those ascribed to Schwab (32x) and TD Ameritrade (NASDAQ:AMTD) (23.5x).
Market Maker
In order to keep the analysis conservative, I chose to value the market maker on the assumption it will be liquidated.
With about $2.6 billion in excess capital at the market maker as of June 30, 2013, there remains the distinct possibility of large, special dividends if and when the market maker business is wound down. The company has already made two special dividends since 2010, cumulatively totaling $2.79/share, and instituted a $0.10 quarterly dividend, equating to a yield of about 2%.
An 11.9% claim on the $2.6 billion in excess capital works out to about $310 million, or about 33% of the current market capitalization of those shares. This approach assumes there is no earnings power left in the market maker business, which, of course, is not true. But because the business is winding down, I chose to value it as such.
Sum Of The Parts
If we combine the earnings power valuation of the brokerage business and the liquidation value of the market maker, we arrive at a value of the public float between $1.15 and $1.2 billion, leaving shares undervalued by about 20 to 30% right now.
Conclusion
Interactive Brokers is a compelling investment opportunity. It offers shareholders exposure to a highly scalable platform from which to derive copious profits from future revenue and margin expansion, meanwhile it remains undervalued due to uncertainty in its market maker business. The business, therefore, could look materially different in a few years' times as it winds down its market making operations in favor of its fast growing, high margin brokerage business.
I always look for businesses with good management, a high degree of operating leverage and the potential for scale. In terms of scale, Interactive Brokers offers the greatest possibility among the brokerages for the number of countries and exchanges it offers investors access to. In my mind, the broad global operating model of the IB brokerage is what sets it apart and will allow it to scale its customer base.
Interactive Brokers appears to be offering investors the trifecta - management, operating leverage and scale. While IB offers investors a global trading platform, IB should be viewed as a buy and hold at current prices as its operating model allows for significant earnings to flow to shareholders making the asymmetric nature of an IB investment evident.
Disclosure: I have no positions in any stocks mentioned, but may initiate a long position in IBKR over the next 72 hours. I wrote this article myself, and it expresses my own opinions. I am not receiving compensation for it (other than from Seeking Alpha). I have no business relationship with any company whose stock is mentioned in this article.