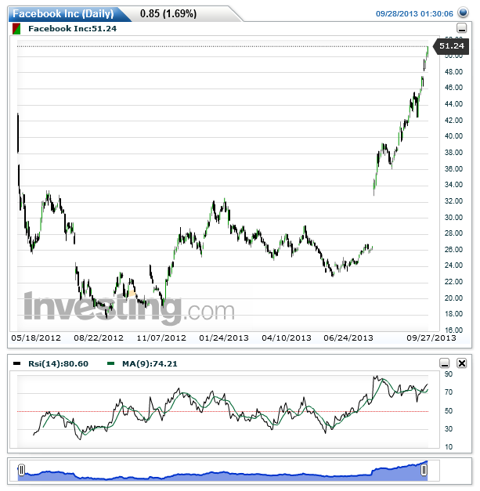 Source: Investing.com
Stock price of Facebook (NASDAQ:FB) has increased by leaps and bounds in quarter or so, and is trading at an all-time high above $51 a share. While it is being upgraded to buy or outperform by many investment firms, I agree that the stock is a good long-term investment, but is a bit expensive to buy in at this level. Instead of cutting the completely long position, I think investors should consider half at a double strategy, which will be beneficial currently. Half at a double strategy is one where investors sell half of their stocks in a profitable stake. Using this strategy, investors face two kinds of scenarios: 1. If stock moves up, they will have half stocks to book further profits. 2. If stock price goes down from the significant higher levels, they will be able to buy half stocks later. Using this strategy, investors can make sound profits in a rational way and can eliminate greater risks at higher levels of stock. Additionally, investors will be able to lock their profits and gain from it. I think Facebook has reached that level, where the ball is now in the investors' court, and they have to decide whether to sell this stock at current price levels or wait for further upside. Investors should consider this fact that, money is invested in stocks to see realized profits, and not paper profits, and at $51 a share, Facebook is in a high-risk, high profit kind of situation.
Increasing online ad spending
In 2012, total global ad spending was around $529 billion, out of which online ad spending accounted for approximately $94 billion. The U.S. alone spent around $39 billion for online advertisement, the highest by any country. In the current fiscal year, online ad spending is estimated to rise by 12.7%, year-over-year, which means better revenue opportunities for companies like Facebook and Google (NASDAQ:GOOG). However, Facebook's market share in global ad market was around 3%-4% last year, while Google's global market share remained at around 44.1% in the same duration. This is a wide difference, and it will be difficult for Facebook to fill this gap. This will give competitive advantage to Google, at least in the short term.
On the other hand, there are reports that users are moving out of Facebook, largely due to privacy concerns. The company is losing ground in countries like the U.S., India, Indonesia and Japan, while it is also facing tough competition from Google+ and Twitter. It will be interesting to see whether Facebook is able to increase its users, considering that it is also banned in high-growth and populous countries like China.
Lack of video ads
Although, Facebook has started to test video ads and mobile ads, it will be difficult to tackle YouTube, which is established and growing. Google generated around $2.8 billion last year from YouTube, and it has a global reach with more than 1 billion users every month. More than 100 hours of videos are uploaded on YouTube every minute, which gives significant content for users and at the same time revenue generation opportunity for Google. On the other hand, Facebook's video ad is still in the initial stage and monetizing revenue for the company is still a thing of the future. As video ad spending in the U.S. is expected to more than double from $4.14 billion currently to around $9.06 billion in 2017, Google will lead the race with YouTube and the added strength of innovative products like Chromecast.
Considering these facts, I think it is difficult to justify $51 a share for Facebook, and not shifting to Google, instead.
Valuations metrics

Source: Finviz
Currently, Facebook is trading at a PE 189.78, which is significantly higher than that of its Peers and industry average as well. Also, a very high PEG ratio is indicative of Facebook's high price, and both these indicators are enough proof to suggest that investors are betting on a highly overpriced stock, at least currently. Moreover, Price to sales ratio of Facebook is four times higher than that of Google, which gives an impression that investors are paying more than they should pay for. My intentions are not to judge the stock for short duration in this article, as I strongly think Facebook is a good stock to buy for long-term gains. However, no investors will like to pay more than the stock deserves and that is the case with Facebook at current price levels of $51.
Profitability margins

Source: Finviz
As far as profitability margin is concerned, Facebook is leading the list with gross margin of above 73%, while Google and industry average is lagging behind. However, Facebook's operating margin is almost in-line with Google, while bottom line profit margin of Google is significantly high in comparison. In addition, one should consider the large volumes of Google, in which, I think company is peerless, while Facebook's revenue is nowhere near. Lastly, I think with the growing volume, it will be interesting to see how Facebook will be able to maintain these ratios going forward. However, these ratios are currently favoring the company.
Conclusion
Facebook's dream run from around $22 per share to above $51 has raised eyebrows of many investors and analysts. However, I think this stock is too expensive to buy at current levels and investors should use the above-mentioned half at double strategy. Facebook is an undoubtedly good stock with strong fundamentals to buy for long-term investment, but initiating a long at this stage will not be rational sign. Hence, concluding this piece, I think, long-term investors should continue holding it half, while it will be not advisable to initiate a long at the current price.
Disclosure: I have no positions in any stocks mentioned, and no plans to initiate any positions within the next 72 hours. I wrote this article myself, and it expresses my own opinions. I am not receiving compensation for it (other than from Seeking Alpha). I have no business relationship with any company whose stock is mentioned in this article.