Emerging markets have been on a tear over the past decade. The BRICs -- Brazil, Russia, India, and China -- have fueled the high growth rate in emerging market economies, and equity investors (as well as fixed-income investors) have been handsomely rewarded, volatility notwithstanding. But the rally has started showing signs of fatigue in recent years, and has come to a screeching halt in 2013. The broad EM equity index has significantly underperformed so far this year, largely due to the fears of Fed tapering and Chinese slowdown.
September has seen a huge relief rally, but not all EM markets are created equal. The BRICs take up the lion's share of both the MSCI and FTSE EM indices, which the most popular EM ETFs track. The BRIC economies have grown considerably over the last decade, each now being in the top 10 world economies by GDP, and each is facing significant headwinds. Where will the leadership in emerging markets come from now?
Jim O'Neil of Goldman Sachs Asset Management is perhaps most famous for coining the term BRIC. However, by 2005 he has come up with the "Next 11" EM countries whose economies have a high potential to follow the BRICs as the largest economies in the 21st century. They are, listed alphabetically, Bangladesh, Egypt, Indonesia, Iran, Mexico, Nigeria, Pakistan, Philippines, Turkey, South Korea, and Vietnam. The original Goldman research used the following selection criteria: macroeconomic stability, political maturity, openness of trade and investment policies, and the quality of education.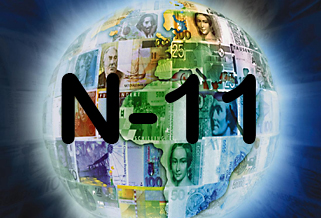 While this list may seem odd at first glance or at least contain some dubious and even un-investable choices, the idea behind it has slowly been catching on as evidenced by new funds and overall positive inflows. Below I will give a brief overview of each of the Next 11 and outline some investment choices available.
Next 11 Countries
The current economic statistics and future projections for the Next 11 are summarized below, sorted by GDP growth forecasts over the next five years. Keep in mind that some measures in certain countries are mere estimates as real data may be lacking, and these estimates may vary considerably depending on the source and timing.
Click to enlarge images.

Sources: IMF, Wikipedia.
Now, let's take a closer look at each.
Bangladesh is a densely populated Asian country with a rapidly developing market-based economy. Textiles and seafood are major exports, and the U.S. is a No. 1 trading partner. Financial markets are underdeveloped, and the country is classified as a frontier market, albeit the largest in the world. Direct investment choices are limited. iShares MSCI Frontier 100 Fund ETF (NYSEARCA:FM) offers a tiny 2.9% exposure. Global X, the niche ETF provider with specialization in smaller countries and regions, filed with the SEC to create a first-to-the-market FTSE Bangladesh Index ETF back in 2010, but it has yet to materialize.
Egypt has dominated headlines for the past three years as the Arab Spring spread through the Middle East. Political instability has caused massive damage to the economy, and Egyptian stock market lost nearly a third of its value this year. Egypt, however, remains an important economy in the region -- the third largest in Africa -- and its control and revenue from Suez Canal make it even more significant. If one believes that the political turmoil may reach an eventual positive resolution, Egyptian equities at today's distressed levels may prove to be a bargain. While several thinly traded ETFs may offer a small exposure to Egypt, the only pure play remains to be Market Vectors Egypt Index ETF (NYSEARCA:EGPT).
Indonesia is the fourth-largest country in the world by population, a G-20 economy, with already significant and growing middle class, and a society transitioning to a democracy. With relatively low inflation and government debt, Indonesia may be one of the most attractive of the Next 11. It also helps that the country is rich in natural resources, from oil and gas to metals and minerals. One of the recent headwinds was the fall of its currency, the rupiah, which may be stabilizing. ETF options include MSCI Indonesia (NYSEARCA:EIDO), Market Vectors Indonesia Index (NYSEARCA:IDX), and Market Vectors Indonesia Small-Cap (NYSEARCA:IDXJ). The CEF pure play is Aberdeen Indonesia Fund (NYSEMKT:IF), but liquidity is an issue.
Iran is one of the largest oil exporters in the world, but its economy's unique feature is that 30% of the government spending is dedicated to its religious organizations. That and other factors, such as administrative controls and widespread corruption, counterweight economic positives including a younger, better-educated population and rapid industrialization. There is also a constant risk of economic sanctions or even a military conflict. As long as Iran remains committed to supporting terrorism and its nuclear weapons program, any investment case will continue to be theoretical. Moral and legal issues aside, there remains no practical way to invest in Iran at this time.
Mexico, the second-largest Latin country and economy after Brazil, a G-20 member and a democracy, has been on the U.S. investment radar for a long time. Its geographical location and the NAFTA agreement make the U.S. an overwhelming No. 1 trade partner. Low inflation and unemployment make Mexican economy even more attractive. Many larger Mexican companies list stocks on U.S. exchanges, and a number of different ETFs and mutual funds with focus on Latin America give 20%-35% exposure to Mexico. Perhaps surprisingly there are no dedicated Mexican equity mutual funds. The most direct exposure can be achieved through iShares MSCI Mexico Investable Market Index ETF (NYSEARCA:EWW) or one of the two CEFs: Mexico Equity & Income (NYSE:MXE) and Mexico Fund (NYSE:MXF).
Nigeria is the largest African nation by population, and it's projected to have the highest GDP growth in the next few years and perhaps for the next several decades. While oil and agriculture combine for over 50% of current GDP and petroleum products account for 95% of exports, both the industrial and the service sectors are on the rise. The economic potential attracts a number of foreign investments, mainly from China, the U.S., and India. However, as legal framework and financial markets regulation leave much to be desired, investors should proceed with caution. Several mutual funds and ETFs dedicated to Africa and frontier markets offer a small exposure to Nigeria. The only pure play is the Global X Nigeria Index ETF (NYSEARCA:NGE), launched earlier this year, but its liquidity remains a concern.
Pakistan is another frontier market, full of potential based on growing population and middle class, rapid urbanization and industrialization, and ongoing, albeit slow, economic reforms. However, as with other frontier markets, many political and headline risks paired with weak market regulation continue to prevent Pakistan from receiving serious foreign investment. iShares MSCI Frontier 100 Fund ETF is virtually the only way to get a small 4.7% exposure. A dedicated ETF, Global X Pakistan KSE-30 ETF (NYSEARCA:PAK) has been in registration since 2010.
The Philippines stock market has been a big star of 2012, reflecting the country's economic progress. The country posted the highest GDP growth rates in Asia for the first two consecutive quarters of 2013. As a newly industrialized country, the Philippines is still an economy with a large agricultural sector; however, services have come to dominate the economy. Much of the industrial sector is based on processing and assembly operations in the manufacturing of electronics and other high-tech components, usually from foreign multinational corporations. The U.S. remains its largest trading partner. The best direct exposure is offered by iShares MSCI Philippines Investable Market Index ETF (NYSEARCA:EPHE).
South Korea is the most advanced economy on this list, so much so that a number of analysts, investors, and index providers no longer consider this G-20 economy to be an emerging market. Rapidly growing for decades, Korea was nicknamed one of the four Asian Tigers. An industrialized democracy, Korea exports semiconductors, wireless telecommunications equipment, motor vehicles, computers, steel, ships, and petrochemicals. Neighboring China is its largest trading partner. The Korean won's recent strength has hurt the performance of some of the largest Korean exporters, making them potential bargains. It's worth noting that any investment that follows the Korean market-weight-based index will be dominated by the 800-pound gorilla Samsung (OTC:SSNLF). Due to the importance of this market, several pure play investment options are available. ETFs include very liquid iShares MSCI South Korea Index (NYSEARCA:EWY) and very illiquid First Trust South Korea AlphaDEX (NASDAQ:FKO). Two more country CEFs are Korea Fund (NYSE:KF) and Korea Equity Fund (NYSE:KEF). Finally, Matthews Korea Investor (MUTF:MAKOX) is a dedicated no-load mutual fund, with $2,500 minimum investment. Surprisingly, the ETF focused on the small-cap Korean stocks (NASDAQ:SKOR) has closed last year.
Turkey's stock market, much like the Philippines, was highflier in 2012, and for much of the same reasons. Rapid industrialization coupled with steady economic reforms has made Turkey one of investors' favorites in recent years. In 2013, however, Turkish stock market took a dive by the double whammy of Fed taper talk and civil unrest in the summer. However, given its political stability, unique geographical location on the border of Europe and Asia, market maturity and economic growth potential, Turkey remains a viable investment option long-term. Investors can obtain direct exposure through either iShares MSCI Turkey Investment Market Index ETF (NYSEARCA:TUR) or Turkish Investment Fund CEF (NYSE:TKF).
Vietnam still has an authoritarian regime, and its economy is split between the state planned portion and free market. While agriculture still accounts for 20% of GDP (rice and coffee remain the most important crops), industry and services continue to increase their share. Due to relatively high inflation, lack of transparency into government policy and the fact that the country virtually lacks large enterprises, the stock market has been and will likely remain volatile. Market Vectors Vietnam ETF (NYSEARCA:VNM) provides the most direct exposure.
Below is the summary of the investment options listed above.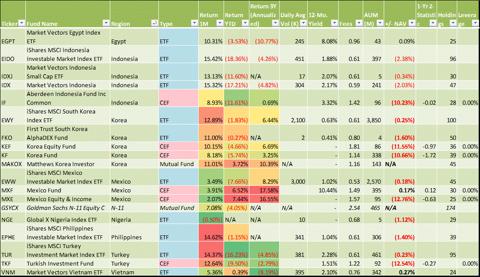 Source: Morningstar, Sept. 28, 2013.
Below is a three-year chart comparing returns of all available ETFs from the above list.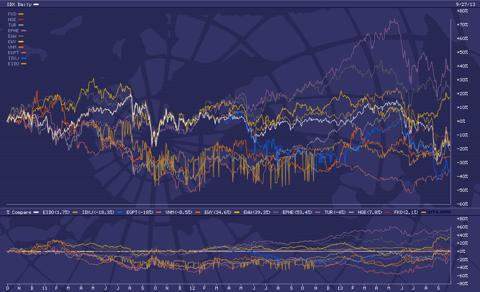 Source: MarketWatch BigCharts.
More Next 11 Investment Choices
If you're looking for an investment vehicle to capture the whole Next 11 universe, you wouldn't be alone. There are several possibilities, but sadly none quite hit the bull's eye. One appealing option for U.S. investors would be a mutual fund managed by (who else?) Goldman Sachs Asset Management. Goldman Sachs N-11 Equity C (MUTF:GSYCX) is a Class C of the $465 million fund, but unfortunately the fund has recently closed to new investors.
There's also a European ETF. EasyETF BNP Paribas Next 11 Emerging ETF (E11EUR FP) is listed on EuroNext Paris in EUR. The fund was incepted in 2008 and invests in the "Core 8" of N-11, skipping the most illiquid and risky countries - Iran, Pakistan, and Bangladesh. It has €97 million under management and trades on low volume. It's down about 7% YTD and down nearly 20% off the May high.
The Global X has filed for Next 11 ETF (NXTE) that will cost 0.75% and track the Solactive Next 11 Index, but its launch date is anyone's guess. Perhaps Global X is looking to launch at the same time as the Pakistan and Bangladesh ETFs to improve liquidity. The largest index provider MSCI in the meantime has come up with its own MSCI Next 11 ex-Iran GDP Weighted Index, which is waiting to be licensed.
One other place to look -- for an accredited investor -- is Next 11 Emerging Markets Fund from Capelstone Management, based in British Virgin Islands. The hedge fund invests in all Next 11 countries except Iran, and I believe would look for a minimum $1 million investment. The link is worth visiting just for their investment case presentation.
Finally, one economical option to invest into a basket of ETFs or CEFs listed above is through Motif Investing. Motif Investing is a relatively new online broker that allows investors to buy "motifs" -- a group of up to 30 U.S.-listed equities of ETFs combined by a common theme, all for one low commission. Not only the company provides over 100 motifs, it lets investors modify them and recently allowed members to create their own motifs, complete with weighting methodologies and custom names, and share them on the site. I think of these motifs as a cheap way to create my own custom ETF. My custom N-11 ETF motif is presented below.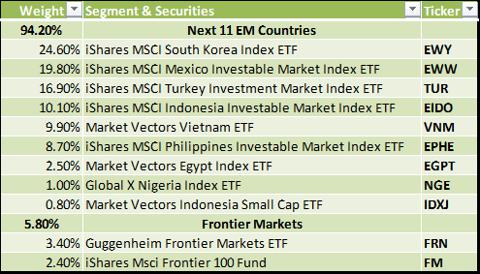 Source: Motif Investing, Sept. 28, 2013.
Further Afield
The idea of excluding the BRICs from the emerging markets to get a more emerging-markets-like returns is picking up steam. The Next 11 is just one of the more popular ones. There are other attempts to offer investors choices in often overlooked countries. State Street Global Advisors filed for a SPDR MSCI Beyond BRIC ETF (NYSEARCA:EMBB) just recently, and Emerging Global Advisors launched the EGShares Beyond BRICs ETF (NYSEARCA:BBRC) in August 2012. There are other acronyms that have surfaced to combine groups of EM countries, such as CIVETS or MIKT (MIST). Going even further, there are a growing number of funds focusing exclusively on frontier markets. But that's a topic for another article or two.
Disclosure: I am long VNM, IDX, EWY. I wrote this article myself, and it expresses my own opinions. I am not receiving compensation for it (other than from Seeking Alpha). I have no business relationship with any company whose stock is mentioned in this article.