Wal-Mart (NYSE:WMT) alone accounts for approximately 10% of retail products spending by U.S. residents, which makes this company highly affected by consumer spending fluctuations. In early 2013, payroll taxes increased by 2%, which impacted the purchasing power of consumers. In the second quarter, its profits grew merely 1.3% to $4.07 billion year over year. This scenario is expected to continue in the remainder of this year. As per the National Retail Federation, U.S. spending is expected to decline by 8% in the remainder of the year. Therefore, Wal-Mart has now re-estimated its annual revenue growth to merely 2%-3% for this year, which it previously estimated to be around 5%-6%. On the other hand, Kohl's (NYSE:KSS), a department store chain, also revised its earnings for the year on account of lower consumer spending. In the second quarter, Kohl's reported net income of $231 million, down from $240 a year ago in the same quarter. Kohl's store presence is restricted to the U.S. only, and the lack of presence overseas will have a huge impact on the company's earnings. With the weak scenario, Kohl's narrowed its EPS range to $4.15 to $4.35 compared with the previous forecast of $4.15 to $4.45.
Contrary to this, Wal-Mart's international presence will serve as a buffer to the fluctuations in the U.S. economy. It currently has 60% of the its total stores outside the U.S. Over the last couple of years, its international revenue has increased 15% annually due to its aggressive expansion, and it expects 40% growth in its international revenue this year.
Grocery items - A long-term growth catalyst
Consumer spending on grocery items remains neutral despite economic fluctuations. To maintain stability even in the slowdown, Wal-Mart is aggressively shifting its focus towards grocery items. Currently, grocery accounts for 55% of the company's revenue, having a U.S. market share of roughly 25%. The company sells grocery items through its stores --"Neighborhood market" and "Walmart express." These stores reported 30% year over year revenue growth in the second quarter of fiscal year 2014. To increase revenue from these stores, Wal-Mart plans to increase the number of "Neighborhood market" and "Walmart express" stores from 290 currently to 500 collectively over the next 18 months. We believe these stores will act as a long-term revenue growth driver for the company, as they will remain unaffected by the economic fluctuations. With this, its earnings are expected to surge to 10.16% by the end of January 2015, from merely 3.61% by this fiscal year end.
Stock price forecast: Wal-Mart EPS history
| | |
| --- | --- |
| Year | EPS |
| 2009 | $3.39 |
| 2010 | $3.70 |
| 2011 | $4.47 |
| 2012 | $4.52 |
| 2013 | $5.02 |
With these historical figures, we get an EPS growth rate of approximately 10%. This indicates an expected EPS of $5.52 by fiscal year 2014. The company's average 5-year historical P/E is 14.02, which gives us a target price of $77.39 by the end of fiscal year 2014. Currently, the stock is trading in mid 70s, implying little upside potential in stock price. With this flat growth, it will be interesting to calculate the target price for fiscal year 2015. Considering its EPS growth rate to remain constant, we get an EPS estimate of $6.02 for fiscal year 2015. With this we have a target price of $85.12. So, for long-term investment, this stock has the potential to provide an upside.
Dividend Analysis
The company has a long history of paying incremental dividends over the last 40 years. Wal-Mart's earnings are growing at approximately 10%, but its dividend payout ratio has increased to 32% by the end of 2012, indicating higher returns to shareholders.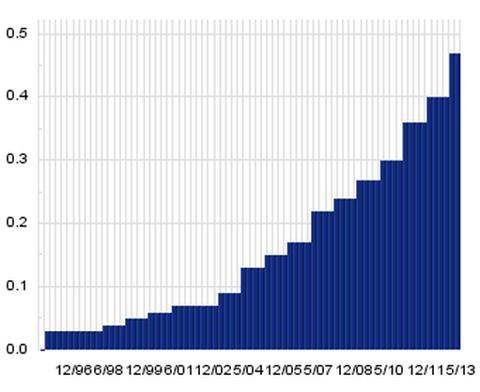 Source: Forbes
The company's biggest competitor, Target (NYSE:TGT), also operates merchandising stores. Currently, Target is remodeling its stores rather than expanding in this weak environment. The remodeled stores will contain fresh foods, which will attract traffic. With this strategy, its earnings growth increased 9.4% per year, which is less than Wal-Mart. As far as its dividend payout ratio is concerned, Target's management currently has a policy of distributing 29% of its earnings as dividends to its shareholders. This implies that Target is paying less to its shareholders and retaining the income for future expansion plans.
Stock to Buy
Being the bellwether stock, Wal-Mart has been affected significantly by the weak economic scenario prevailing in the U.S., but its international revenue will continue to remain profitable. Additionally, its grocery business will act as a long-term catalyst for its earnings. Wal-Mart's strong fundamentals and valuation make this stock a buy.
Disclosure: I have no positions in any stocks mentioned, and no plans to initiate any positions within the next 72 hours. I wrote this article myself, and it expresses my own opinions. I am not receiving compensation for it (other than from Seeking Alpha). I have no business relationship with any company whose stock is mentioned in this article.
Additional disclosure: Fusion Research is a team of equity analysts. This article was written by Shweta Dubey, one of our research analysts. We did not receive compensation for this article (other than from Seeking Alpha), and we have no business relationship with any company whose stock is mentioned in this article.