Overview
Attunity (NASDAQ:ATTU) is an enterprise software company, attempting to carve out a niche in the big data storage space. The company has recently revamped several of its core products and will have a number of new partnerships beginning to generate material results to its topline over the next couple of quarters.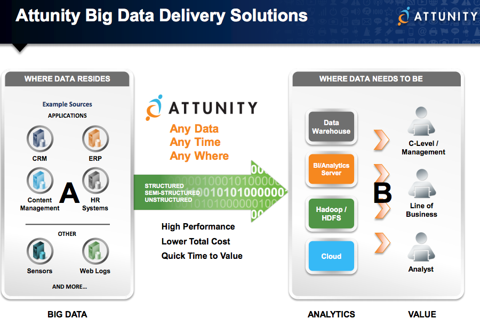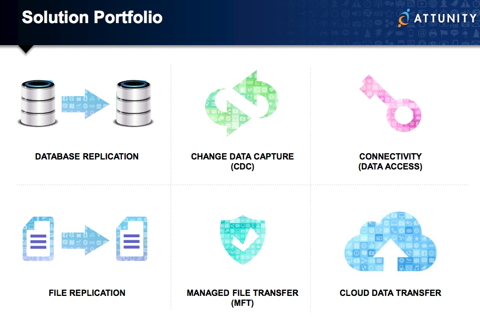 A YouTube video featured prominently on the company's About page does an excellent job of describing where Attunity's products sit in the big data sector.
In simple terms Attunity allows data to be transferred rapidly and safely through different parts of the cloud. This is a critically important piece of software for any kind of service that displays data in real time. A couple examples of real-time software players are: Splunk (NASDAQ:SPLK), Tableau (NYSE:DATA) and Datawatch (NASDAQ:DWCH), which all trade at significantly higher multiples than Attunity. If Attunity's financials can display that its growth in the long term will be correlated to these flashy names then its valuation has lots of room to run.
Here's a slide from the company's January 31st, 2013 investor day presentation displaying how well Attunity is positioned with bigger partners. This is a testament to the quality of the company's products.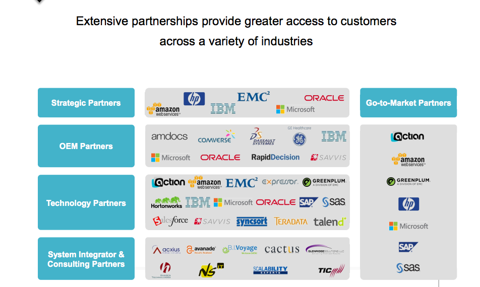 What Happened Last Spring/Summer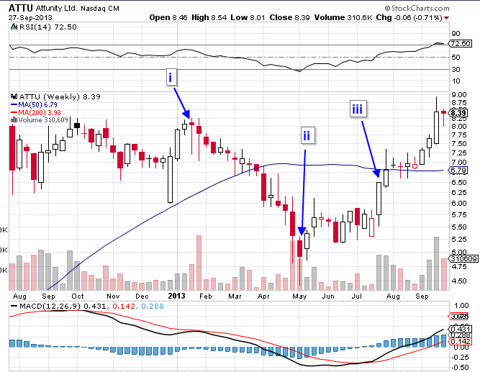 i. January 30th, 2013. Attunity disappoints investors by guiding for 20% revenue growth in 2013.
ii. May 2nd, 2013. Q1 shows a 25% year over year decrease in revenue, guidance for 2013 revenue dropped to $27-$30M.
iii. July 25th, 2013. Revenue rebounds dramatically in Q2, up 33% quarter over quarter, and down just 5% year over year (a huge improvement over Q1).
Attunity had a major slip-up in Q1 of this year. Despite increasing demand for its products, missteps in marketing & sales execution led to sub-par results. On June 25th Attunity took a major step forward in fixing this by hiring Lawrence Schwartz as VP of Marketing. This hiring as well as a new sales execution plan led by CEO Shimon Alon had a very positive affect on Q2 numbers.
Recent Positive News
Besides the hiring of Schwartz, Attunity has accomplished several other operational milestones in recent months.
Below are some highlights.
June 11th, 2013 - Attunity Named 'One of the Most Important Companies in Data Today' by Database Trends and Applications (DBTA) Magazine.

July 17th, 2013 - KONGSBERG Embeds Attunity Technology in Real-time Business Intelligence Solution for the Global Maritime Market.

July 31st, 2013 - Attunity Signs OEM Reseller Agreement with Infor, a World-Leading Supplier of Enterprise Applications.

August 6th, 2013 - Attunity Accelerates Data Loading for HP Vertica Big Data Analytics Platform.

September 11th, 2013 - Info-Tech Research Group Names Attunity as 'Top Innovator' and Awards it the 'Trend Setter Award' for Managed File Transfer (MFT).

September 16th, 2013 - New Attunity Release Enables Big Data Insights in Real-Time Across Globally Distributed Operations.

September 23rd, 2013 - Attunity Enables Nirvanix Customers to Migrate Files and Data to Amazon Web Services (AWS) Cloud.

September 23rd, 2013 - Attunity Expands Database Replication Platform to Enable Fast and Easy Disaster Recovery in Oracle Environments.
These events could be a signal that a recent revamp of the company's marketing department is paying off. Several industry accolades have been given to Attunity for its MFT and Replicate products in Q3. Consistently being applauded for industry leading standards should increase awareness and adoption of Attunity's software among its bigger partners.
Q3 Expectations
An interesting note that I picked up on Attunity's Q2 conference call was that the company reaffirmed its 2013 revenue guidance for $27-$30M in revenue. This implies management is expecting at least $16.32M in revenue in 2H 2013 ($27-$10.68M).
Density's best quarter ever was in Q4 of 2012, when the company reported revenue of $7.07M. If guidance holds up, Attunity will report its two best quarters in company history in Q3 & Q4 of this year. The momentum which was displayed in Q2 is expected to continue, as several key partnerships will start generating meaningful results.
An X Factor is Attunity's partnership with Amazon's (NASDAQ:AMZN) Web Services division. Recently SA Contributor Mark Gomes conducted an interview with Attunity's CEO Shimon Alon who gave very positive comments on how the relationship was progressing. Cloudbeam is a product Attunity has developed exclusively for Amazon's platform that helps customers rapidly move data across the cloud. The product was in Beta until April of this year and wasn't expected to generate any material results until late 2013, and should grow from there in 2014 and beyond. If adoption of this service is better than expected it could provide an additional boost to revenues in Q3 & more so Q4, which may be why the company was so confident in reaffirming its 2013 revenue guidance despite very high implied growth rates.
Conclusion
There are no publicly traded companies who operate in exactly the same data transfer space as Attunity does. Therefore it can be difficult to value the company. This is accentuated by the fact that Attunity's R&D facility is in Israel, and the company has no analyst coverage. The combination of these factors makes Attunity appear very undervalued when compared simply to the financials of its peers with whom its growth has the highest correlation.
Attunity's business model is very attractive from a long term perspective because of its sky high gross margins of 85%+, which can drive extreme operating leverage. Other publicly traded software companies with similar margins are consistently valued at 5-10X sales because of very high expectations for growth, and investors wanting exposure to those kind of margins.
Attunity is currently trading at 3.8X 2012 sales. This is cheaper than related software players with much lower growth potential such as Oracle (NYSE:ORCL) and Informatica (NASDAQ:INFA), who trade at 4.3X and 5.3X. At the midpoint of management's guidance Attunity will generate $28.5M in 2013 sales representing growth of about 14%. This number will be a dramatic understatement of Attunity's momentum heading into 2014 because of the company's Q1 2013 miss.
If Attunity can deliver the 30% growth rates investors have been hoping for since the company's NASDAQ up-listing, shares have upside potential from $8-9 per share. If Attunity generates $8M in revenue in Q3 and $10M in Q4, that will be year over year growth of 35% and 41%, respectively. Those numbers would be at the midpoint of management's guidance that was reaffirmed in Q2. If that 35% growth continues in 2014, revenue will exceed $38M, which would value Attunity at a P/S of just 2.4X with profits just beginning to normalize.
Based on the recent amount of positive news about big contracts and industry accolades, it would seem Attunity's products have been gaining traction in Q3. If Attunity can finally deliver on the growth investors have been waiting for, the company should benefit from multiple expansion because of sympathy felt across all big data stocks.
Disclosure: I am long ATTU. I wrote this article myself, and it expresses my own opinions. I am not receiving compensation for it (other than from Seeking Alpha). I have no business relationship with any company whose stock is mentioned in this article.